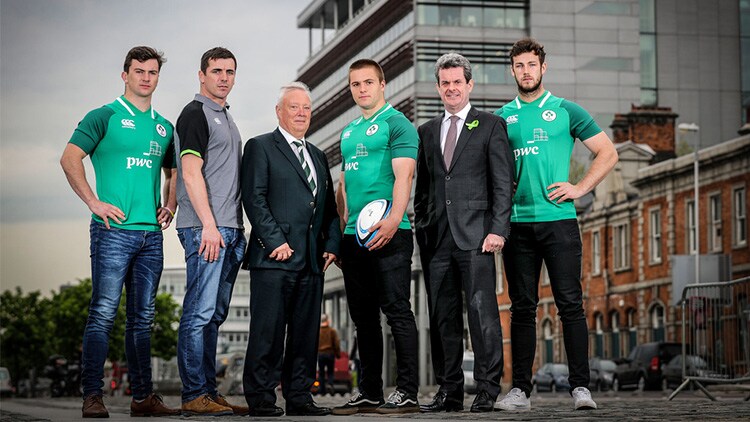 The Ireland Under 20 Squad for the World Rugby U20 Championship in France starting next week was named at PwC's Dublin Headquarters yesterday.
The tournament takes place from the 30th May to 17th June, with Ireland playing their Pool games in Perpignan and Narbonne, while the finals will take place in Stade De La Méditerranée in Béziers.
Ireland share Pool C with France, Georgia and South Africa and will face the hosts on the opening day of the tournament in Perpignan.
"As a sponsor of Irish Rugby for 12 years, we're delighted to support the U20 team in this year's World Rugby U20 Championship in France," said PwC Managing Partner Fergus O'Rourke.
"Working together and reimagining the possible are two core values in PwC but the essence of these are also shared values with the IRFU.  It is this great talent and teamwork, striving to 'be the best you can be', that makes for a winning team in business and in sport."
"This team are super ambassadors for Ireland, for Irish Rugby and for PwC and we wish them the best of luck in the upcoming games."
This is a busy period for the sponsorship team with the PwC Staff relay event taking place in the Phoenix Park on Thursday and then the Rugby kicking off.
We will be having a chat with Sponsorship Manager Jonathan Dever on Sport for Business on Thursday looking at both events.
The Irish U20 team recently spent a day at PwC getting to know a little more about themselves, the world of work and how to balance sport, life and the demands of college or the workplace.

Sign up today for our free daily news digest covering the commercial world of sport or discover the benefits of becoming a full member alongside the many leading organisations whom we serve.
Image Credit: Dan Sheridan, Sportsfile