Sport for Business 30 Under 30 identifies those who will be among the next generation of Ireland's sporting leaders.
We have always believed in the power of youth to effect change and in the benefit of mentoring to develop potential.
Here are the 30 Young Leaders from among many more that we have identified and will introduce you to in greater detail over the rest of the year.
*******
Naomi Sabherwal
Naomi Sabherwal is Head of Commercial Marketing and Communications for AIG Ireland.
She is responsible for various B2B marketing activities including PR, digital, thought leadership, government affairs, as well as commercially leveraging AIG's local and global sponsorship assets, Dublin GAA and the All Blacks;
She is the co-chair of AIG Ireland's CSR group, developing this key area of the business outreach into the wider community.
Prior to joining AIG in March 2017, she worked with Irish Life where she was heavily involved in the Staff Charities initiative among other responsibilities.
Sabherwal graduated from Dublin Institute of technology with a Masters degree in Marketing and has since completed a mini MBA at the Irish Management Institute.
*******
Eamon Donoghue
Eamon Donoghue is a journalist and GAA columnist for the Irish Times. Part of a new wave of media familiar with the world of data, he has penned a weekly GAA statistics column, changing the way the newspaper and other media outlets analyse the sport.
As a traditional reporter, he has covered numerous major sporting stories from the Clare GAA fallout in 2015 to the origins of Iceland's Viking thunderclap at Euro 2016
It is though for his curiosity in data journalism that he primarily earns his play in this list, looking behind the numbers with features on how many inter-county players face long commutes and how many clubs have taken up the month of April for club fixtures.
He continues to play senior club football and has represented his native Roscommon.
Prior to joining the Irish Times Donoghue worked across many of Ireland's print, broadcast and online outlets in a freelance capacity after graduating with a degree in journalism from DCU in 2014.
*******
Orla Lawlor
Orla Lawlor is part of the sponsorship team at Three working primarily on the FAI international soccer sponsorship and the Three eStars team in the new eSports tournament that Three is backing and which will culminate in the 3Arena in May.
Lawlor joined Three in 2017 having worked for four years prior to that in the Marketing Department at BMW Ireland. There she was a lead player in the brand's relationship with the Dubai Duty Free Irish Open.
She is a graduate of Dublin Institute of Technology where she graduated with honours in Business and management.
Lawlor will be a key player in football as the build-up gathers steam for Ireland's bid to qualify for the 2019 World Cup Finals in the Women's game and for when we host four games in the Euro 2020 European Championship on the Men's side.
*******
Joseph Cronin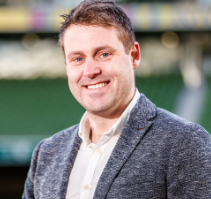 Joseph Cronin is in his first year as Commercial executive with Guinness PRO14 Rugby, having joined following a three-year spell with Javelin Advertising.
Charged with ensuring a full and satisfied sponsorship portfolio around the expanded tournament and the Final series of games at the Aviva Stadium in May, Cronin has been active in securing deals with the Times and Sunday Times, ROS Nutrition and Honda.
His is a fine example of switching focus in a career having earned his primary degree in Law from Griffith College before switching to do a Masters in Advertising at Dublin Institute of Technology.
During his time at Javelin he managed campaigns for a host of major brands including Toyota, Lexus, Irish Ferries, BT, Kelkin, AIB Merchant Services and The Intercontinental Hotel.
*******
Ryan Bailey
Ryan Bailey is one of a talented crop of sports journalists working as a reporter for The42.ie as part of Journal media.
On any given day he could be covering Rugby, Cricket, Football or a myriad of other sports in a media outlet that reflects the changing times of how we consume our sport.
Bailey's highlights of 2018 so far have been in-depth interviews with Tadhg Furlong and  Garry Ringrose on the eve of the Grand Slam, a very personal and moving long-form piece on his great-uncle Liam Whelan who died as one of the Busby Babes 60 years ago, and a telling of Ireland's Cricket team's bid to qualify for the World Cup.
Bailey went to St Andrews College and graduated from Griffith College with a BA in Journalism and Visual Studies.  While there he won two national student journalism awards, marking him out as a talent for the future.
Since then he freelanced for Cricinfo, Extratime.ie and others in order to build what has become an impressive body of work, before becoming a staff writer with The 42 in 2014.
*******
Natalie Tennyson
Natalie Tennyson is an External Communications Manager at Bank of Ireland and is closely involved with the bank's sports sponsorship partnerships with Leinster and Munster Rugby, the FAI, Athletics Ireland, the GAA, the Dubai Duty Free Irish Open and with a number of third level colleges.
Tennyson moved from Armagh to Manchester to get her Primary degree in Politics, Economics and Social Studies before earning a Masters in Political Communications at Dublin City University.
She moved into the world of Public Relations, first with Mary Crotty PR, then Teneo PSG and Bell Pottinger in London before returning to take up the role in Bank of Ireland towards the end of 2016.
Politics is a big part of Tennyson's makeup and she worked on secondment to the winning side in the Marriage Equality Referendum in 2015.
 *******
Hugh Gallagher
Hugh Gallagher is the Head of Sport at Web Summit. After successfully leading the Web Summit content division for two years, he transitioned to his true passion in life, sport, as Head of Sport across Web Summit events in North America, Europe and Asia.
Since assuming this role in 2016 he has worked with the CEO's of Liverpool, Ajax and the San Francisco 49ers and noted sports stars such as Rio Ferdinand, Ronaldinho, Brett Favre, Wladimir Klitschko and WWE's Triple H.
In his time in charge of sport, Web Summit has grown from a 20,000 person event in Ireland to 70,000 people in Lisbon in 2018, with sport increasingly becoming a central focus of the event.
A Graduate in Business, Economics and Social Sturdies from Trinity College, Gallagher then went on to secure a Masters in Journalism from DCU and worked as a reporter on Raidío na Life, newstalk and 98FM before joining Web Summit in 2014.
*******
Aidan O'Brien
Aidan O'Brien is the UEFA EURO 2020 Project Executive with the Football Association of Ireland.
Originally from Newport in County Tipperary, O'Brien joined the FAI in 2016 on the sponsorship and events team working closely with SSE Airtricity and a host of other sponsors.
At just the age of 23, O'Brien was headhunted and became the first member of the new UEFA EURO 2020 team which will deliver the competition in Dublin. Working as part of an extremely small team, Aidan is working with Dublin City Council and UEFA as Dublin looks to make EURO 2020 a massive success.
O'Brien qualified from Limerick Institute of Technology in 2016 with a first class honours degree in Business Studies with Sports Management.
*******
Scott Graham
Scott Graham is a consultant with the sports and sponsorship team at Teneo PSG.
He has extensive experience in mass participation sports across a variety of roles and as a participant himself. He is a competitive triathlete with two top 10 National Championship finishes and six Age Group National Championship medals.
Graham currently manages Vhi's sponsorship of the Women's Mini Marathon and parkrun and the SPAR5s primary school soccer programme, the largest of its kind in Ireland with over 30,000 participants. He also works on the Aer Lingus, Canterbury, Kingspan and Sport Ireland accounts
Prior to his role in Teneo PSG, Graham worked as a videographer on sports and travel shows for Irish and International TV stations and as Marketing and Sponsorship Manager with Triathlon Ireland.
He qualified from Dublin Institute of Technology with a BA (Hons) in Marketing & Event Management and has gone on to study for a professional Management Qualification from the Institute of Commercial Management.
*******
Sophie Eustace
Sophie Eustace is a Senior Account Executive at Wilson Hartnell PR and has just returned in recent weeks from a whirlwind trip to Pyeongchang where she managed communications for the Olympic Council of Ireland at the 2018 Winter Olympic Games.
That is the kind of experience which will stand to her for many years as she develops her career among s rich young crop of talented PR professionals working within the sporting sector here in Ireland.
Eustace studied at UCD before gaining a Masters in Public relations from Dublin Institute of Technology and joining Wilson Hartnell in 2015.  She works on the OCI account as well as with the Federation of Irish Sport and Electric Ireland.
She may have half an eye on Tokyo 2020 having earned her Olympic stripes.  Eustace is an accomplished rower, acting as Cox for the Men's Intermediate Crew at Commercials Rowing Club where she also serves as Honorary Secretary.
*******
Ruth Fahy
Ruth Fahy has been a vocal advocate of Women's football in Ireland, a regular media commentator and has just started working as a solicitor trainee at William Fry having been forced to give up playing.
She will be a co-commentator for eir Sport for this April's key international games for Ireland against Slovenia and the Netherlands at Tallaght Stadium and has in the past used a weekly column in the Irish Daily Mirror to push for greater coverage of and support for the Women's game.
As a player, Fahy played for Castlebar, Galway United and Wexford Youths and represented Ireland at the World University Games.  While playing she studied law at the University of Limerick and Nottingham Trent University as well as earning a Degree in Human Nutrition at Dublin Institute of Technology.
Fahy is a great example of someone who is always looking to the future and a valuable addition to this group.
Jay Wilson
Jay Wilson is the Sponsorship Manager at Lidl Ireland, taking on responsibility for the brand partnership with the Ladies Gaelic Football Association.
Having qualified from Trinity College with a BA degree in Business and Economics Wilson joined Lidl through their Graduate Management programme, starting as Events Manager in the Brand Development Team and then being promoted within the marketing department to the role of Sponsorship manager.
Landing three awards at the European Sponsorship Awards in 2017, including the prestigious Best Overall Sponsorship for the partnership with Ladies Football is not a bad way to kick off your new role.
Year three of the partnership is already up and running with ties to local clubs through local stores and a higher profile for the Lidl National League than ever before through a series of Double Header games with the Allianz League.
*******
Eoin McGirl
Eoin McGirl is part of the social media content team at Aer Lingus and has been a main driver of the brands activity across a range of sporting partnerships.
His work has generated millions of combined views across Aer Lingus' sports sponsorship portfolio of Rugby with the Irish Team, Special Olympics, the College Football Classic and Dublin GAA as well as the Fenway Classic in Boston.
The 'battle' between Aer Lingus and Air New Zealand around the two nations clashes on the rugby field went all around the world and McGirl has also been responsible for creating specific onboard content using players like Conor Murray.
He took a less than traditional path into social media having studied to be a teacher at DCU and then a Masters Degree in Trinity College in Philosophy and Modern Irish History.
He was involved as a player and manager of the DCU soccer team while studying there.
*******
Aisling Delaney
Aisling Delaney is the Events and Sponsorship Manager with PRO14 Rugby.
She graduated from University College Dublin with a BSc in Sports Management during which time a work placement opportunity with the FAI led to a full-time role.
As a Sponsorship and Marketing Executive, she worked on the UEFA Europa League Final at Aviva Stadium while also working with brands such as 3, Carlsberg, Ford, Aviva and Lucozade Sport on activating their sponsorship rights.
After returning from travelling to Australia, she joined Wilson Hartnell's Sport's Practice in September 2015, working across key accounts including Guinness, Electric Ireland, Carlsberg, An Post as well as with a number of rights holders such as Swim Ireland, Ireland Active and the Irish Sailing Association.
*******
Pippa Doyle
Pippa Doyle is a key member of the Sponsorship team at Littlewoods Ireland and has been responsible for the brand's engagement through its initial successful partnership with the All Ireland Hurling Championship and the Littlewoods Camogie National Leagues.
Having graduated with a Degree in Communications from Dublin City University, Doyle returned to education to secure a first class Masters in Communications and Journalism from Griffith College in 2016.
That has served her well in delivering the #StyleofPlay content across social media and the storytelling and character building activity on Littlewood's owned channels over the past year.
"Last year was about highlighting the skills of the game," Doyle told us recently.  "This year we will be extending into telling the story of the players responsible for that skill."  And the skill of telling the stories is in good hands.
*******
David McGill
David McGill, at age 28, is one of Irish Sports youngest CEO's since being appointed to that role at Badminton Ireland.
He has worked for Badminton Ireland for the last 5 years in a variety of roles from media and marketing to event and membership management.
McGill is acutely aware of the importance of new media having headed up the Live Streaming team feeding into international broadcasts of events such as The Irish Open and the Irish Para Open which between them attracted 450 players from 30 countries around the world.
The Irish Open at the end of 2016 was the first major event to take place at the Sport Ireland National Indoor Arena.
The Limerick native recently completed an MBA at Dublin Business School and the Sport Ireland ARENA Leadership Development Programme.
*******
Hayley Burke 
Hayley Burke is the Para-Swimming Operations Manager at Paralympics Ireland.
She joined the organisation in February 2015, having previously worked as a volunteer for the Swim Team as a coach since 2011.  Burke was part of the Irish team at the London 2012 Games, which saw the swim team win two gold medals.
A Level 3 coach, she was a swimmer of note herself with a 9th and 11th place finish at the European Youth Olympics in 2003, she is an Irish Senior Relay Record holder and also coaches the National Aquatic Centre swim team in her spare time.
Hayley manages the high performance swim programme, coordinating the development programme as well as continuing on her coaching role with the para-swim team.
*******
Leanne Sheill
Leanne Sheill is Marketing Manager with responsibility for Sponsorship and Loyalty at SSE Airtricity.  She looks after a sponsorship portfolio that extends across some of the islands largest properties from the SSE Airtricity League to the SSE Arena in Belfast.
This is the tenth year of the partnership between the brand and Irish Football where it is also the Official Energy Partner to the FAI and the International teams in the Men's and the Women's Games.
Sheill stepped up into the Management role in 2017,  having worked alongside Anne McAreavey previously, and has also been involved with the SSE Airtricity Dublin Marathon over the past five years.
Sheill graduated from Griffith College Dublin with a BA Degree in Business Studies and Marketing.
*******
Paddy Carberry
Paddy Carberry is a key member of the sponsorship team at Vodafone Ireland.
He was part of the crew in London earlier this month to collect three awards at the prestigious European Sponsorship Awards for the work done on Vodafone's #TeamofUs and Centre Stage sponsorship platforms.
Carberry has been with Vodafone for four years having joined as part of their Graduate programme after completing a primary degree in DCU in Journalism and Irish followed by a Business Masters in Next Generation Management.
Working across both strands of Vodafone's sporting and entertainment portfolios of sponsorship has seen him active from Chicago to the Iveagh Gardens with content creation at the heart of the twin strategies.
He has maintained a desire to learn, completing the European Sponsorship Association Diploma in 2017 and also represented Ireland last year at the Cannes Lions Festival of Creativity
*******
Ross O'Dwyer
Ross O'Dwyer is CEO and co-founder with Richard Barrett of Pundit Arena, the online sports media hub that has sprung to life alongside SportsJoe and Balls as an alternative to the mainstream media in recent years.
With a strong original focus on challenger sports like MMA, latest developments on the service have focused on Rugby and an advance on the wider UK market.
O'Dwyer was a key mover behind the site securing broadcast rights to the Barbarians match at Thomond Park against Tonga in November as well as the Barbarian's first ever Women's match at the same venue against Munster.
A Graduate of Commerce and International Marketing from UCC, it was an incubator at that venue which helped in the creation of Pundit Arena.  O'Dwyer is a mentor with Enterprise Ireland and also a co-founder of the One-Zero event bring sport and technology together in Dublin over the past three years.
*******
Aisling Fox
Aisling Fox is a Digital Marketing Assistant with AIG and has played a key role in their sponsorship activation with Dublin GAA, The All Blacks, Irish Golf and Irish Tennis.
She joined the company in 2016 after winning a "GenWhy" Fellowship targeting graduate millennials.  The winners spent the summer creating innovative solutions to the problem of making the company, the brand and its products more relevant to a young audience.
At the end, Fox was rewarded with a full-time job on the Marketing team and has continued to shine.
Originally from Leitrim, she completed a Masters Degree in International Marketing with Consumer Psychology from Heriot Watt University in Edinburgh and had previous spells working in marketing with Smith and Wollensky in Boston and In the Company of Huskies in Dublin.
*******
Declan Healy
Declan Healy is Head of Marketing and Events at Mondello Park.  In his 29 years, he has lived a life less ordinary.  Responsible in 2017 for a 34 percent lift in Mondello Park's digital audience this is a big year for the track celebrating its 50th Anniversary.
Healy has plans for live streaming, for original content and for a programme to transform the way that circuit racing is promoted and engaged with.
He has a background in entertainment having graduated from DCU with a degree in Arts, Entertainment and Media before returning to secure a Masters degree in Business from the UCD Smurfit Business School.
In whatever spare time he has he still performs live as a musician and manages an amalgamated Hurling team in West Wicklow.
********
Jenny Kelly
Jenny Kelly is a Consultant with Teneo PSG and part of the strong young team that landed the Sponsorship Agency of the Year Award at last week's European Sponsorship Awards.
Nominated for this recognition by one of the clients she works with Kelly was described as having "phenomenal knowledge of the sports world and set to become one of the leading faces of the agency world in the coming years."
She graduated from Maynooth University with a Degree in Business and management and has since undertaken courses specific to the PR world at the Public Relations Institute of Ireland and the European Institute of Communications.
She not only talks well on sport but also plays having represented the Dublin Club All-Stars against the Dublin Ladies Football team in January.
*******
Niall McGovern
Niall McGovern is the Player Development Manager with the Gaelic Players Association.  He is the main contact point between the players from around the country and their Association in terms of what they need and what the GPA can deliver.
He meets the challenge of finding ways to help players achieve their potential on the field of play without it impacting on their lives, study and careers.
He has walked their path as well as Captain of the Dublin U21 Football team in 2013.  He completed a degree in Health Promotion from Dundalk IT in 2014 and has shown a commitment to his own personal development through completing a Diploma in Personal and Business Coaching through the Irish Life Coaching Institute.
*******
Joe Walsh
It is unlikely there will be anyone younger on this list but there is no doubt that Joe Walsh, despite still studying for his Leaving Certificate at St Michael's College, deserves his place.
With the impetuosity of youth, his self-declared ambition is to be the Head Coach of the Irish Rugby Team.  With the dedication of one who will give himself every chance, he has been putting in the hard yards.
He has specialised in video analysis and has built an incredible resumé of working with teams including Railway Union, Lansdowne and Coolmine RFC here in Dublin as well as taking the opportunity to shadow coaching staff and analysis teams at London Irish, Grenoble, Saracens and at Leinster, Munster, with the Irish team and with last year's British and Irish Lions group.
Walsh decided at the age of 13 that it was coaching rather than playing that would define his relationship with sport.  He spoke at last year's Zeminar event on a subject of 'My Ambitious Story'.  It seems likely that story will take in a lot of high points along the way.
*******
Amy Lynch
Amy Lynch is Sponsorship and Social media Manager at Aviva.
At last years Irish Sponsorship Awards she was the recipient of the Rising Star in Sponsorship Award and with Aviva signing an extension of five more years as sponsors of the Stadium that bears its name there will be plenty to get her teeth into.
After graduating with a Law degree from NUI Galway in 2014 the role of marketing and sponsorship might not have been an obvious path but she has taken to it in style.
With a key role in the sponsorship team, Lynch works across a range of programmes in soccer and rugby from the high end of experiential marketing at the big stadium events through to grassroots activation with mini rugby and soccer sisters.
All Aviva's social media content creation is her responsibility and she is also a contributor to the other marketing elements driven by the sponsorship programme.
*******
Ross Hamilton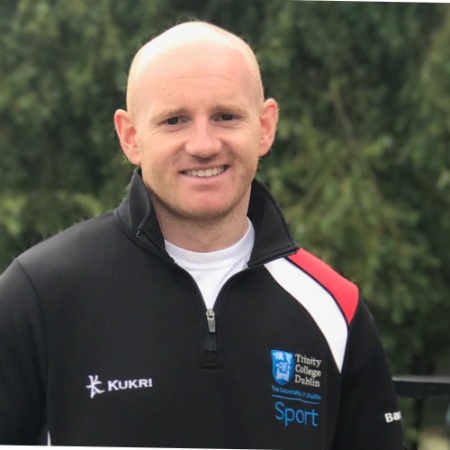 Ross Hamilton is the Sports performance Development Officer at Trinity College Dublin and a fine example of switching dreams.
After completing a Natural Science degree in Trinity he focused on full-time sailing, competing for Ireland at three World Championships but narrowly missing out on London 2012.
He went back to college, completed a Masters Degree in Exercise Physiology and is now charged with providing the support necessary for Trinity to up their game in the upper echelons of sport.
His role includes elements of Talent ID, performance management and managing Trinity's Sports Scholarship Programme.
*******
Sarah Crowe
Sarah Crowe is a key player in the project at the Confederation of Irish Golf which will bring the Irish Ladies Golf Union and the Golfing Union of Ireland together as a  single governing body for the sport.
A graduate in Politics and Public Administration from the University of Limerick she then spent time working at the European Parliament and in public affairs with Edelman in Brussels.
Two years as a Communications Manager looking after internal and external messaging with the ILGU led to her being appointed as Project Manager overseeing the coming together of the two governing bodies of golf, a role she has thrived in.
*******
Gordon Britchfield
Gordon Britchfield is Sponsorship and Marketing Manager at eir and responsible for the activation of such high profile partnerships as with the GAA All Ireland Championships, as well as eir's wider reach into entertainment and business.
He also retains responsibility for the marketing and PR function at eir Sport.
It was with the channel that he cut his teeth through such high profile wins as securing exclusive rights to Ireland's victory in the AIG International against New Zealand in Chicago in 2016 and as the broadcaster here of Conor McGregor's UFC fights and the 2020 Rugby World Cup.
Originally from County Clare, 27-year-old Britchfield qualified from Limerick Institute of Technology with a first class honours degree in Business Studies and Sports Management.
Immensely popular across the fields of sponsorship and media, Britchfield has achieved an awful lot in his career to date with the promise of more to come as eir expands still further.
*******
Niamh O'Sullivan
Niamh O'Sullivan is the High-Performance Programme and Planning Manager at Sport Ireland. She has been in the role since November 2016 and is a key contributor to the High-Performance plans drawn up across all sports.
She brought experience in the day to day management of high performance having served in High-Performance roles at Swim Ireland prior to widening her brief within sport.
O'Sullivan graduated with honours from UCD's Sport and Exercise Management course in 2012 and has been working towards an MBA in Business Administration and management from the Edinburgh Business School over the past three years.
The Kerry native is 27 years old and has a sporting pedigree to match her academic one having competed for Ireland at the Swimming World Championships in 2009 and 2011.
*********
The criteria for submission is that the person should be working within the sports industry, or in a sponsorship or agency capacity that is bringing sport to life, and that they should be born in or after 1988.
We will identify those individuals over the coming weeks and provide a platform for them to share their thoughts on how Sport in Ireland can continue to develop.
We will build a programme of support based on the creation of a network of young leaders that could be of benefit to them throughout their working lives, and to our industry as a whole.
This is not the time to be shy, this is an opportunity to put forward those you have come across that have struck you as having real potential, or indeed for you to put yourself forward.
It's not about where you are now.  It's all about where you could get to with the right breaks.
The nomination process is simple. Contact us today with a name and a few lines on why you or they could be one of our 30 Under 30 for 2018, and share your nomination on social media using #SFB30Under30
Sign up today for our free daily news digest covering the commercial world of sport or discover the benefits of becoming a full member alongside the many leading organisations whom we serve.