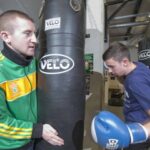 The Aviva Stadium played host to a high performance boxing training session yesterday as part of two youth initiatives which have been set up through Dublin City Council to support young people via the medium of sport.
Youths from the Phoenix Fire Club in Warrington and the Omagh Boys and Girls Club got to spar under the stadium with Irish Olympic boxing medallists Michael Conlon and Paddy Barnes.
1992 Olympic Gold Medal winner Michael Carruth and his high performance youth team from the Irish Amateur Boxing Association then took them through their paces in the gym.
The two clubs, from areas in the UK and Northern Ireland that were badly affected by the troubles during the 90's, were invited to the Aviva Stadium as part of the Causeway Exchange Programme, an educational tri-lateral youth contact exchange with Dublin City Council.
The theme of the project is 'Health and Relationships' on the islands of Britain and Ireland, through sports and physical activity.  The programme has been developed as a means of helping to strengthen and improve relationships between young people here and in the UK.
"Dublin City Council through its Sport Development Unit have been using sport as an effective tool in engaging young people into more structured, positive activities," said Lord Mayor Oisín Quinn, in one of his first official engagements.
"Our partnership with the Irish Amateur Boxing Association and the Department of Children and Youth Affairs has further augmented this work."
IABA Community Development officer Carruth was delighted to get the opportunity to play the host to both clubs during the planned three day visit;
"We're delighted to welcome both the Phoenix Fire and Omagh Boys & Girls Clubs to Dublin," added IABA Community Development Officer Carruth.
"Boxing is a wonderful sport, which aside from promoting a healthy lifestyle, also has the ability to break down barriers and provide a positive influence across many different communities, which is what we are all part of here today."
The collaboration with the Aviva Stadium comes under the banner of the IABA's 'Boxing in the Community' programme, which is a joint initiative with Dublin City Council and the Department of Children and Youth Affairs aimed at promoting boxing, encouraging participation and positive activity within the community. This is the fourth year of the scheme which has now seen over 3,500 children from local youth clubs and community groups take part.
As well as the visiting clubs at the Aviva Stadium today, this summer will again see many local youths engage in activities such as StartBox and Aviva Tour Experience, which not only provides children with the opportunity to use a world class facility, but also entertains, educates, and positively influences at risk communities through Ireland's most successful Olympic sport.
"We are thrilled to be part of such a symbolic and poignant event at Aviva Stadium," said Stadium Director Martin Murphy. "This is the third year that we have been involved in the wider programme, which has gone from strength to strength, and will see thousands of children enjoy the superb facilities here this summer."


 Discover more of our recent coverage of Boxing
Join us for The Business of Youth Sport in November
Sign up for our Free Daily News Digest
Dublin City Council is a member of Sport for Business. Discover the benefits of joining them today.