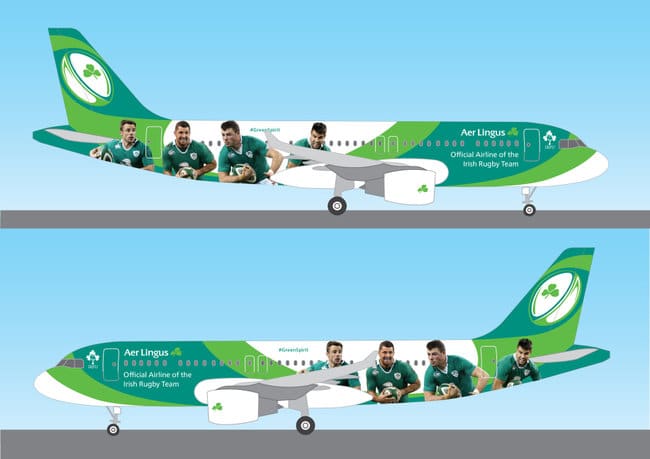 Aer Lingus has extended further its engagement with sport by becoming 'the official airline of the Irish rugby team'.
The partnership is in addition to existing strong partnerships Aer Lingus has within Irish sport including with Special Olympics Ireland, The Gaelic Players Association and Graeme McDowell's GMac Foundation.
The three-year deal will see Aer Lingus support the IRFU by flying players, management and support staff around Europe as they compete in the RBS 6 Nations Championships and in other high profile international tournaments.
This will include flying the team to Britain for this Autumn's Rugby World Cup though the ability to activate that particular journey may be somewhat limited by Emirates' overall partnership with the tournament.
Emirates have been a dominant force within rugby in recent years, including international referees and the US National teams alongside the World Cup deal.  That extends to Japan's hosting of the World Cup in 2019 and may well be extended to the winner of the bid to host in 2023 which could well of course be Ireland.
As a very visible part of the new sponsorship agreement, Aer Lingus will re-name one of its aircraft Green Spirit.  This and one other aircraft will carry branded livery with IRFU and player images similar to that in the artists impression above.
In addition, a player from each of the four provinces, who will be named Aer Lingus Brand Ambassadors, will take part in a safety demonstration video which will be shown on board Aer Lingus transatlantic flights.  Aer Lingus has an existing personal relationship with Jonathan Sexton who it has used to promote services between Dublin and Paris as he has made that regular journey for the past two seasons.
Celebratory send-offs and homecomings are also planned with the team as they travel to and from this autumn's Rugby World Cup and Six Nations games.
"We are very proud to partner with the IRFU, bringing together two strong iconic Irish brands with long and rich heritages," said Aer Lingus Chief Revenue Officer, Mike Rutter.
"There are many synergies between us – we are both international success stories which instil pride in Irish people. We have lots of exciting plans including the rebranding of aircraft in IRFU livery displaying our four ambassadors – this is a first for Aer Lingus and indeed for Irish aviation."
"This sponsorship is part of a wider re-energisation of the Aer Lingus brand that has seen recent changes to brand positioning and substantive investment in the Aer Lingus Guest Experience."
"The IRFU are delighted to welcome Aer Lingus to the Irish rugby family," added Padraig Power, IRFU Commercial & Marketing Director.
"The partnership will help facilitate the travelling arrangements of all Irish teams to help maximise success at every level as well as delivering a new and exciting platform to further promote the Irish rugby brand. We look forward to a great future with Aer Lingus."