The Annual Sport for Business Sport for Social Good Conference, in partnership with Allianz, will take place at the Irish Film Institute on Eustace Street in Dublin on the morning of Thursday, October 5th.
There is nothing we like more than bringing smart people together, and when that doubles up with inspiring you to see how you and your organisation can make a real difference, then that is a winner in every way.
On Thursday, October 5th we have built a powerful lineup of inspiring speakers, and we would love for you to be part of the conversations they will spark.
Allianz have been our partner in this area of Sport for Social Good for five previous Annual gatherings, every one of which has been one of the highlights of the year.
Sport for Business Sport for Social Good with Allianz 2023
Date: Thursday, October 5th, 2023
Time: 10 AM to 1 PM
Venue:  Cinema 2 Irish Film Institute, 6 Eustace Street, Dublin 2 DO2 PD85
Exclusive Booking for Sport for Business Members to Thursday, September 28th
Here is the lineup of the morning:
1000: Arrival, Light Breakfast and Networking
10:25: Move into Cinema 2
10:35: Welcome and Opening Comments
10:40: Rugby For All – Lorna Danaher, Energia
11:05: Knowledge Burst: Peter Ryan – Running Malin to Mizen
11:10: Sanctuary Running and Swimming – Graham Clifford
11: 35: Knowledge Burst: Birdies to Books with Rob Crabbe of KPMG
11:40: The Power of Partnership – Brands Making a Difference
12:00: Short Networking Break
12:15: Inspiring Youth – Roisin Jones Dare to Believe
12:35: Inspiring the Planet – Jan Czaplicki of Carbon Click
13:00: Close followed by Networking
Places are limited and if you want to secure your place it is important that you do so sooner rather than later to avoid disappointment.
Among the organisations that have joined us for events so far in 2023:
The GAA, Swim Ireland, Core, The Brand Fans, Edelman, Future Ticketing, Ireland Active, Permanent TSB, Druid Sport, DMC, Bord Gais Energy, Irish Sailing, Greyhound Racing Ireland, The Curragh Racecourse, Sporting Pride, Volleyball Ireland, BHP Insurance, Nudge Marketing, Titan Experience, Horse Racing Ireland, William Fry, Campion Insurance, Olympic Federation of Ireland, BDO, 2Into3, Branding Sport, Camogie Association, Oliver, Galvin Sports Management, GamerFest, Energia, Lidl, Special Olympics Ireland, Paralympics Ireland, Legacy Communications, Sport Ireland Campus, Aer Lingus College Football Classic, Sports Direct, Dublin City Council, Federation of Irish Sport, University of Limerick, Decathlon, PExpo, Canoeing Ireland, Sky Ireland, Line Up Sports, Sport Ireland, 1920, Law in Sport, SSE Airtricity, Pinergy, Navy Blue Sports, Irish Rugby Football Union, FAI and Teneo.
Looking forward to seeing you for this special morning of inspiration.
Roisín Jones is the programme manager for Dare to Believe at the Olympic Federation of Ireland.
The programme brings Olympians into school environments to tell their story and inspire the next generation to aspire towards their own form of greatness whether in sport or in another field entirely.
The popularity of the programme has accelerated quickly since it was first launched in 2019.  Backed by the International Olympic Committee Solidarity Fund and Permanent TSB, it has reached over 150,000 children and when this year's programme was launched earlier this month the available school places were all snapped up within minutes.
Make sure of your tickets to see Roisín and our other great and inspiring speakers here.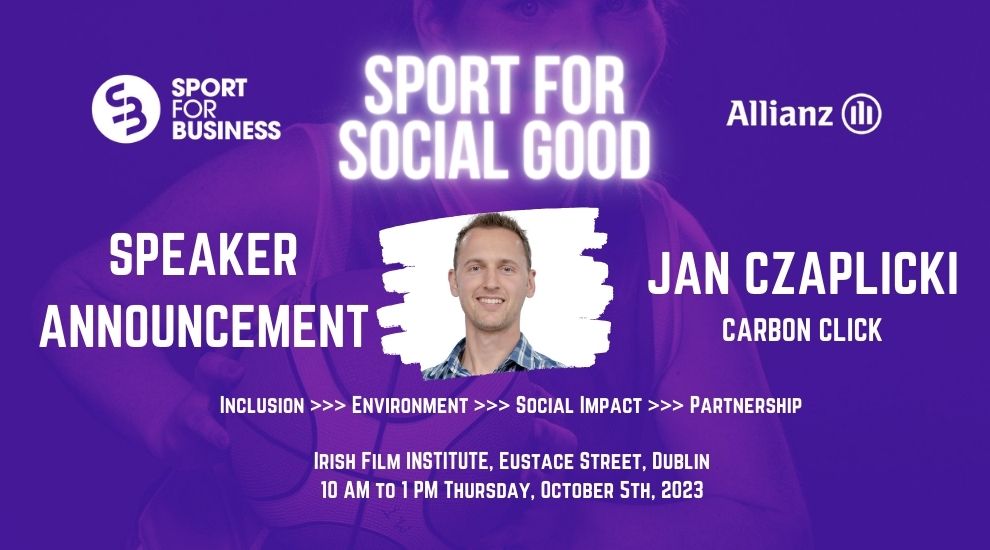 The environment is an ever more important consideration for sport to be seen to be doing the right thing.  Apart altogether from the impact which climate change has on the way games are played and tournaments are organised, it is right in the centre of what we can do to improve the world around us.
We are delighted to have Jan Czaplicki, the co-founder of Carbon Click joining us for an important session as part of Sport for Social Good 2023.
Carbon Click is working with some of the world's major sporting events from the 2022 FIFA World Cup to F1, finding ways to help offset the travel and activity that is part of sport.
During our conversation we will look at the cost of offsetting the Irish Rugby teams's Rugby World Cup adventure, the FAI Women's National team's trip to Australia and more.
It promises to be an eye-opening and action-inspiring session.
Lorna Danaher is the driving force at Energia behind the new Rugby For All initiative, a five year commitment to expanding the access to the sport among groups that have traditionally found it harder to play.
Working with Leinster Rugby and a wide supporting cast, leveraging the brand relationship across sport and other areas, this will be a conversation about bringing people together in more ways than one.
Graham Clifford, the inspiring founder of the Sanctuary Runners and the Sanctuary Swimmers that have made Irish Sport a more welcoming place for all regardless of colour, creed, identity or gender will be joining us on stage to tell the story of this powerful movement.
We will shortly be announcing our final panel discussion and our four special knowledge bursts of programmes that have come to life in the past twelve months from Sport for Business members that have made a real difference, as well as the full timetable for the morning, including the opportunity to meet your peers in the 'purpose' field.
Tickets are now available for you to join us for this special event, the sixth we have run in this space and more important now than ever before.
Places are limited and the event will sell out.