The Sport for Business Sport for Social Good 2020 Conference took place online yesterday with strong speakers from across Ireland and Britain addressing some of the issues which sport and business partnerships have undertaken in this year like no other.
You can watch a playback of the morning here broken down into its various constituent parts.
Here is a handy guide if you want to dip in and out:
0:00 Opening comments and introduction from Rob Hartnett of Sport for Business
7:00 Allianz Head of Market Management on how the Brand has sought to support its partners
17:25 Minister of State for Sport Jack Chambers
22:45 Maighréad Cremin of Musgrave and Edel McCarthy of Electric Ireland look back on Club Together and Darkness Into Light, including video content to make you laugh and cry.
48:00 John Shiels, CEO of Man United Foundation on how the club has helped out within its own community and around the world.
"You can't do the kind of good that has come out of Covid without having threads created through doing good on a day to day basis."
"We provided 60,000 meals for NHS Staff, We gave schools £10,000 grants to schools to give to families to pay for food, to pay for heating, to pay for wi-fi connectivity, and we gave grants to 217 supporters clubs around the world to go out and help in their own communities."
"We are doing 80,000 Christmas meals for children, 6,000 family hampers, 7,000 activity bags and 1,500 footballs."
1:05:30 Joe Mooney from Lidl, Mike Mansfield from Jigsaw and Emer Gallagher, brand ambassador on the Lidl One Good Club Initiative.
"A really simple idea but one that hands over the keys, hands over the power, to clubs to make a real difference both within and in the wider community."
1:28:00 Charlie Butler from Bounce Insights on our exclusive research looking at the way in which the general public view the importance of Brands and Sporting partnerships, and at those who they feel are doing it best.
1:44:30 Closing Comments
We hope you enjoy watching or listening back. In terms of impact, this is probably the most important thing we do all year.
We start today to plan and watch out for the campaigns that will come to the fore in 2021. Some will be inspired we hope, by what we heard at Sport for Social Good and at what is covered in our Annual Report downloadable below.
Thanks to Allianz for their ongoing support and thank you for taking an interest.
Please click on the cover image below to download the report.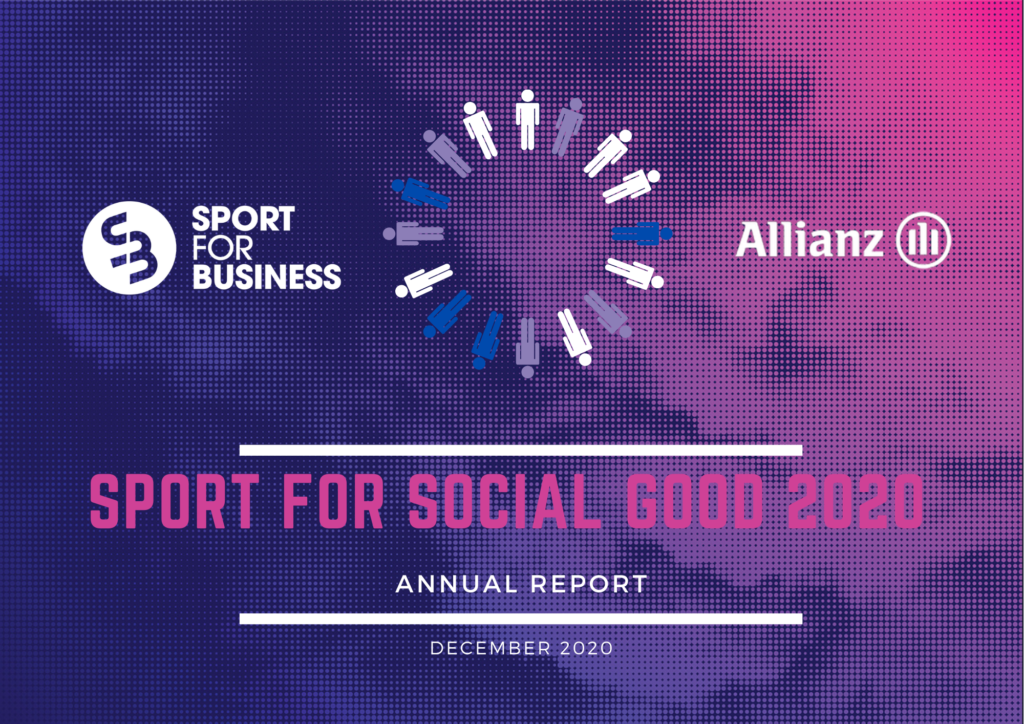 Sport for Business Sport for Social Good Annual Report 2020
Sport for Business Partners