The growing strength of Women's soccer in Ireland has been underlined by the launch this weekend of the Continental Tyres Women's Under 17 National League.
The new 11-team league will be the first under-age national league in women's football in Ireland and follows the model of the Senior Men's game in providing a clear path for players through the different stages of their development.
Athlone Town, Cork City, Donegal League, Galway Women's, Greystones, Limerick WFC, Peamount United, Shelbourne, Sligo Rovers, UCD Waves and Wexford Youths are all set to compete in the first-ever season.
The initial season will see the teams split into two groups with a shortened season in 2018 running to September followed by the first full season set to begin in March 2019.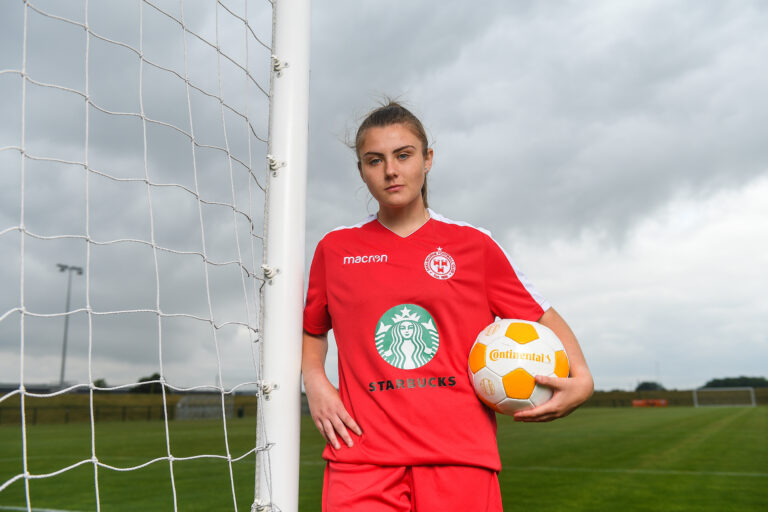 Five of the eleven team were sporting sponsors on their shirt fronts yesterday with Top Oil backing Athlone, Energia supporting Wexford Youths and global brand Starbucks having their recognisable logo on Shelbourne's.
"We're delighted to launch the league as some of our best young players from around the country will have a platform to play on," said Fran Gavin, Director of Competitions at the FAI.
"It is the next logical step as we look to improve that elite player pathway for women's football in Ireland, all the way to the Continental Tyres Women's National League and the Women's National Team.
"The level of women's football in this country continues to go from strength to strength which is shown through the progress of the national team. Half of the national squad is from the Women's National League so now more than ever, it is vitally important that we have an under-age national league.
"There is a lot of excitement within the league and the clubs have put together some fantastic squads. It will be fantastic to see the action start on Saturday."
"We've really enjoyed sponsoring the Continental Tyres Women's National League and the development of women's football in Ireland," said Tom Dennigan, Continental Tyres General Sales Manager.
"We jumped at the chance to sponsor the Women's Under 17 League as well because it is a vital step on a player's journey into the Women's National League and beyond. It's also great to see teams like Donegal, Sligo, Athlone and Greystones enter the league as it does feel like the whole country is involved in the competition."
Sign up today for our free daily news digest covering the commercial world of sport or discover the benefits of becoming a full member alongside the many leading organisations whom we serve.