Irene Gowing and Sorcha Fennell Sheehan, Bord Gais Energy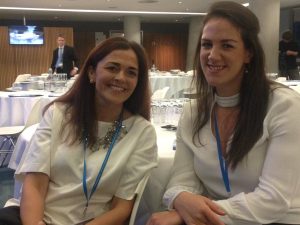 Irene Gowing is Communications Manager and Sorcha Fennell Sheehan the Sponsorship Programme Manager at Bord Gais Energy.
The weight of execution of Bord Gais Energy's activation of the All Ireland Hurling Championship has fallen to Fennell Sheehan in 2018 as Gowing took time out for Maternity Leave but that should never be seen as lessening influence and her return to the fold will, like others in this list prove that life balance can be a winner in business as well.
Bord Gais Energy transformed under their guidance from a secondary sponsor in the GAA through the U21 Hurling Championship into being one of the six headline partners through the Senior All Ireland Series.
What a second season it proved to be with attendance, viewing figures and every other metric of engagement flying high.
Their launch of the Championship by taking over a Dublin Café with a giant Sliotar smashing through the roof was one of the iconic branding moments of the year and as they head into year three, the focus will be on maintaining the strength of association and also, hopefully, negotiating a next chapter from the end of the 2019 season.
50 Women of Influence in Irish Sport 2018 is brought to you by Sport for Business in partnership with our friends at Liberty Insurance.

Over the coming weeks, we will identify more leaders on and off the field of play. They will include those who are role models in terms of their abilities and what they have achieved. They will come from teams and individual sports, from sponsorship partners, from the media, from the administrative corridors of power and from places where influence may be subtle but no less powerful.
We want your voice in who the remainder should be. Who do you come across in your working life within sport, or in your position as an observer, that you feel deserves recognition.
Contact us today Quoting Women in Sport 2018 Nomination to let us know who you think should be joining us.
This year we will be inviting each of our nominated 50 to join us at our Annual Women in Sport Conference, hosted this year in the studios of RTÉ on Wednesday morning, December 5th.
We will be unveiling the line up of speakers we have joining us over the coming weeks and you can book one of the limited places available to join us by clicking below.

We will also be publishing this year's Women of Influence list, together with other interviews and content relating to the cause of promoting Women in Sport in a commemorative booklet.
If you would like to highlight the work your organisation is doing in this area as part of this project CONTACT US TODAY, Quoting Women in Sport 2019 Partnership and let's talk about the options that are available.