Sport for Business is working with the Irish Youth Foundation on a number of key events linking sport and Business through 2014.
First among those is the Jaguar Golf Classic taking place on the Palmer Course of the K Club on the 4th July.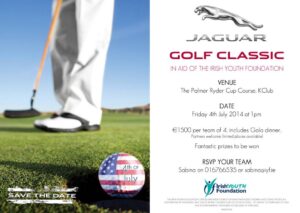 Teams representing Accenture, EY, Communicorp, Deloitte, Oracle, Facebok and many more will be lining up to play, connect and do business on the course before enjoying a gala dinner at the home of the 2006 Ryder Cup.
If you would like to take up one of the few remaining places for this prestigious event, contact Sabina Cotter at the Irish Youth Foundation or Rob Hartnett at Sport for Business.
All of the money raised will go to support the work of the Irish Youth Foundation in addressing the needs of disadvantaged children and young people.
If you are involved in providing, sponsoring or supporting youth sport, you should join us for The Business of Youth Sport, taking place in Dublin on Thursday, June 12th.
The half day conference will cover three phases of primary school, teenage and post-primary age, and will explore how sport, education and business are tackling participation in sport among children.
Click here for more details.