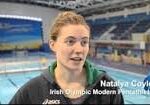 The National Sports Campus has begun a mission to attract top international teams to Abbottstown as they prepare for the Commonwealth Games in Glasgow later this year.
They are building on the success of a similar effort in advance of London 2012 which attracted a total of 16 countries to send athletes for pre games training to Dublin.
"We have created a video tailored specifically to sports that are participating in the Commonwealth Games that we could facilitate at present with our current facilities," commercial manager Robbie Wheland told Sport for Business yesterday.
"We have an Olympic Swimmer in Barry Murphy, a Paralympics Gold medallist in Dave Malone, our International Diving Coach, Ben Fox, and an internationally decorated track star Derval O' Rourke all appearing to talk about how the facilities at the National Aquatic Centre, the Sports Campus and Morton Stadium in Santry provide them with the right facilities to prepare for competition at the highest level."
"We've added international Cricket player, Alex Cusack, as Cricket Ireland's star has risen in Asia, which is a strong Commonwealth market."
"Also, one of Ireland's brightest sporting stars Natalya Coyle has been included to show how relevant and diverse our facilities are."
Contact will now be made with the 49 individual Commonwealth Games Committees and assistance has been given from the Department of Transport, Tourism and Sport who have sent the video on to embassies in the relevant countries to promote locally.
"We're hoping our experience from the London Olympics campaign and the superb testimonials we received across the continents will serve us well in attracting nations to Dublin in advance of Glasgow," added Whelan.
The Games will cover 17 sports in 14 venues around Glasgow and will attract visitors and athletes from around the world. Two of the major sponsors are Emirates and SSE, the parent company of SSE Airtricity here in Ireland, both of whom are involved in Irish sport and while we may not be competing we certainly should be playing a large part in the games in other ways.