Hockey squads named as destiny draws near

Irish hockey have today announced the two squads of eighteen who will represent both the National Men and National Women's hockey teams at their respective upcoming Olympic Qualifiers.
The Men's tournament is the only Olympic Qualifier to be held in Ireland and gets under way at UCD in a little over a week.  Ticket sales have been faster than anticipated and it is likely that a number of the games in the six team tournament will sell out.
Electric Ireland are the principal sponsors of the tournament and will have the company brand on the jersey's as they do long term for the Women's team.  There are still secondary opportunities for companies to get involved in the event which will feature a fan's village on campus, and be streamed live to each of the participating countries.  Games will be televised on Setanta and the final is likely to be shown live on RTE.
Speaking at the team announcement Coach Paul Revington said "It is a big honour to be hosting this 2012 Olympic Qualification Event and I know this Team will do their best to make Ireland and their fellow Irish Squad mates proud."
The women's side will travel to Belgium to compete in their tournament from the 17th – 25th March and will face Spain, Belgium, Mexico, Russia and France.
Coach Gene Muller said "We have worked hard for this tournament and our team is ready. We will need to be at our very best to qualify for the Olympics. Our main threats are Spain and Belgium. Spain have been at every Olympic Games since 1992 and Belgium are a rising force in world hockey. "
"Our team is sincerely grateful to our supporters and especially the Irish Sports Council, Sport Northern Ireland, The Irish Sports Institute, the Olympic Council of Ireland, the Sports institute of Northern Ireland, and Electric Ireland. Their support has put us in a position to qualify for London 2012."
Subscribe to the free Sport for Business Daily Digest
Airtricity League under way this evening

The Airtricity Premier League gets under way this evening with the live televised game between Drogheda United and Shamrock Rovers.  In this week's Sport for Business Weekly we take a look at the commercial deals that have been struck by each of the twelve teams, four of whom have new principal sponsors.  We also highlight the 6.4% growth of overall twitter followers of the domestic game in the last fortnight.


Carlsberg Euro 2012 App launched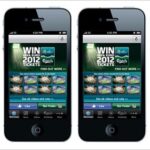 Carlsberg has launched a Euro 2012 news and entertainment mobile app, as part of its sponsorship of the football tournament.
The app is free to download from the Android and iTunes stores.  It will offer access to exclusive content and news in the run-up to, and during, this summer's tournament.
Features will include news about the 16 finalists, live commentary, and updated in game football stats.  To make things relevant from the brands perspective in terms of selling more beer, there will also be a bar-finder for fans attending the games.
Carlsberg is also the official beer of the FAI and has created a range of online and TV material specific to the Irish market.
Become a member of the Sport for Business Network
RaboDirect extends rugby reach down under
RaboDirect, sponsors of the RaboDirect Pro12 have extended their involvement with rugby on the other side of the world by signing Australia's James O'Connor as a brand ambassador.  O'Connor who plays for the RaboDirect Melbourne Rebels also has a personal endorsement deal with Irish Rugby's official partner Puma.
Queen to open Paralympic Games
The Paralympic Games will be officially opened by Queen Elizabeth II in London in August.  She will also declare the London Olympics officially open one month earlier.  The Paralympics have grown rapidly in stature and this is another sign of the equal status they are being granted with the London 2012 Olympics.  Ireland will be sending a strong team to compete, including swimmer Bethany Firth who qualified on Wednesday from the Irish National swimming Championships at the National Aquatic Centre.