Running Home in London, and why not Dublin

Londoners are to benefit from a new network of guided running networks, alongside major commuter routes, launching on March 12th.  The Home Run network will allow runners to leave their bags in special areas, which will then be transferred to other secure areas along the London Underground route.  Runners will be able to run at their own pace, along marked routes.  There is no charge for the service and it is designed to help ease the crowding which will be likely during London's hosting of the Olympics.
There are obvious health benefits and with some very prominent and well targeted branding opportunities for a sponsor, there may be good reason to replicate the idea along the Dart and Luas lines in Dublin.
Irish Rugby celebrates winning weekend
Irish Rugby is celebrating what may well have been its most successful weekend ever.  The Senior team scored five try's in beating Italy in the RBS Six Nations while the Women's team went one better against the same nation on Friday night.  The U20 team also secured victory and each of Connacht, Ulster and Munster ran out winners in the RaboDirect Pro 12 on Friday night.  Only Leinster's draw with Glasgow on Saturday prevented an international clean sweep at every level of the game.
Dunne Receives Three Award as FAI International Player of the Year

Richard Dunne won the Senior award at the Three FAI International Player of the Year Award in Dublin last night.  Darren O'Dea (pictured)was crowned the Young International Player of the Year, while Ray Houghton was inducted into the Hall of Fame.
The awards are in their 22nd year and deserve credit for the breadth of those celebrated with awards in the women's game, the Airtricity League, under age and schools sections sharing the limelight.  Hugh Douglas won the FAI Schools International Player of the Year.
Rory Falls Just Short

Rory McIlroy just failed to win the Accenture supported WGC Matchplay Championship in the early hours of this morning, meaning Luke Donald retains his position as World number one. The winner of the semi final between McIlroy and Lee Westwood would have ascended to being ranked as the top golfer in the world but Hunter Mahan warmed the home crowd by taking the title with a 2&1 victory over the 'mentally fatigued' McIlroy.  If McIlroy can bridge the gap he will be the first ever Irish player to be ranked as the best player in the world.
Aquatic Centre secures Olympic trainers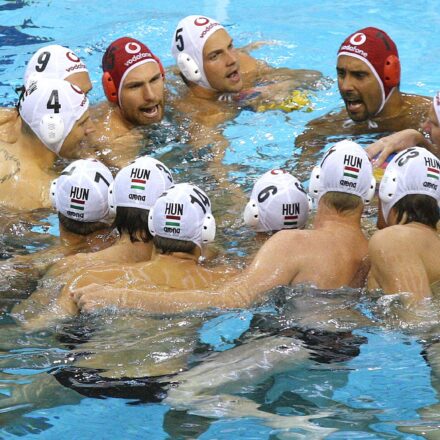 It was announced on Friday that the 30-strong South Korean swimming team would be undertaking their pre Olympic training at the National Aquatic Centre in West Dublin.  This brings to 13 the number of countries warming up in the pool ahead of the London Olympics.  Britain and Hungary (pictured) will play in an international Water polo tournament in July while the US National Synchronised Swimming team will be in town from the 10th-18th April.
The Irish National Swimming Championships take place at the venue starting on Wednesday and running through to the weekend.  Swim Ireland will be running a number of education programmes for swimmers and officials over the course of the event.
Sport for Business in the press
Sport for Business featured in a special report on the Business of Sport in the Sunday Business Post yesterday.  It comes off the back of two quotes in Irish media which we felt were appropriate.
John Greene writing in the Sunday Independent about Sport's need for support finished by saying that "Sport, no matter the level needs money to survive and those who adapt and innovate to the changing landscape (of business support) will most likely do just fine."
This followed an interview in the irish Times on Friday where Niall Swan of Soccer resort in the US said "The business of sport still thrives because people will not give up their passions."
Subscribe for free to a daily news digest covering stories of relevance to sport and business in Ireland. The Daily digest will be delivered to your email before 8am each morning Monday to Friday.