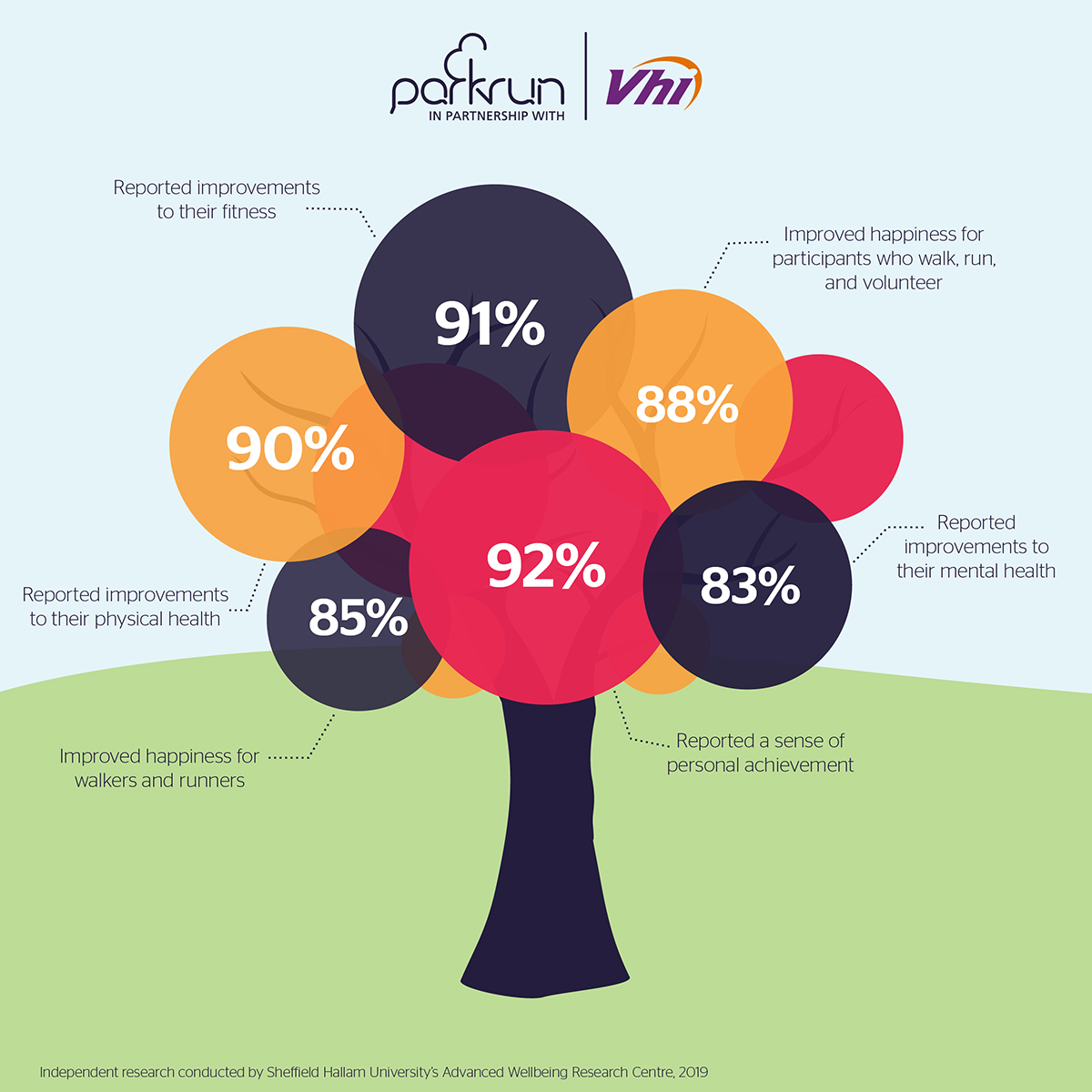 A new research survey commissioned by parkrun Ireland has shown the significant mental health benefits that are attained by participating in the 5K runs and especially by volunteering to help put them on around the country.
The research was undertaken by Sheffield Hallam University in England and elicited over one million answers to 47 questions asked of all registered parkrun participants.
Just under 5,000 completed the survey in October of this year and among the key findings were that:
92% of those surveyed reported a sense of personal achievement
91% reported improvements to their fitness
90% reported improvements to their physical health
83% reported improvements to their mental health
More than 33% of those surveyed reported to experience anxiety or depression however the majority of those said that parkrun had improved their ability to manage their condition
Those who also volunteer, as well as walk or run, reported the greatest improvements to their happiness with 88% feeling happier due to parkrun.
90% of those that reported experiencing depression said that participating in parkrun improved their ability to manage their health condition.
parkrun in partnership with Vhi is the biggest community-led physical activity movement in Ireland. It now extends to 93 free, weekly, timed 5k events across the country.
The volunteer-led events are organised every weekend and people have volunteered over 73,000 times in the last 12 months.
Over 170,000 registered participants have run at parkrun Ireland events since it started in Ireland in November 2012. Originally launched in the UK in 2004, parkrun now has more than six million registrants globally and over 300,000 weekly participants.
"The findings of this research validate our assumptions about the wide-ranging physical, emotional and social health benefits of participating in parkrun," said Matt Shields, parkrun Ireland Country Manager.
"Volunteering is an incredibly positive activity in its own right, with the greatest health and wellbeing gains being seen by the thousands of people who volunteer at parkrun."
"parkrun has grown from strength to strength in Ireland. This month we are celebrating our seventh anniversary and more than 170,000 walkers and runners have participated in parkrun events nationwide, supported by a coalition of partners including Vhi and Healthy Ireland who are dedicated to supporting the parkrun movement."
"As Ireland's leading health insurer Vhi actively supports our members to live longer, stronger, healthier lives.," added Declan Moran, Director of Marketing & Business Development at Vhi.
"This research demonstrates that the health benefits, both physical and mental, associated with participating at parkrun are unparalleled."
"There is no other movement like parkrun in Ireland and Vhi is very proud to be entering our fourth year as presenting partner, supporting this wonderful initiative encouraging people of all levels and abilities to take part in free events in a fun and positive environment."
"parkrun in partnership with Vhi supports local communities in organising free, weekly, timed 5k events and 2k junior events every weekend at 117 locations all over Ireland, with more than 9,000 people of all ages and abilities taking part each week."