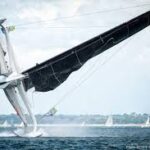 Dramatic pictures from Dun Laoghaire Harbour on Saturday afternoon brought worldwide attention on the Route des Princes sailing race that had arrived on Wednesday and was responsible for a festival in the harbour that attracted tens of thousands.
You can see video footage of the accident below but with all crew surviving and the race continuing today it is also worth looking  deeper at some of the relationships behind the race.
It is sponsored overall by Prince de Bretagne, a co-operative company of French fruit and vegetable producers that provide much of the fresh produce sold in supermarkets and grocers across Europe.
The parallels to the successful Irish Agri-business sector are obvious and it is good news for sport that such a body has chosen this event as its flagship marketing event.
Buyers and retailers from across the countries where the race lands are brought to see the boats and in many cases sail on them , providing an experience that will never be forgotten.  Fortunately none were aboard the vessel that capsized on Saturday and with Sunday's racing cancelled the Dun Laoghaire stop over did not work out as hoped but last year's race was a big success and it is planned to be the case again next year.
One of the boats involved is sponsored by Oman Air and we spoke to sponsorship manager Salma al Hashmi in Muscat about the thinking behind an airline partnership with a sailing vessel.
"It was a decision taken some years ago that Oman's long maritime tradition would be used as a strong theme to encourage tourism and awareness of our state," she said.
"The sport of sailing has taken hold with eight sailing schools in operation or under development and we hope to have 70,000 young people having learned off our coast within the next few years."
"Our ambition is to have an Omani sailor win a medal at the 2024 Olympic Games."
The numbers compare well to Ireland where, with a strong sailing tradition we would put about 10,000 youths a year through certified sailing programmes.
The bond between Ireland and Oman will be strengthened this year with the European Laser Sailing Championships being held here and the World Championships taking place in the Arabian Gulf.
It is expected that Irish Olympian Annalise Murphy will be a strong contender in both.
A strong emphasis on bringing young girls through the sport is also part of the Omani sailing programme with new female coaches being trained to account for local cultural feelings about the coaching of girls beyond the age of 12 by men.
Highlighting one area of sport as a potential niche and rolling government support into international promotion of it will be one of the themes of the Sport for Business Round Table on Sports Tourism which will take place on September 19th.



More on Sailing                   Membership Benefits         More on Sports Tourism