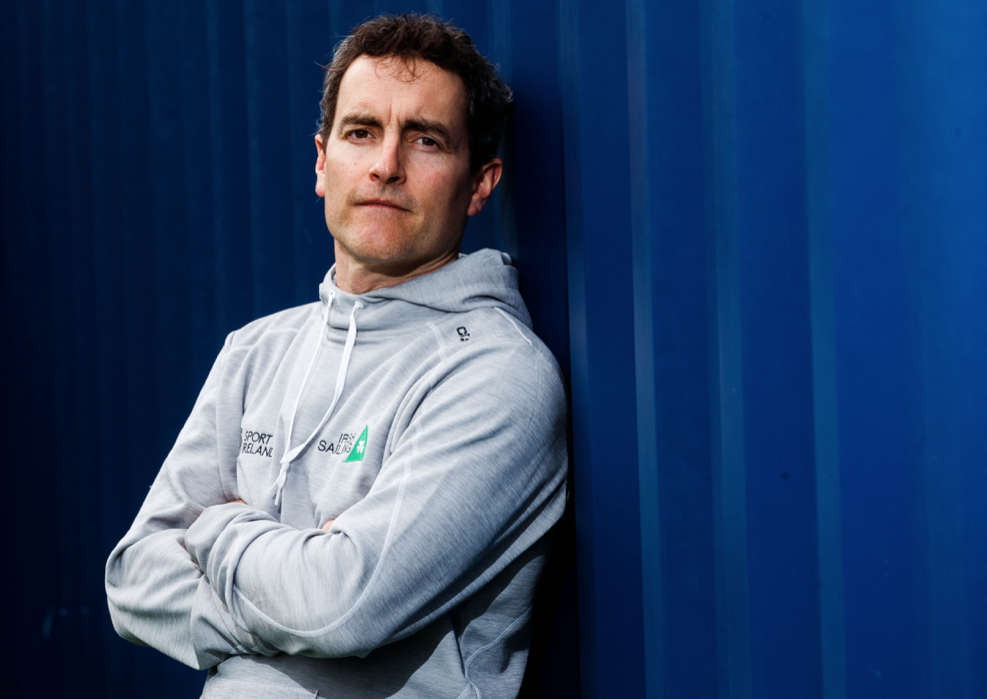 Irish Sailing delivered one of our two medals at the Rio Olympic Games and has added six World Championship medals since then.
It is a sport with a clear plan on how to develop elite performers on the world stage and has shown a very pragmatic and effective approach to creating the right environment in which they can give of their best.
Last month in Dun Laoghaire we were present for the unveiling of the new Irish Sailing High Performace HQ on the grounds of the Commissioner of Irish Lights.
It consists of three shipping containers fitted out with briefing rooms, a high-performance gym, storage and boat maintenance facilities. It is modular and one 'wing' will travel the world to be there for major events and put Irish athletes at the same level of preparation as the rivals they will face on the seas.
It is a classic case of getting things done that need to be done rather than waiting for
a perfect, permanent base that might take years to develop.
Sport for Business sat down with James O'Callaghan, Performance Director with Irish Sailing to explore how the project came about, what it can deliver and why it is so important for Irish sport.
Sailing has a reputation for being 'elite'. Has that been an important element in your being the first sport in Ireland to really tap into the power of philanthropic giving through the Irish Sailing Foundation?
There is an interesting paradox. We have over 150 training centres and clubs around the country and you no longer need to own a boat in order to take to the water.
That has opened up the sport for people to try it without the funding you'd need to own your own boat.
The growth in the appeal of adventure and nature has pushed sailing to the fore with lots of young people who are looking for something different.
The performances of Finn Lynch who grew up in Blessington in Wicklow but originally comes from Carlow without a metre of coastline is a good marker for how sailing has spread from its original roots here.
In relation to philanthropy, sailing has always appealed to business leaders. There is the aspirational quality of owning a boat and getting away from it all has always been a feature of how sailing is perceived, and there is a reality to that.
The real selling point though has been success on the international stage. We had 420,000 people tune in to watch Annalise Murphy's medal race in London and 15,000 who came out in Dun Laoghaire to welcome her home from Rio.
The nation as a whole supports winners and we have proven we can do that.
We have shown that there is a gap in the funding between us and our main rivals. New Zealand gets three times our budget, Denmark gets twice what we have. We understand that the Government has competing priorities and that we need to stand on our own two feet. We have crafted a compelling narrative though around how philanthropy can bridge the gap and give our sailors every chance to be winners.
How quickly has the idea of the Foundation come to life?
It's been a long game. We had the original idea back in 2008. We had a video created at the time and we came back from Beijing just before Lehman Brothers went bust.
Economics is all about confidence in the future and nobody knew what was happening back then so we just had to shelve it.
London came and Annalise came so close to delivering a medal. She did that in Rio and it was in 2016 that we went back to the original idea.
Philanthropy is a long game, it's never a straight pitch and answer. Has it been an interesting journey and would you do anything differently now?
I learnt the hard way it is that long game. I am by nature an impatient person and in a high-performance environment, it's all about the now.
On the plane back from Rio I sent out a 'grenade' email to people who had been on the fence about giving and I said that it's now or never. It was the wrong approach but I had a supportive board who forgave me and it did at least show the passion that we have for delivering the best we can.
It was very hard in the early days. Because we were the first to do it we were trying to explain philanthropy in a sporting environment as well.
In the US it's a more straight forward approach. If they like the plan they just want to know the structure of how the tax breaks work.
Jack Gleason was the first to go out and bang the drum for us. Kathryn Grace has taken that over now and we have had great support and assistance along the way. Kingsley Aikens always gave his time and advice and really liked what we were doing and he is a master in this world.
Dennis O'Connor and 2into3 have been great. He first approached me in 2007 and has been there throughout, continually nudging us towards the common sense of why we should be in this space.
Has the story changed since then?
It's interesting looking back and what changed was that we moved from having the potential to having delivered. Olympic and World Championship medals have been won and the story now is being told on a much higher platform. At first, we were asking people to take a leap of faith that we could do the right thing. After Rio, we were able to switch to having actually done it.
Was that important in terms of the success of the Foundation?
It probably was. Like any business, the environment has to be right for the story to land. We had a better profile now but there was still a sense that people 'didn't want to invest in a house that has no roof.'
Getting to the first stage of having the Foundation provide us with the €300,000 cost of the Performance HQ was really important.
As Colm Barrington said in his speech at the opening 'we now have a house, with a roof and we now need to move onto the interior.'
The running costs are ongoing and funded largely through Sport Ireland and sponsorship. We have three events in Japan this summer and two in New Zealand in November. It takes 54 days to get to New Zealand.
There are lots of balls in the air when it comes to the logistics but now we have the HQ at least we are in a position to juggle them.
In terms of funding how important is the Foundation?
It's one of three streams, all of which are equally important. Sport Ireland is the main source and we are hugely grateful for what we get through Government funding. Then there are commercial streams including sponsorship for which we are currently seeking a headline partner and suppliers including Optimum Nutrition, Goal who provide the gear and Harkin in terms of equipment.
We are a small sport but we do get great exposure and that has to be part of the appeal to commercial partners.
Is the international nature of the sport something that would enhance your appeal to global sponsors?
Yes, we are looking at companies with an interest in Japan where sailing is incredibly popular and other parts of the world, as well as with Irish companies that have an international reach. We know we can deliver a winning partnership but the search continues.
And philanthropy is the third stream. Now that the €300,000 has been spent on the HQ is the dial on that down to zero?
No the way we have structured it is that we have asked for a four-year commitment. Not everyone came on immediately but we stuck with the timetable so as others have come on there is a pipeline.
It means that we don't fall over a cliff after Tokyo. We have been going for three and a half years and we have raised €1.3 million. We have drawn down some of that but I know we have a fund there which gives us the support to do things now and also to plan ahead.
How many individuals are involved in the giving?
We have just under 20 individuals at the moment and this physical building is a momentum shift in terms of people now investing in something that they can see as well as visualise.
Our target is ambitious, that we want to match Denmark in a giving programme that delivers €1 million a year. As we stand we are at around €400,000 and moving in the right direction.
How did you arrive at that as the target, was it based just on what your rivals have?
It's a figure based on hard fact. Everything is costed and 2into3 did a lot of work with us on this.
The original funders wanted to see what was coming now and what was coming next.
In the first two years it was expensive to create the right structures and governance to make this a viable long term funding vehicle. In those early days, it was costing us 75c in the € to get everything set up. Now we are down to a cost of 28c which is closer to the best number.
Notre Dame University in the US would have it down to 18c but they are long established with a strong alumni base and a more amenable culture.
Even knowing those numbers puts you in a great place to approach people for money. You also have a good story to tell. You are still the only sport that is out there doing it though. Is that a gap in Irish sport generally?
Look, there always has to be a first. We have been out there and now we have something to show there is a greater level of curiosity from others.
What we looked at was the sporting community being very supportive of their athletes. Various campaigns would get support but then individuals in an organisation might move on and there is no legacy left behind.
The Foundation gives us the chance to encourage people to invest in a long term plan. Colm Barrington as the first Chairman and now Patrick Coveney can go to individuals and paint a picture of a sustainable gain for sport that will grow over time with the right support.
We have 30 medals over the last ten years at the highest level. The sole goal of the Foundation is to raise the money and the execution of the strategy lies within the sport. It is still an element of faith in the long term. You might be inspired by one individual but it's the next generation that might benefit the most from your generosity.
How important is it that your donors are from a sailing background?
It's very important in the early days. Your kickstarters are generally very aware of the sport and if you can't persuade 'your own' then how can you convince others?
After that though it goes beyond, to people who want to invest in backing success and we have expanded the donor base to people who have never been involved in sailing but who see the difference they can make.
Philanthropy has already made a difference in Irish Sailing. Annalise came back from London determined to go one better in Rio. Through the support of Sport Ireland, she put herself in a position to compete but it was Denis O'Brien stepping in with personal money to fund a training partner for her to compete against that probably made the final difference that gained the Silver medal.
It's not a straight line cause and effect but it certainly brought here to a higher level of readiness.
How did that come about?
Denis saw like others that she was a determined individual. He is passionate about Irish sport and we were able to show just how effective a contribution could be.
And where does it go now?
This is an important time. We had a lunch at the time of the launch which was supported by AIB Private Banking and which brought another powerful group of potential donors to see how their personal investment can make a real difference.
There is no minimum entry point but we have a table illustrating how the money can be spent.
We talk about this as our 'Goat' table. Bothar's charity drive to persuade donations and but yourself a goat in Africa was really popular because it made it easy to see what you were giving and what that enabled.
That's the model we've taken to have a very clear picture of what is gained from what you give. The start point is €5,000 which makes up to €20,000 over the four years.
We have encouraged former Olympians to be involved again, people like Mark Little and David Wilkins who have involved themselves as donors and as people who are willing and enthusiastic about introducing to others and expanding the network.
What does the next Chapter look like for the Foundation and for Irish sailing?
The last ten years have given us a lot in terms of 30 medals over youth and then the Olympics.
Now we have a performance HQ and the next chapter is making sure that the young talent has the support to go on to fulfil their real potential.
We are investing in one to one coaching. Resourcing the programme and getting the right staff is really important.
On the funding side, we are working with the Ireland Funds in New York and London as well and there are a number of events coming up that will help to enhance what has been achieved so far through the Foundation.
They are exciting times.