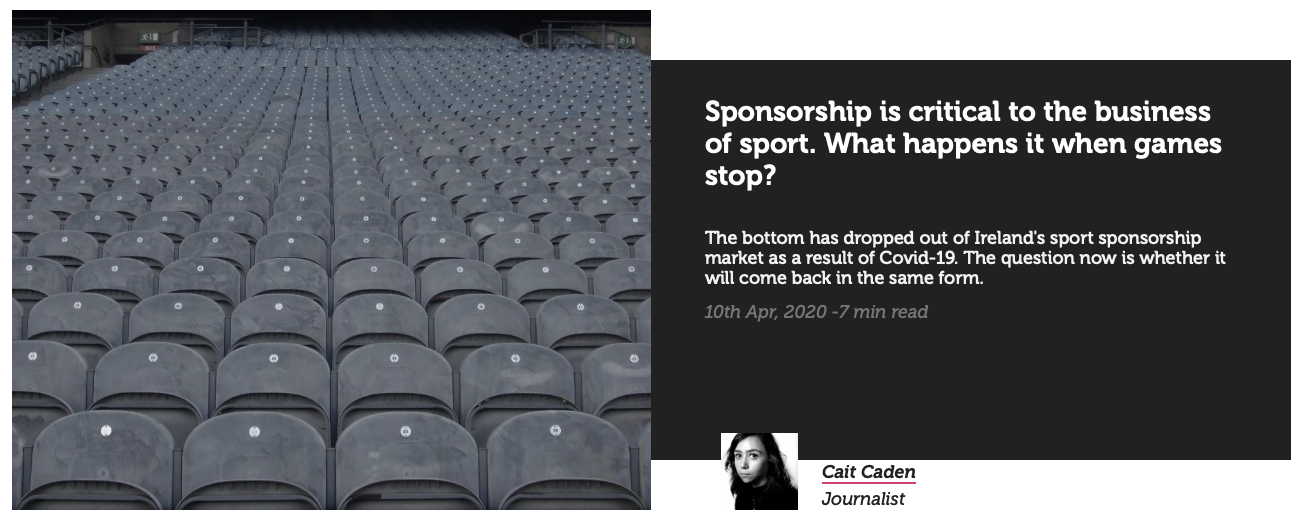 With little actual sport to fill the pages, there was a focus over the past weekend in the rest of the media about the business side of sport which is our daily diet at Sport for Business.
We featured as part of in-depth features in both the Sunday Independent and The Currency looking at the likely impact the longer the world shutdown continues.
John Greene's article in the Sunday Independent was headlined "Return to Action is Only the Start of Sport's Problems' and featured contributions from Jill Downey of Core Sponsorship and Kevin Moore of Legacy Communications as well as Rob Hartnett of Sport for Business.
"Sponsors in food retail and technology will emerge perhaps stronger from this," said Hartnett "but many others in the big sponsorship areas of auto and travel will have been hit very hard and may struggle to justify marketing in a high profile fashion at the same tie as fighting to save their business."
"Sport relies heavily on broadcast and sponsorship revenue as well as gate receipts and trying to get everything into a narrow window that was previously spread across the whole of the year will be a challenge even to the most optimistic and enthusiastic fan."
The Sunday Independent Article is behind their paywall and we are keen to support payment of media so the full article can be accessed here.
On Saturday we had made our first appearance in the business-focused The Currency started last year by Ian Kehoe and Tom Lyons.
In a long and detailed piece by Cáit Caden, we featured alongside Mick O'Keeffe of Teneo and John Trainor of Onside sponsorship in giving our views on how sponsorship is likely to be affected and how we sit alongside so many other sectors of industry.
Again the piece is behind The currency paywall but if you are a subscriber or would like to get value from being one, you can access the article here.
Check out our Live Webinar series Events coming up on Sport for Business