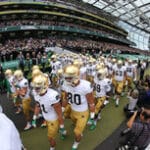 CHANGE OF DATE
Join us on Thursday morning November 7th and discover how you can benefit from the huge market that is sporting tourism.
Here are six numbers to consider when it comes to why sports tourism is of enormous value to Ireland and should be of material interest to you and your organisation.
Tourists who travel for sport as opposed to for other reasons spend twice the overall average in the countries they visit.
The average spend per weekend visit for a Six Nations rugby match is almost €900.
The value to Dublin of staging the Europa League soccer final in 2011 was €25 million.
The value of the 2012 Emerald isle Classic featuring Notre Dame College from the United States is close to €50 million
Visitors to Ireland who come for Golf leave behind in excess of €100 million, as do those who come for cycling, for angling, for walking and for horse racing.
The amount of money generated by visiting friends, family and fans around September for the month of All Ireland finals at Croke Park is also likely to match that magical sum.
On November 7th in the GAA Museum at Croke Park, Sport for Business will bring together leaders from sport and business, from Ireland and overseas, to debate some of the key issues around ensuring that Ireland not only maintains its strong position in this area but that it expands it as well.

There will be a keynote presentation from international expert David Fraser who has advised major sports and businesses around the world on how to build brands that will appeal to international audiences.
There will also be input from Fáilte Ireland, from major sporting organisations and from leading businesses in whose interest it is that Ireland punches above its weight in terms of an international sports tourism industry that is worth more than 10 times that of the entire Irish economy and is growing rapidly despite the economic downturn.
Two panels will discuss the following topics:
Lessons from bringing major sporting events to Ireland, and how we can do more
How sport and business can work together to maximise the financial benefit from outbound as well as inbound tourism
The different ways in which our local businesses can benefit from major events, from hotels and airlines to event companies, and service providers
How international business can play a major part in bringing sporting tourism to Ireland
There will also be round table opportunities so that all participants can contribute as well as learn from their peers in a setting that is central to Irish sport and Ireland's sense of place within the world.
Places are limited for the event but you can secure your place today by visiting our online booking service here. We hope to see you there.
Sport for Business 20/20 at Ulster Bank HQ (October 8th)
Sports Tourism Seminar at Croke Park (November 7th)