Sport for Business 30 Under 30 identifies those who will be among the next generation of Ireland's sporting leaders.
Throughout March and April, we have published the 2019 list from among those who have been nominated or who we have identified as having the potential to become the leaders of our industry over the coming years.
It is only the tip of the iceberg of those who are working in the industry.  Over 100 have been nominated and we will go again in 2020.
From May we will introduce regular commentary from those who appear on the list so that we can bring you closer to the thoughts of those who are looking at our world from the freshest perspective.
Later in the year then we will gather as a wider group with our partners for this initiative, PwC, and explore key areas of the ongoing and ever-developing relationship between sport and business.
We have always believed in the power of youth to effect change and in the benefit of mentoring and networking to develop potential.
This is our way of putting that belief into practice, here are the Sport for Business 30 Under 30 for 2019.
*******
Richard Barrett
Richard Barrett is Co-Founder and Chief Operating Officer at Pundit Arena.  He founded the online publishing venture in November 2013 alongside Ross O'Dwyer and the business has gone from strength to strength.
Barrett is no stranger to recognition having gathered a raft of awards for entrepreneurship down the years.  He has also been chairman of UCC's Collingwood Cup winning soccer team and retains a deep affinity with his alma mater.
He earned a Bachelor of Education degree from there in 2012 and spent two years as an Irish and PE teacher at St Patrick's College in Cork but he was keen to test what would prove to be a talent in journalism and business and an injury which left him in a wheelchair for two months in 2012 gave him the motivation to set up Sport is Everything and then Pundit Arena.
He met O'Dwyer on an Ignite programme run by UCC and together they combined their ideas on publishing and sport which was to become Pundit Arena.
*******
Emily Murray
Emily Murray is a Director and Editor of Video Content at Along Came a Spider and one of the main driving forces behind the 20X20 initiative.
She joined the agency in 2016 after a few spells working freelance within the industry.  Her initial education qualification was from the National University of Ireland Galway where she graduated with a Bachelor of Arts Degree in Film Studies.
While there she also took in a study abroad programme at the University of Southampton.
She was an enthusiastic volunteer within film and drama societies at College and as a volunteer with the Galway Film Fleadh before doing a Masters Degree in Multimedia at Dublin City University.
Since the start of the 20X20 Campaign, she has been one of the main drivers of the initiatives and content supporting Women in Sport.
*******
Stephen Long
Stephen Long is responsible for Digital Content at Connacht Rugby.
He joined Connacht in March 2018 after five years working in the radio industry. After graduating from DCU with a degree in Communications and a masters in Journalism, he joined Beat 102-103 as the station's Sports Editor for three years.
He then moved to Off The Ball where he worked as a journalist and production assistant at the same time completing a masters in Sports Management at UCD.
Long is responsible for digital content at Connacht Rugby, including social media and the club website. In conjunction with his work on the pro team, he co-ordinates the promotion of all Club and Community rugby in Connacht at minis, youths, schools and adult level.
His interest in sport extends beyond Rugby as well being an avid Waterford hurling fan and an FAI Season Ticket holder. 
*******
Sarah Judge
Sarah Judge is a Marketing and Events Coordinator at Horse Racing Ireland.  She has specific responsibility for student and education programmes within the sport.
She is herself a fine example of where such programmes can bring you having served as an intern with Horse Racing Ireland and then done a similar role with the British Horseracing Authority as part of their Graduate Development Programme in 2015.
While studying for a First Class Honours Degree in Equine Business at Maynooth University and then a Postgraduate Diploma in Public Relations at the Fitzwilliam Institute she gained experience through working as a Press officer for Para Equestrian Ireland and then as an Administrator with Show Jumping Ireland.
She joined Horse Racing Ireland in 2017 after two years with Glanbia and is now responsible for securing the interest of future generations in the sport of racing.
John Clare
John Clare is a Senior Account Executive with Legacy Communications. He joined the company in December 2017 having previously worked on sales and marketing with Trinity College Dublin.
Clare received multiple nominations for inclusion on this list, being hailed as "committed to going the extra mile for his clients, continuously pushing himself to deliver exceptional results."
He has worked on Glenisk's campaign with Irish Rugby, and on the Littlewoods #StyleOfPlay campaign that won the Best Newcomer Awards at the European Sponsorship Awards.
Clare graduated from Waterford Institute of Technology with a Degree in Business and Recreation Sports management before returning to education and completing the UCD masters in Sport and Exercise Management in 2017.
*******
Jonny Madill
Jonny Madill is a sports lawyer at Sheridans, the UK and Ireland sports, media and entertainment law firm.
Based in London now, Madill grew up in Belfast and studied Law at Queens University Belfast,  He did his training at A&L Goodbody before moving to Sheridans in 2015.
He works with governing bodies, clubs, agents, brands, international athletes, sports data companies and esports brands, and has advised the GAA, Pundit Arena, the Northern Ireland Football League, Sportego, and others from Ireland.
He has a particular focus is the area of digital sport, including 'next-gen' areas such as sports data, digital content and esports and co-founded the Digital Sport Club, a network of like-minded thought-leaders working within the digital sports industry.
*******
Aileen Gaskin
Aileen Gaskin is an Account Director with the Communications Clinic.  She will be taking the lead this year on promotion of the Dubai Duty-Free Irish Open on behalf of the European Tour.
Gaskin has been involved with the event previously, working for Rory McIlroy who was the host since 2015.  She has also worked closely with Paul Galvin during her time at the agency where she has risen through the ranks.
She joined the company as an intern having qualified with a BA Degree in Public Relations from Dundalk Institute of Technology.
She subsequently went back to education, securing a diploma in Digital Marketing and Strategy from the Dublin Business School, an are which now forms much of her working day.
*******
Colm Hand is the Executive Administrator for the National Football Exhibition, currently being brought around the country by the Football Association of Ireland.
He took on his current role in July 2018 and has made a big impact by launching the Exhibition at Dublin Castle ahead of the EURO 2020 Qualifying Draw and subsequently bringing it on the road to Sligo and Cork in the first part of the year.
The Dubliner previously worked in the FAI's International Department before transferring over to the Communications Department, where his organisational skills and creativity have enabled him to work smoothly with Grooveyard in delivering an interactive Exhibition that still has stops to make in Limerick, Waterford, Donegal, Galway, and Dublin again.
Colm previously worked as Events Manager with Anthony Travel and made the most of his experience in the United States before linking up with the FAI in 2017.
The DIT graduate in Business Administration is currently studying on the UEFA Certificate in Football Management.
*******
Bríd Ní Dhonnabháin
Bríd Ní Dhonnabháin is President of the University of College Cork's Sports Clubs.  She played a key role in the development of the UCC Sports Strategy launched in February and is highly regarded on Campus.
Ní Dhonnabháin has taken a year away from her studies to head the group of 55 Sports clubs and was a significant contributor, through representation of the student body, to the strategy, which covers participation and performance through to facilities and branding.
Her main sport is Surfing which we believe is a first for the 30 Under 30.
*******
Conor Slater
Conor Slater is Managing Director of Assasin Ireland Limited and Head of Operations and Boxing with Assasin Boxing Promotions.
The business manages young boxers coming through the professional ranks of the sport here and across the world and recently staged a show at the National Stadium which was televised live on TG4.
They have relationships with Eddie Hearn's Matchroom and Ken Casey's Murphy's Boxing in the US.
Professional boxing can be a tough environment but at the age of 22 Slater is making enough moves to suggest he will be well equipped to carve out a significant niche for himself.
Slater grew up in Clontarf where football was his main sporting interest and then studied at St Michael's College before heading to the University Campus of Football Business at Wembley Stadium where he gained a Degree in Football Business and Media.
*******
Aoife Reilly
Aoife Reilly is a Regional Sports Development Officer with Special Olympics Ireland.
She joined the organisation as an intern in 2014 and stepped up to her current role within a few short months.
She has driven the sports programme for adults and children with an intellectual disability in seven different sports and hosts high-quality sports events and training each year.
In 2016 Reilly qualified as a Coaching Children's tutor with Sport Ireland. Since then she has delivered a number of Coaching Children's courses in the region, enabling clubs and coaches to roll out the Special Olympics Young Athletes Programme.
She graduated with a BSc in Sport and Exercise Science from the University of Limerick in 2012. She then went on to complete a Master's Degree in 2013 in Human Nutrition, specialising in Obesity and Weight Management from the University of Glasgow.
*******
Aaron Gallagher
Aaron Gallagher is a sports journalist on The42.ie and one of a new generation of digitally savvy writers who retain an understanding of the power of words.
He was named as National Press Journalist of the Year at the 2018 Student Media Awards, having graduated with a BA in Journalism the previous year.  He joined The42.ie following an internship but has continued his learning with a Masters Degree in Social Media Communication, also from DCU.
His dissertation was on the impact of social media on the working life of Journalists.
Gallagher covers a wide range of sports with his latest contribution writing about Niall Quinn's reaction to the FAI Hearing in front of the Oireachtas.
*******
Ian Reeves
Ian Reeves is a Player Development Officer at the Gaelic Players Association and has been nominated from within the organisation.
He will be one of the youngest of the group put forward in 2019 but is fully deserving of the accolade.
Reeves is the main contact between players and the GPA with regards to the Player Development Programme.  He is also involved in the analysis of data which will lead to evidence-based output that will be central in the ongoing management of amateur players engaged at the same level of effort and intensity as their professional colleagues in other sports.
He graduated with a BSc in Sports and Exercise Management from UCD where he was also involved as a player and performance analyst.
*******
Aoife Lucey
Aoife Lucey is a Content Producer and Activations Manager for the 20X20 Campaign at Along Came a Spider.
She joined the agency in 207 and has been a central figure in the success of the 20X20 campaign from concept through to its continuing execution.
She has also produced video content for Standard Life, AIG, Focus Ireland and eir.
Lucey graduated from Cork Institute of Technology with an Honours Degree in Creative Digital Media.
*******
Andrew Phayer
Andrew Phayer is a Digital Content Producer with Munster Rugby where he has been responsible for producing a number of our Daily Videos.
He joined Munster in 2015 having worked as an Editor with Black Umbrella Productions in Limerick for two years before that.
In developing the provinces digital content he has delivered over 1,000 videos during his time there, being involved at every stage from concept through capture and edit to publication.
He also looks after the delivery of Munster's Match Day experience on screen in the stadium and through social media channels.
Phayer graduated from Limerick Institute of Technology with a First Class Honours degree in audio and video production and is highly regarded across the rugby landscape for the quality of his work.
*******
Nuala O'Donovan
Nuala O'Donovan is the Sports Inclusion and Integration Officer with Dublin City Sports and Wellbeing Partnership.
She was appointed to the role in February having worked as a Regional Development Officer with Special Olympics Ireland between 2017 and 2019.
A Graduate in Sport and Exercise Science from the University of Limerick in 2014, she was awarded one of two European Scholarships to undertake a masters in Adapted Physical Activity in KU Leuven, Belgium.
In 2016, O'Donovan undertook an internship with Paralympics Ireland and later that year moved to Special Olympics.
Apart from a passion for Adapted Sport she represented Ireland at the 2016 World Championships in Ultimate Frisbee. In 2017 she was part of a coaching team who coached the Irish U20 men's team to a European Final.
*******
Lydia Tierney
Lydia Tierney is a Client Director at FleishmanHillard.
Tierney joined the firm in 2012 and works across the Sports Sponsorship and Brand Marketing teams playing a vital role on a number of the agency's key accounts including Cadbury, Centra, Druids Glen and P&G.
In her seven years' experience with the agency, Lydia has worked on some of the biggest brand campaigns and sports sponsorships in the country including Centra and the All-Ireland Senior Hurling Championship and Cadbury's partnerships with the IRFU and the Premier League.
In 2017 she was nominated for the Doyenne Rising Star Award by IAPI.
Tierney graduated with a Degree in Business and Management from Dublin Institute of Technology and started her career with FleishmanHillard almost to the day that Sport for Business began life.
*******
Keith McConnon
Keith McConnon is a Senior Account Manager on the Sports Sponsorship Team at Wilson Hartnell.
He joined the agency in March 2017 and has been a key member of the team working on AIB's #TheToughest campaign.  This campaign has won multiple awards including most recently for Best Use of Branded Content at the European Sponsorship Awards.
Prior to joining Wilson Hartnell, McConnon was a consultant with Insight working on campaigns for Aviva's sponsorship of the Stadium and Laya Healthcare's City Spectacular.
McConnon earned a Bachelor of Arts Degree in Public Relations from  Dundalk Institute of Technology and is currently studying for the ESA Diploma in Sponsorship.
*******
Carla Reynolds
Carla Reynolds is Head of Communications, Social and PR at the Irish Ladies Golf Union.
She played an influential role leading up to the vote on the creation of Golf Ireland and has also has taken the lead in managing communications and social media around the Golf4Girls4Life programme which has changed how young girls look at golf, as well as how parents, clubs and coaches look to deliver golf activity to girls.
Reynolds studied Sport Science and Health at DCU before going on to graduate with a 1.1 Masters Degree in IT Management from NUI Maynooth.  Her thesis there focused on the use of social media in golf clubs in Ireland.
She joined the ILGU in 2015 where she looks after content creation across a variety of channels and the development of strategies to grow the game of golf alongside colleagues in the Confederation of Irish Golf.
*******
Eoin Doyle
Eoin Doyle is the Digital Fan Engagement Executive at Sheffield United in the English Championship. He is the first of our 30 under 30 to be working outside of Ireland but given Sheffield United's contribution to the Republic of Ireland team on Tuesday night with two starters and one on the bench it feels right.
Doyle completed his Degree in International Business at Waterford Institute of Technology last year and joined Sheffield United straight away.  He had previously served as a marketing intern at Huddersfield United while studying.
He was nominated by his Manager at the club Emma Kirk who said that "Eoin has been pivotal in the enhancement of our clubs digital marketing outputs, increasing our engagement and followers across social media dramatically over the past 11 months."
"As well as being recognised by his peers for his creativity and determination, we are also witnessing great feedback from supporters about the clubs much improved social media content largely produced by Eoin. Eoin's ability to apply his knowledge of both sport and best practice marketing has taken the clubs content up to a whole new level."
*******
Chris Mounsey
Chris Mounsey is the Marketing Manager with PRO14 Rugby.
He joined the organisation in the spring of 2017 and is preparing for his third Finals Series and the staging of this year's Final at Celtic Park in Glasgow.
He previously spent the best part of three years with Paddy Power Betfair working in their social media and advertising teams, as well as on developing brand partnerships with the BBC and Shamrock Rovers among others.
Mounsey studied at UCD where he earned a Degree in Marketing before going onto do a Masters in Marketing Practice at the Michael Smurfit Graduate Business School
*******
Sinéad Conroy
Sinéad Conroy is Business Services Manager at the Federation of Irish Sport.
As part of her duties, Conroy manages the relations, services and communications with the Federation's member organisations. Her other responsibility lies in business development, to include group purchasing and shared services, facilitating peer networks and supporting the development of the commercial programme.
Prior to her appointment, she worked as an Account Manager for marketing activations firm, Insight. She has a background in Marketing, Communications and Event Management and holds an honours degree in Commerce from University College Dublin.
She has extensive experience in client relationships, project management and sponsorship development, with a particular focus on sport.  In her spare time, Sinead is a passionate sports fan and spends most weekends supporting her home town club of St Maurs.
*******
Gráinne Murphy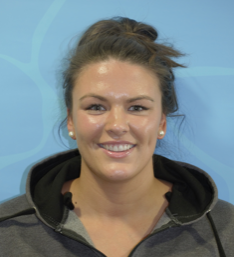 Gráinne Murphy is the national coordinator for the 'Get Ireland Swimming' Programme at Swim Ireland.
This involves the London 2020 Olympian leading a participation programme nationwide, travelling the country, encouraging schools to take their pupils' swimming.  Since her taking up the position over 6,000 have taken part in the programme.
Murphy was last year accepted onto the European Olympic Committee 'New Leaders Programme', one of two Irish candidates and 30 from across Europe.
The Programme was developed to enhance the participant's personal leadership skills as up and coming leaders who will, in time, have a wider impact on the sports sector across Europe.
Glandular fever in advance of the London Olympics prevented her from achieving her full potential on the biggest stage of all for the sport but she has shown that there are plenty more chapters yet to be written in her personal story.
*******
Gavin O'Broin
Gavin O'Broin is a key member of the sponsorship team at the GAA.
He joined the line up last summer having previously worked on the events team at Croke Park.
Prior to that, he worked with the Business Tourism Unit at Fáilte Ireland and before that for a spell at advertising agency Rothco where he would have been exposed to the thinking on AIB's #TheToughest activation as well as the work of Liberty Insurance with the GAA and the Camogie Association.
O'Broin is a graduate of Dublin Institute of Technology with a Masters Degree in Marketing and is a fluent Irish speaker.
He also continues to line out as a senior hurler with Ballinteer St Johns, the home club in Dublin of John Gillick of AIG and Coman Goggins of AIB.
******
Jen Ryan
Jen Ryan is a Senior Sponsorship Marketing Executive at Life Style Sports.
Having started her career agency side with Modern Green, working on brand activations including for O2, Heineken and Bank of Ireland, Ryan moved to work for O2, and subsequently Three, as Sponsorship Executive in 2015.
While there she worked across many of their sponsorship properties, including with the IRFU, Electric Picnic and the FAI, in addition to working on and on all brand events at the 3Arena.
Ryan switched to her current role at Life Style Sports in 2017.  She is a key member of the team working across key sponsorships including those with Leinster Rugby, Munster Rugby and on brand ambassador activation.
She has been credited with playing a key role in the redevelopment of the brand's rugby sponsorship proposition and creative execution, which has led to wins for the team at the Irish Sponsorship Awards and Digital Media Awards. She also is a key player on the sports marketing team working on product launches, campaigns and content for brands and teams including Nike, adidas and the All Blacks.
*******
Maeve Galvin
Maeve Galvin is a Senior Sponsorship & PR Specialist at Electric Ireland.
She plays a key role in managing the Darkness into Light sponsorship that won last year's European Sponsorship of the Year as well as the brand partnership with the GAA Minor All Ireland Championships.
It was Galvin's idea to bring The Championship Haircut to life at Croke Park last year by erecting a barbers shop in the grounds of the stadium on the morning of the All-Ireland football and hurling finals.
She played underage hockey for Leinster and Camogie for Dublin before graduating with a Bachelor of Commerce degree from NUIG and a Masters in Communications, Advertising and PR from University of Ulster.
Prior to joining Electric Ireland in March of last year, she worked as an Account Director with Maximum Media managing the SportsJOE/AIB GAA partnership winning Best Podcast and Best Video awards at the Digital Media Awards.
******
Chris Best
Chris Best works on the Sponsorship and Marketing team at Aviva.
He joined the company in January 2018 following spells as an intern with Golf's European Tour and World Rugby. As part of the World Rugby team, he played an important role in delivering the 2017 World Rugby Awards in Monaco.   As a member of the partnerships team at the European Tour, he worked with brands such as Rolex, BMW & Emirates.
He was a later arrival to sport having achieved a BA degree in Geography, Planning and Environmental Science from UCD and then a Masters in Real Estate Finance at Cass Business School in London.
Two years in the commercial real estate environment was enough though before he decided to follow his passion and pursue a career in Sport.
Highly regarded by his colleagues at Aviva he is involved across all aspects of the brand engagement with the Aviva Stadium, the IRFU and the FAI.
******
Ann Marie Guinan
Ann Marie Guinan is a Client Relationship Manager at Future Ticketing.
In 2018 she was awarded the PRO of the Year by the Camogie Association for her work in that role with Offaly Camogie, and where she is also Vice Captain of the Senior Team.
Guinan joined Future Ticketing only a little over a year ago from a previous role with Kilbeggan Racecourse.  She has risen swiftly through the ranks to client relationship manager working with Basketball Ireland, Gymnastics Ireland, Dundalk FC, Punchestown Racecourse, The National Aquatic Centre, Tattersalls International Horse Trials, Connacht Rugby, Virgin Media and others both in Ireland and the UK.
A graduate with a degree in media and Public Relations from the Institute of Technology in Carlow, Guinan has also been a contributor to the Sports Show on Midlands 103.
******
Conor Sharkey
Conor Sharkey is the Digital Media Manager at Leinster Rugby.
He joined Leinster on an internship after graduating from UCD with a Degree in English and History and then going on to secure a First Class Masters Degree in Journalism from Dublin Institute of Technology (TU Dublin).
That led to a full-time role being offered in 2014 and the quality of his work meant a promotion to his current role in 2017.
Sharkey is now responsible for all Leinster Rugby's social media activity and email engagement and led the redesign of the club's website in 2016.
He showed his mettle in UCD as producer and presenter of the Sports Show on Belfield FM Radio Station and is reaping the reward of that hard work with a career managing one of the largest Club Rugby fan engagement programmes in the world.
******
Philip Greene

Philip Greene is a Sponsorship intelligence manager at Core Sponsorship
He played a key role in the development of the National Sponsorship index launched earlier this year and contributes to a number of strategic projects for many of the leading brands in the marketplace.
These have included projects for the GAA, Guinness PRO14, Munster Rugby, Horse Racing Ireland, SuperValu and KBC.
Outside of work, Phil is a passionate sports fan, keen writer and Twitter aficionado. The podcast he co-hosts, "Hurlers on the Ditch", has twice featured in the Top 10 of the iTunes Sports Podcast for Ireland, and he is a contributor to award-winning sports websites such as The Set Pieces, Back Page Football and The Anfield Wrap.
He is a member of Leixlip GAA club, and his Kildare roots shine through in a love of horse racing.  he was an active member of the Horse racing society at Trinity College Dublin from where he graduated in 2016 with a degree in Business, Economics and Social Studies.
*******
Take a look back at our list of 30 Under 30 from 2018
********
Who should be on our list for 2020?
It's never too early to begin thinking about who you know that could be part of the 2020 group of Sport for Business 30 Under 30.
The criteria for submission is that the person should be working within the sports industry, or in a sponsorship or agency capacity that is bringing sport to life, and that they should be born in or after 1990.
We will formally open up nominations in February of next year and look forward to hearing from you then as to who you think will be among our future leaders in and around sport.
We are building a programme of support based on the creation of a network of young leaders that could be of benefit to them throughout their working lives, and to our industry as a whole.
Watch out on Sport for Business for more exciting initiatives in this area.