Monday, October 18th 2021
Curtis Campher
In a similar fashion to Kevin O'Brien a decade ago, Curtis Campher made Cricket T20 World Cup history yesterday when he took four wickets with four balls in Ireland's critical opening match against the Netherlands.
Just to add to the lustre he was also the one to score the winning run.
To complete the arc it was Kevin's brother Niall who was the link to his coming to Ireland in from his native South Africa in 2020 after highlighting that because his grandmother was born in Derry that he would be eligible to play for Ireland.
Ireland's next game in the World Cup is against Sri Lanka on Wednesday with a 3 PM start. A win there or most likely in their third game against Namibia would secure a place in the Super 12 phase against the best in the world.
Sunday, October 17th 2021
Rory McIlroy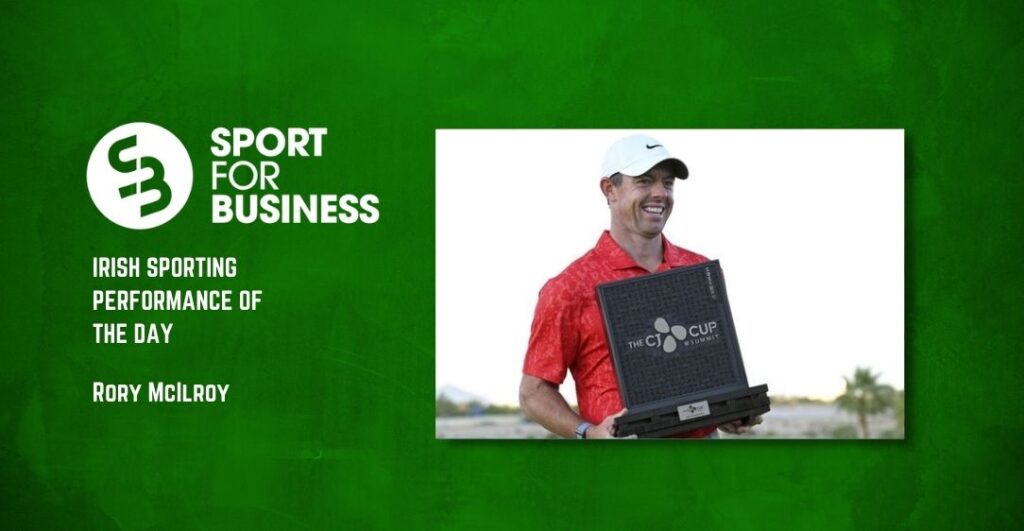 Rory McIlroy became only the 39th golfer in history to record 20 wins on the US PGA Tour with victory in the CJ Cup in Las Vegas on Sunday night.
It was his seventh Top 10 finish in 21 starts this year and a better day than has been the case in this season's Majors and at the Ryder Cup.
It's the mark of a champion though that you can put defeats behind you and still come out and win.
Saturday, October 16th,
Oisín Murphy
Kerry native Oisín Murphy won this third consecutive British Flat Racing Jockeys Title on Saturday.
He has had problems with a few unsavoury headlines and a failed alcohol test meaning he was unable to ride at a recent Newmarket meeting but his talent in the saddle is unquestionable.
Richard Hughes and Kieron Fallon are the only other two jockeys to achieve this feat in the past 21 years and the last to win four titles in a row was another Irishman Pat Eddery between 1988 and 1991.
Friday, October 15th 2021
Jenny Egan
The International Canoeing Federation released the Canoe World Sprint Rankings and with 181 points, Kildare's Jenny Egan is the World Number One.
She has won two medals at World Championship events in 2021, bringing to four the number of medals she has won at the highest level.
Thursday, October 14th 2021
Gareth Delaney
An unbeaten 50-ball 88 from Gareth Delany lifted Ireland to a comfortable 33-run win over Bangladesh in their final warm-up fixture ahead of the ICC Men's T20 World Cup.
Delany showed blistering power in a knock that included eight sixes and three fours, taking Ireland to a total of 177-3. In response, Bangladesh were derailed by the loss of three wickets inside three overs, with Ireland's frontline bowlers all among the wickets in their last run-out before taking on the Netherlands in the World Cup next Monday.
Wednesday, October 13th 2021
Conor Maguire
Red Bull Athlete and Irish Surfer, Conor Maguire has been nominated in three out of the four categories at the 2021 Global Red Bull Big Wave Awards which honour the athletes worldwide that are pushing the boundaries of what's possible and celebrate the most death-defying surfing of the season with life-changing rewards.
A seasoned Big Wave surfer, Maguire achieved deserved global recognition last October, surfing what is believed to be the biggest wave to hit the West Coast of Ireland reaching 60 feet, earning himself nominations for the Biggest Tow, Ride of the Year and Performer of the Year.
The only Male European nominated in three award categories, from Bundoran County Donegal, Conor honed his skills off the North-West Coast of Ireland, taming the giant Atlantic swells of Mullaghmore since the tender age of 11.
Tuesday, October 12th 2021
Callum Robinson
Callum Robinson's hat-trick against Qatar makes him the first player to score one since Robbie Keane in 2014, 2013 and 2006; and only the ninth player in our 100-year footballing history to score one after Keane, David Connolly, John Aldridge, David Kelly, Don Givens, Paddy Moore, John Joe Flood and Ned Brooks.
That he plays with a flourish and makes himself the most noticeable player on the field will only add to his status as the latest superstar of Irish football.  The singing section has not quite got around to making up a decent chant about him yet but that will surely be rectified by the time Portugal come to town next month and if he scores again away to Luxembourg in the meantime…
His exploits also make him the first Irish sports star to feature for the second time in our daily recognition of the talent we have to celebrate.
Monday, October 11th 2021
Amy Hunter
On her 16th birthday, Ireland's Amy Hunter hit an unbeaten century and became the youngest cricketer (men or women) to score an international hundred, as Ireland Women claimed a 3-1 series victory over Zimbabwe in emphatic style.
The Belfast-born Hunter scored a near flawless 121* off 127 deliveries, which include 8 fours – her innings total eclipsing the highest individual score for Ireland Women by one run (Karen Young scored 120 v Pakistan in 2000).
At 16 years on the button, she claims the record for the youngest ever centurion, previously held by India's Mithali Raj who was 16 years and 205 days when she achieved her record against Ireland back in 1999.
Sunday, October 10th 2021
Colin Keane
Jockey Colin Keane rode into the history books on Sunday with two winners at The Curragh breaking the previous record for the number of winners in a single season.
Keane had equalled Joseph O'Brien's 2013 record of 126 on Friday night at Dundalk. That had stood since 2013 and before that was held by Michael Kinane who rode 113 winners in 1995.
The remarkable Keane performance shows no sign of stopping either with the season still running until October 31st.
Saturday, October 9th 2021
Callum Robinson
After a tough week being hauled over the social media calls for saying he had not been vaccinated, Callum Robinson's selection was a big call for the Republic of Ireland but it certainly proved to be the right one.
Two goals were enough to settle the side and gain a first competitive win for Stephen Kenny.
The last time an Irish player scored a brace in a World Cup game was Darry Murphy four years ago against Moldova.
Friday, October 8th 2021
Conor Coventry
Conor Coventry set up one goal and scored another for the Republic of Ireland in the UEFA Euro U21 Qualifier against Luxembourg at Tallaght last night.
It was a second win from three in the campaign for Jim Crafords team and a man of the match performance from the West Ham youngster currently on loan at Peterborough United.
Thursday, October 7th
JB Murphy
JB Murphy won a second bronze medal for Ireland in the Scratch race at the UEC Elite European Track Championships in Grenchen, Switzerland.
In what was a gripping race, Murphy went clear of the bunch riding solo for around 10 laps winning the bronze medal comfortably.
Murphy claims Ireland's second medal of the Championships adding to the bronze medal won by Mia Griffin, Kelly Murphy, Emily Kay and Alice Sharpe in the Team Pursuit the previous evening.
Wednesday, October 6th
Irish Women's Team Pursuit Squad
Team Ireland's Women's Team Pursuit squad took a superb bronze medal in the 4km Team Pursuit beating Great Britain in the bronze-medal final at the UEC Elite European Track Championships in Grenchen, Switzerland.
The quartet of Kelly Murphy, Emily Kay, Mia Griffin and Alice Sharpe was strong throughout the competition and won a dominant victory over Great Britain in the final.
Ireland's time of 4:21.262 was nearly four seconds quicker than their opponents over the 4,000-metre distance.
Tuesday, October 5th
Conor Empey
Conor Empey enjoyed a dream debut for the Irish Men;'s Hockey team last night scoring twice, including the winner with three minutes to go in a victory over Malaysia in Lisnagarvey.
A Commerce Graduate from UCD he is currently playing professional hockey in the Netherlands and working an internship with Nike at their Amsterdam Office.
Monday, October 4th 2021
Jack Woolley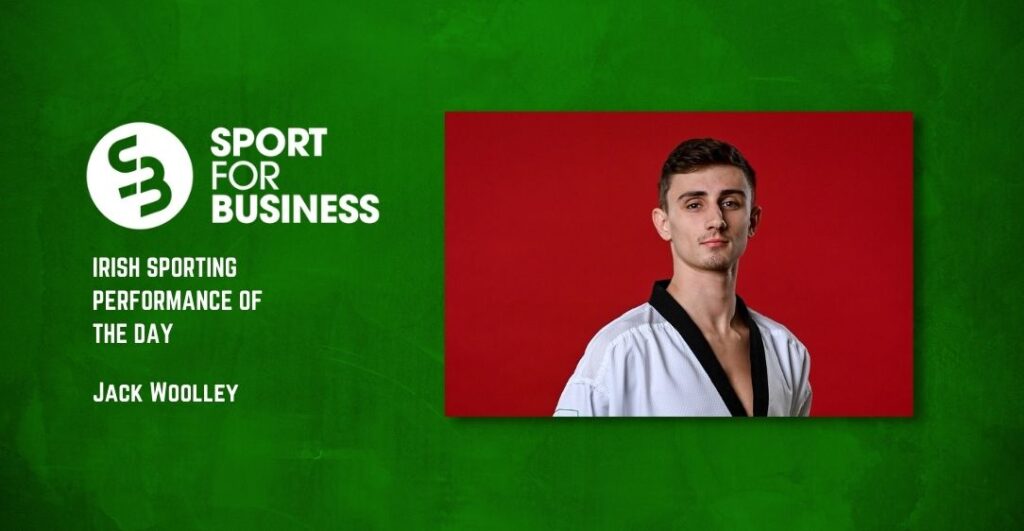 Jack Woolley won the Albanian Open Taekwondo event at the weekend, beating the European Champion, France's Cyrian Ravet in the Final to secure Gold and ten World Ranking and Olympic Qualification points.
Woolley was one of the first athletes to qualify for the Tokyo Olympic Games but was disappointed in how they worked out.
Worse was to follow as he was attacked on a Dublin street within a week of his return home.
It is great to see him bounce back.
Sunday, October 3rd 2021
Ger Owens
Ger Owens has emerged the overall winner of this year's Irish Sailing All Ireland Championships held in Crosshaven, Cork.
The Irish Sailing All Ireland Championships, formerly known as the "Helmsman's Championship" are one of the oldest and most prestigious sailing events in the country. Since 1947 sailors have competed to become the "champion of champions".
The championships bring together 16 of Ireland's top sailors who are nominated by their class (or type of boat). They then all race against each other in one type of boat.
This is the second time that Owens has emerged victorious.
Thursday, September 23rd 2021
Matthew Humphreys
Lisburn all-rounder Matthew Humphreys starred for the Ireland Under-19 cricket team with both bat and ball to lift Ireland to victory over Scotland, securing a finals place at the ICC Men's Under-19s World Cup Europe Qualifier.
He struck two sixes and two fours in run-a-ball innings of 32, before then taking four wickets for 11 runs. A win in Saturday's final against either Scotland or the Netherlands would see them qualify for the U19's ICC Cricket World Cup in 2022, to be played in the West Indies.
Wednesday, September 22nd 2021
Aaron Connolly
Aaron Connolly had only scored one goal in 2021 until last night when he banged in two in the space of five minutes to see Brighton through to the Round of 16 in the English Carabao Cup.
It could mark a turning point for a player who has yet to score for the Republic of Ireland at Senior level but is one of the regulars in the squad.
"He's only young and he's going to make mistakes and it's not going to be a straight road for him but the quality is there," said his club manager Graham Potter after last night's game.
Tuesday, September 21st 2021
Louise Quinn
A first win since March of 2020, and against a team ranked 11th in the world. Add in that it was fun to watch, had five goals and saw Ireland perform with confidence and flair and this was as good as it could be for the Republic of Ireland Women's National Team.
Star of the show in our eyes, and those of analyst Lisa Fallon who awarded her the Player of the Match Award was Louise Quinn. The timing of her tackles on two occasions in the second half was as immaculate as the best of Fabio Cannavaro back in the day or Giorgio Chiellini for the Italian masters of defence.
Add in the fact that she scored the match-winning goal and there is no doubt as to the destiny of our first Sport for Business Irish Sporting performance of the Day.
"A powerful and influential network of information and collaboration"
Download our latest membership brochure here.
Sport for Business Partners