Kieran Lucid is a man on a mission. He wants to see football on the island of Ireland transformed by the creation of an All-Island League that will see Glentoran and Linfield take on Dundalk and Smarock Rovers in grounds that are worthy of hosting top-class sport and with an audience watching on television that far exceeds the current levels.
It's far from a pipe dream, the random desire of a young man unencumbered by history. Lucid is a data scientist and this dream is based on having crunched the numbers and seen it is possible. He knows it is so because it already exists in Denmark and in Scotland, countries with a similar base of population, with a similar passion for the sport but who are well served by the global game in their own backyard.
He has listened to those who have travelled at least partway down this path before and surrounded himself with people who give credibility to his dream, who give the back up to encourage people to look at the numbers and take what is less a leap of faith than a step forward into a bright future.
Lucid is not a man for the front of house. He has broken cover a little more of late to tell his story on a bigger stage but he is reluctant to be photographed and wants this story to be about the idea and not about him.
Coffee
But we have to start with the person first and when I got a phone call from his colleague Mark Duffy to meet up over a coffee to look beneath the covers of what he is proposing it was an opportunity I was never going to pass up.
There is an irony that the office where we met is only a long free-kick away from the Aviva Stadium. There's little glamour about it. No waterfalls in the lobby, no glass atriums through which to spy a bright future. Just a stairway to a small room and a kettle we boiled to splash hot water over a few instant coffee granules.
We cleared a few boxes of files and sat down to see where the interview would take us and we started in the best place at the beginning.
"I moved to Belfast in 2016. I had a small tech company which I sold to a Northern Irish company. Part of the deal was that I would work with them and so I bought a place in Belfast and this is an idea that was very much born first in the North."
"I'm from Kerry but grew up with a love of football played by eleven rather than fifteen and played as a young lad with Tralee Dynamos before keeping up an interest through coaching under Brian McCarthy who went on to coach himself under Brian Kerr."
"I got involved up in Belfast with an underage tournament called the Boyne Cup which is played annually and which brings kids together from both traditions in the North to play together in the colours of Barcelona and Real Madrid. It's a weekend away for them and it works really well. It was something I was doing in my spare time. but it got me involved in the sport up there."
Talking
"I got talking to a few people in clubs up around and spent a day with Aubrey Ralph who had been Chairman of Glentoran and who I had seen quoted as saying there should be an All Ireland League. I thought that was interesting coming from an East Belfast club and he was great taking the time to guide me through the who's who of football in the North and suggesting who I might chat with and who I would need to speak to ahead of anything substantive that might arise."
"The more clubs and the more people I spoke to following that thread. the more I was hearing the same message that they were struggling financially and that if there was money on the table that they'd be up for it. They recognised they'd have to bring their fans with them but at the heart of it this was a question of survival."
"I was stepping away from the tech and so I decided to invest some time doing what I do and looking at the numbers of the population, attendance, reach and lots more. I dove into the data and began to look at how we compared to countries of similar makeup in Scotland and Denmark. Both have around a million fewer people that we have on the island of Ireland."
"We are obsessed by football. You look at Visit Britain figures and the sale of jerseys through Sports direct or lifestyle sports and a picture emerges of an obsession with the sport just not our own.
"Football penetrates every demographic and I began to get excited at where the potential was if we could do this on a bigger scale. I came up from the numbers with what I admit was a dry and dusty pdf but when I sent that around to the clubs you could almost feel them glaze over. The story was in there but I was telling it like a scientist and I wasn't getting through the simplicity of what was there."
"So we went away and broke the story down into more accessible short videos. When we sent them instead, all of a su=dden the project seemed to gather momentum. The clubs don't have the time to zoom out and look up. In many cases, they are living hand to mouth and living for the next wage run, the next game. I was getting excited and I hired a colleague Mark Duffy, who has since been elected to Mayo County Council and together we began to paint a picture of what might actually be possible."
The Football Wheel#allislandleague pic.twitter.com/tz9KgTgSNV

— All-Island League (@allislandleague) October 30, 2019
"The more we looked, the more we were put in front of people who contributed their own thoughts and who each validated in their own way that this was something which really was possible."
"Brian Kerr came on board, as did Ciaran Medlar from BDO, Brendan Dillon and Stafford Reynolds, another former Chairman of Glentoran. Catherine Toolin was positive as well. She was in charge of the Convention Centre in Belfast and having people of that calibre not only giving us time but also their own knowledge was really valuable."
"Emmet Malone at the Irish Times was very helpful as well in the early stages, pointing me in the right direction. Fintan Drury was a great help as well, sharing what he had learnt from a decade ago when he looked in detail at this himself.
"Each person I spoke to added to what we were putting together and were happy themselves to be part of the team, in the loosest sense."
"That brought us up to the start of this year and the conversations were continuing."
"Some moved faster than others. Some were slow to take it on board, all for their own good reasons. We never said that we had all the answers and this was always going to be a collaborative effort."
"In the summer things accelerated when Noel Mooney at the FAI mentioned us in a podcast interview, only in response to a question about Niall Quinn's plans, that there was another group that were looking at the future of domestic football through fresh eyes."
Kieran Lucid will speak about his plans in a public forum for the first time when he joins us for the first Sport for Business Belfast Breakfast at the Ulster University Belfast Campus on Friday morning November 29th.  

Click here to join us on the morning.
"The Irish Football Association and the Football Association of Ireland are the exclusive franchisees for the worlds most popular game. That's the way it works and that's where we need to persuade."
"Once we became public that kind of put us on the back foot with the IFA. We had not yet brought them on board and when they met, on the same night as we brought clubs from North and South together at Dundalk a few weeks back, they decided that they would not support what we were about."
"That was a blow but not surprising. What was really heartening though was that all of the clubs who we had been speaking to got in touch and asked us to carry on building a plan, that this was something which they really wanted to see progress to the next level of detail."
"We had been with the clubs and the FAI who we met at Abbottstown back in July and had presented our ideas to. We then met the working group of eight clubs who had come together to look to the future in September and we decided at that point to call the meeting in Dundalk."
"The clubs in the south were interested but did not really believe that those in the north would go for it so bringing them together to talk to each other rather than just listen to us was an obvious way to proceed."
"Getting people talking together is always the best way and so it proved. There were clubs in the North Ards, Cliftonville and Ballymena who had stated their opposition but there was enough of a willingness among so many more to keep this alive."
"Alex Horne, who is very well connected and who had worked as a Director in the FAI was another who had come onto our radar and his advice was to bring onboard a third party who had been here elsewhere to give a sanity check to our numbers and put more meat again on what we were proposing."
HyperCube
"HyperCube were recommended to us. They do a lot of work with UEFA and had been a key player in the restructuring of the Danish league. They now have a TV deal which is worth €50 million, with a national audience that is one million less than ours. I don't think we will initially get to more than a fraction of that but there is no harm at all in looking at Leagues that are run on a similar basis, seeing what they have done well, and trying to narrow the gap."
"Both of our leagues are undercapitalised and in order to change things you have to be open to new ideas. They were impressive in terms of backing up what we knew to be the case based on underlying numbers. They were keen that we didn't nail our future to one format, that this needed to be a collaborative process."
"We are now in the first phase of that gathering information on fan bases, attendance, revenue and turnover from the clubs. It's a discovery phase looking at information over five years and they are providing that to HyperCube so that we can run it against a number of models."
"We took stock after the IFA announcement and gave the clubs an extra week to consider if they wanted to stay involved. They did so now we are deep into the information phase."
"This will run for a few more weeks then we are into a consultation period where we will host club forums, fan forums, talk to the administrators and deepen the conversations we have been having with media and potential sponsors."
"The only commitment at this stage is to share information and to meet up from time to time. we have a job to do but there is a real willingness to explore what's possible."
"The FAI has said that they will support whatever the clubs want to do so that is where the focus is right now."
Runway
We turned then to how long of a runway Lucid has to make this happen, in terms of his personal capacity and his funding.
This was a point where he paused and gave it some consideration.
"We have always said that there was some urgency in getting this done if it was to be done. The FAI clubs are set for their season for 2020 but after that, there is no reason why the process of discovery and consultation cannot give us a blueprint early next year to either rally around or roll-up."
Lucid made a few million from the sale of his company but while that is a lot to live on as a regular citizen it is loose change in the world of professional sport.
"I've put significant time into this and I'm happy to invest in the next stage before perhaps asking others to help out if there is an obvious benefit coming down the line."
"Football is full of irrational people who are doing things for a love of the game rather than any long term financial payoff. I'm in good company with them but I do see a way in which this can be a good thing for all the clubs."
"We want to start the stakeholder forums this side of Christmas. We should have things in place by February and once we know what the numbers suggest, what the cubs want and what the fans are happy with we can start proper negotiation on rights and sponsorship in time for 2021."
"I grew up with football but I'm not in love with the Premier League and what it has become. I genuinely believe that we can have in Ireland can be more rooted in our places, more connected to our communities and more important at a society level."
"It needs investment and we need to do that in the right places at the League level. It's a point at which we need to decide are we watering the leaves or the roots? Are we focused only on international football or on the building blocks that will benefit that in the long run?"
"There are some great people working in the clubs. What Bohemians have done in terms of Terrace TV and creating a real sense of a club that the fans can get behind is brilliant."
"We are making progress but we are not competing with ourselves. If and when we get clubs into Europe we are playing teams that have municipal stadiums, backed up by money coming in from TV rights and commercial sponsorships that are beyond where we are at the moment."
Personal
On a personal level, Lucid is humble enough to know what his strengths are and what he can't deliver without the buy-in of the clubs.
He talks of this being an idea that creates potential value, as shown elsewhere, that could deliver thousands of times the return than is currently going into the game.
He has started a video business unrelated to sport for the moment, and there will be a point where that needs to take up more of his time and energy. Irish football currently lays claim to 90 per cent of his time.
That's an investment he is happy to make for as long as it makes sense. It will now be down to the clubs the fans and the governing bodies to make a call on whether they want to back his vision, based on solid evidence.
"We'll see how it goes over the coming months. The door is open but we don't know for how long. UEFA's creation of a third-tier competition across the nations gives more opportunity to play games at a supernational level. Other Leagues are well on the way towards benefitting from that. I'd love to think that an All-Island League can do likewise."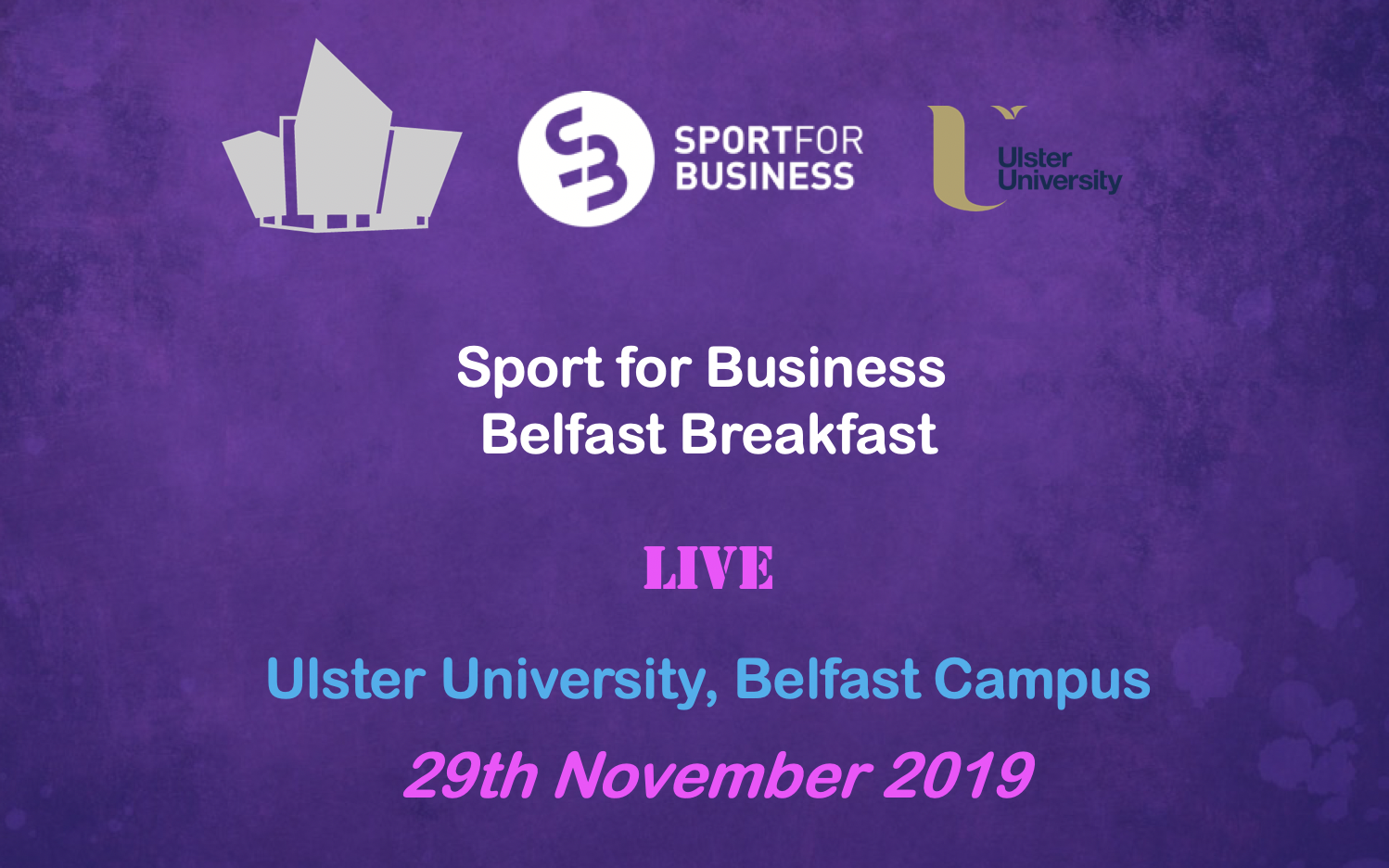 Kieran Lucid will speak about his plans in a public forum for the first time when he joins us for the first Sport for Business Belfast Breakfast at the Ulster University Belfast Campus on Friday morning November 29th.  
Click here to join us on the morning.