Sport once more proved immensely popular with the TV viewing public in 2020, though with disruption across the board and no World Cup event in either Soccer or Rugby, the number of events to feature among the top 50 events was down on the previous two years.
In total, the figures from 2020 show that 14 sporting programmes featured in the Top 50, as opposed to 26 in each of the previous two years.
The All Ireland Football and Hurling Finals on RTÉ, as well as the Guinness Six Nations decider between France and Ireland, all made the Top 10 but that total was down from seven and six in 2019 and 2018.
News programmes clearly made much more of an impact in the year that was in it with four programmes making the Top 10, including Leo Varadkar's broadcast announcing lockdown on St Patrick's Day.
The audience for both of the All Ireland Finals was down on the previous year, with their being held in December as opposed to earlier in the year the most likely reason for the drop.
The average audience for the Football, which was the fifth most-watched programme in the overall list, was 876,000, down from the average of 989,000 that watched the original game and the replay of the 2019 decider between Dublin and Kerry.
In the hurling, the number who tuned in for Limerick against Waterford, putting it into tenth place, was 712,000, down from the 829,000 who watched Tipperary beat Kilkenny the previous year.
Both of the football and one of the Hurling Semi-Finals also made the final list.
All five of the Guinness Six Nations games featuring Ireland, broadcast on Virgin Media One, made it into the Top 30 with an aggregate audience of 3.26 million as opposed to 3.52 million in 2019.
The Guinness Autumn Series games against England and Wales also made it into the list for this year.
Soccer rounded out the sporting events with the Euro 2020 Playoff defeat to Slovakia attracting the 24th biggest audience of the year drawing 570,000, and the second part of the nostalgic Boys in Green documentary coming in 45th.
2020 will appear with a significant asterisk alongside it when we look back on such figures but it is nonetheless heartening to see that sport retains such a place in the viewing publics affection.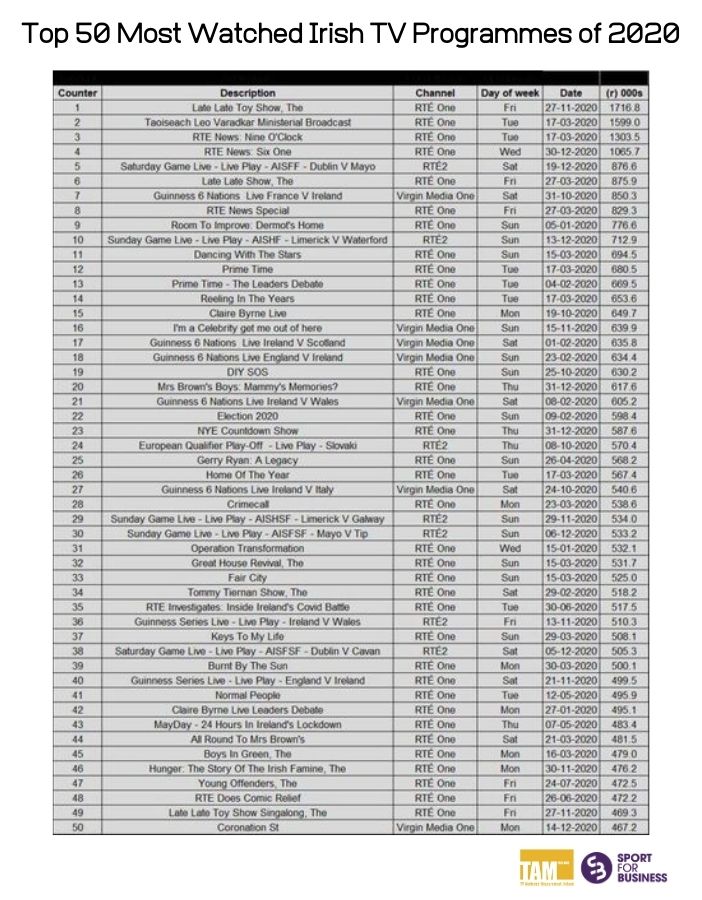 Sport for Business Partners