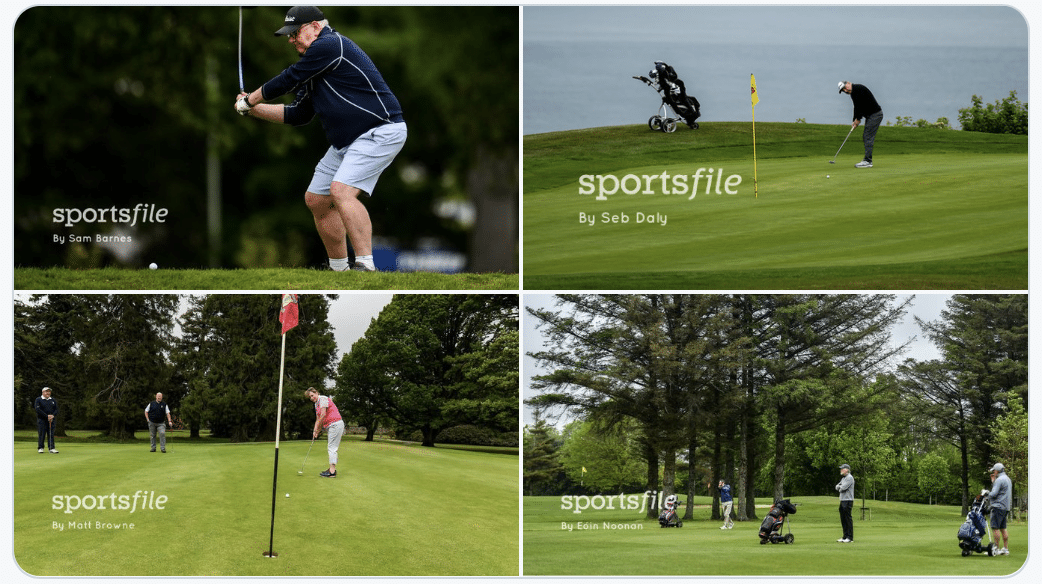 There was a quiet return to sporting activity in clubs and facilities up and down the country yesterday, which was exactly what we needed.
Most clubs and members seemed to be adopting a self-policing approach to the 5KM advice and a change in the advice regarding Over 70's, allowing them to play if they chose was another easing that had been distributed to tennis clubs off the back of comments by Simon Harris on Sunday.
RTÉ sent cameras to Sligo to chat with golfers teeing off at Rosses Point and Irish Independent journalist Conor McKeown has written a feature in this morning's paper about his round at Hermitage Golf club in West Dublin with his Dad.
"No Zoom meetings, no whats app emoji quizzes, no sporting nostalgia, no Covidupdates. Just fresh air and mild level competition with people other than those you have been in solitary confinement with for two months," was how he summed up the simple pleasures on the course.
John O'Sullivan in the Irish Times headed for Monkstown Tennis Club where he was greeted by Susie Kennelly in her role as Club President and chief ticker offer on the list of pre-booked courts.
Kennelly's husband is Ciaran, the former Senior Handicapper with Horse Racing Ireland and her role in days gone by was as private secretary to Seamus Heaney.
Ireland is a place where social connectivity reduces our degrees of separation from the global standard seven to what seems at times to be less than one.
That, of course, is the magic number in terms of reproduction of the virus and it is in maintaining our social distance, while reviving our social nature, that the key to a successful return from the lockdown will lie.
It was great as well to see the ever-excellent photographers of Inpho and Sportsfile back taking images of actual sport if not quite in the same visceral atmosphere they are used to working in.
Some great overhead imagery taken today at Greystones Tennis Club as the courts re-opened to the public pic.twitter.com/PBc9Uuy3Qh

— Inpho Photography (@Inphosports) May 18, 2020
Malahide Lawn Tennis and Croquet Club in Dublin resumes having previously suspended all tennis activity following directives from the Irish Government in an effort to contain the spread of the Coronavirus.

📸 @sportsfilebren
🔗 https://t.co/PVVVOoIHnR pic.twitter.com/OP5oA47rNT
— sportsfile (@sportsfile) May 18, 2020
Long jumper Joseph Gillespie during a training session at the Finn Valley Centre in Stranorlar, Donegal, as athletics resumes having been previously suspended in an effort to contain the spread of the Coronavirus.

📸 @Sportsfilesteve https://t.co/VvZkqvvfAf pic.twitter.com/hbOrMMCTOj
— sportsfile (@sportsfile) May 18, 2020

Join us this Thursday for a live Sport for Business session with the CEOs of five of the sports returning to action this week. We will be chatting with the bosses of Athletics, Golf, tennis, Rowing and Equestrian Sport to hear first hand how the return has gone, the work that went into ensuring compliance and some of the lessons learned over the first three days.
The virtual room is filling quickly and we would encourage you to reserve your spot today if you would like to join us.
Reserve your place today.

Todays Headlines: Call for Resilience Fund to Be Established Read
Todays Headlines: Watch our Interview with Mary O'Connor Watch
This Weeks Live Session: Five CEOs on Lessons from Return to Action Join
Check out our Live Sessions and Events coming up on Sport for Business
"Fair play you are doing a brilliant job of keeping us all informed and motivated"