In this week's Women in Sport Weekly, supported by our partnership with Lidl, we look at the increase in salaries to tempt players to the AFLW, TG4's landmark contribution to Ladies Football, a breakthrough in refereeing and plenty more…
********
SALARY LIFT FOR AFLW
We do not yet know all the names but it will become apparent over the coming weeks that there will be an increase in the number of Ladies Football stars heading to Australia this summer.
Because of the shift in the timetable of the AFLW, this means players will now have to choose between Australia or the TG4 All Ireland Championship.
The decision was made tougher this week with the announcement that salaries down under are to double with the top stars now commanding AU$ 71,935 and the minimum wage rising to AU$39,184.  In a Euro equivalent that means salaries of between €26,000 and €48,000 as well as the other benefits of training and playing as a professional athlete.
*********
TG4'S FIVE YEAR EXTENSION WITH LADIES FOOTBALL
TG4 this week announced a five-year extension of their sponsorship of the All-Ireland Ladies Football inter-county championships, with the new deal set to last until the conclusion of the 2027 season.
This deal extends TG4's long-standing sponsorship and broadcast rights agreement with the Ladies Gaelic Football Association and ensures that the partners will work closely together in 2024 to celebrate the 50th anniversary of the LGFA.
TG4 have been the title sponsor of the All-Ireland Ladies Football Championships since 2001 and the partnership has evolved into one of the most recognised and innovative in world sport.
We spoke to TG4 Director General Alan Esslemont about why it was important in a number of different ways.
This is the second major sponsorship renewal for the LGFA in 2022 after National League sponsors Lidl committed to a further four years, taking the LGFA's retail partners up to and including 2025.
It also comes after the Camogie Association signed a five year deal with Glen Dimplex for the All Ireland Championship in the small ball game.
*********
FEMALE OFFICIALS WOR QATAR WORLD CUP 2022
For the first time in the history of the FIFA World Cup, the FIFA Referees Committee has appointed three women's referees and three women's assistant referees.
"We are very happy that with Stéphanie Frappart from France, Salima Mukansanga from Rwanda and Yoshimi Yamashita from Japan, as well as assistant referees Neuza Back from Brazil, Karen Díaz Medina from Mexico and Kathryn Nesbitt from the USA, we have been able to call up female match officials for the first time in the history of a FIFA World Cup,"  said chairman of the FIFA Referees Committee Pierluigi Collina.
"This concludes a long process that began several years ago with the deployment of female referees at FIFA men's junior and senior tournaments. In this way, we clearly emphasise that it is quality that counts for us and not gender. I would hope that in the future, the selection of elite women's match officials for important men's competitions will be perceived as something normal and no longer as sensational. They deserve to be at the FIFA World Cup because they constantly perform at a really high level, and that's the important factor for us."
********
IRISH WOMEN'S CRICKET GETS FOUR YEAR SCHEDULE
The Irish Women's Cricket Team can look forward to home games against England, Australia, South Africa and Sri Lanka over the next four years, as well as overseas tours to Pakistan, Bangladesh, India and the West Indies.
The International Cricket Council (ICC) has today announced the 2022-2025 ICC Women's Championship match-ups that form the qualification route to the ICC Women's World Cup 2025.
This is the first time that Ireland Women are part of the ICC Women's Championship, and – along with fellow newcomers Bangladesh – will fight it out for qualification to the 2025 ICC Women's World Cup alongside the best in the world.
The tournament hosts have yet to be selected but they will qualify by right, along with the top five sides in the Championship standings. The two remaining spots will be identified through a global qualifier.
It is a big ask for the Irish team but playing against the best teams in a competitive environment will only aid their progress and increase the visibility of the sport among potential players of the future.
The first fixtures for Ireland in the competition will be a three-match One Day International (ODI) series against South Africa from 11-17 June at Clontarf Cricket Club. This will be preceded by a three-match T20 International series from 3rd to 8th June at Pembroke Cricket Club.
*********
WOMEN'S SPORT IN FIVE SOCIAL MEDIA NUMBERS
At last week's Annual Sport for Business Women in Sport Conference, we had illuminating discussions with leaders from across the sector.
We also shared plenty of insight in our Knowledge Burst segments.
One of those that we share with you today was from Stephen O'Leary of Olytico who looked at the explosion of interest in Women's Sport on Social Media over recent months through the medium of five numbers from three to 1.6 million.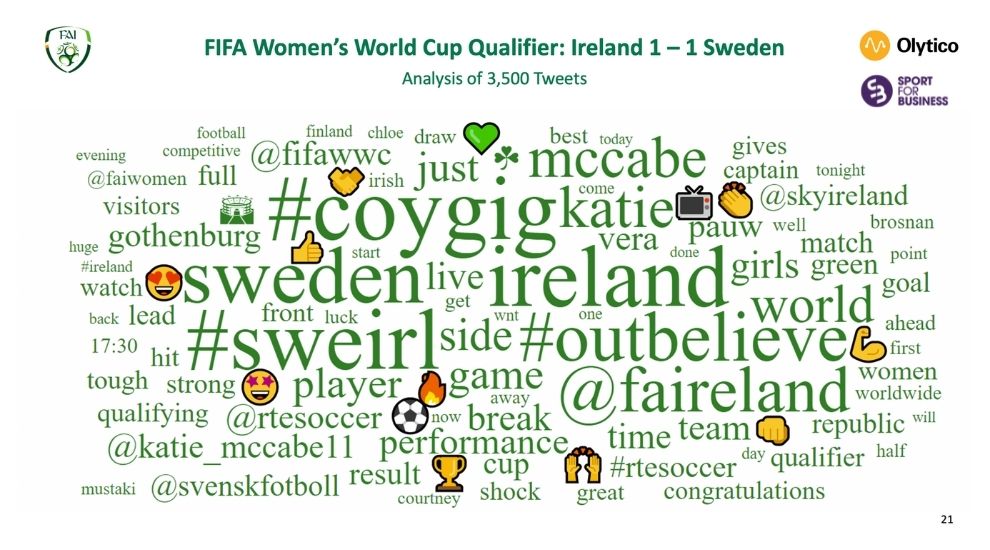 *********
A DAY OF INSPIRATION
It was a special day yesterday when the Sport for Business community gathered in person in larger numbers for the first time post-pandemic.
There was a tingle of excitement from the doors opening at the Aviva Stadium for breakfast and that was maintained throughout a day that was intended to inspire and inform and which we feel delivered.
From the opening session with Sport Ireland CEO Dr Una May delivering a personal and comprehensive outline of her hopes and ambitions in the role through a really honest, heartwarming and inspiring conversation with Vera Pauw as we veered into Extra Time, this was an event that had a little bit of everything.
Our coaching session with Lisa Fallon and Cliodhna O'Connor posed a lot of questions on what we can do to ease a pathway for more women in coaching roles and who might own the delivery of that.
Our visibility session had Orla McElroy of the Irish Daily Mail expressing her insight on how to raise the level of coverage and some of the things that help including tournaments being given their own space and time like the TikTok Six Nations. We also heard from Neal Cummins of Sky Ireland on the impact which coverage of the Women's Super League in England as well as the partnership with the Republic of Ireland Women's National team here is having on viewership and engagement.
Lochlann Walsh gave us an introduction to the work of the Olympic Federation of Ireland Gender Equality Commission and we were joined by Olympic Federation of Ireland President Sarah Keane to update us on the EU and IOC initiatives in this whole area which we will share in greater detail next week.
Aoife Clarke of Lidl Ireland and John Gillick of AIG gave us real insight on the ways in which commercial partners with the right mindset can make a huge difference to the way in which sport can grab hold of public imagination and that was backed up with two great five-minute knowledge bursts on Fandom and Social media from Jill Downey of Core Sponsorship and Stephen O'Leary of Olytico which we will also share.
We also got a greenside view of what the return of the Irish Women's Open in Golf will be like at Dromoland Castle in September.
It really was a privilege to have so many people so clearly moved by what they absorbed over the course of the half-day and we look forward to picking up all of the threads over the coming weeks, months and years. We are already looking forward to doing it all over again.
Thanks to all who spoke, to all who came and to Lidl, AIG and DMG Media for their continued support in everything we do in this key area.
**********
Each Friday we carry a Women in Sport Weekly Column, highlighting stories here in Ireland and around the world that are relevant to the idea that we are only catching up to what is happening elsewhere and that while we may be strong in some areas, there are certainly others where we need to prod and poke to ensure fairness.
That's all, it's not a takeover, it's not at the expense of sport that is there already, it is just recognition that sport should be more conscious of its obligation to the 50.5 per cent of the population that has just as much right and talent to play sport as anyone.
If you think there is a story around Women in Sport that we should feature please get in touch and let us know.
Sport for Business Partners