They bring us most of the magical moments we enjoy in sport through the commentary and analysis. Their personalities and the words they choose so often become a central part of our national memory around the truly defining moments in sport but they are there for the quieter days as well, telling the story of sport.
In our Sport for Business series 'Behind the Microphone' we meet with the individuals in the media who bring sporting stories to life on television and radio.
In the latest of our Summer 2019 collection of media personalities, we meet Ruth Fahy, coming down from the high of being co-commentator on the FIFA Women's World Cup Final in France alongside George Hamilton.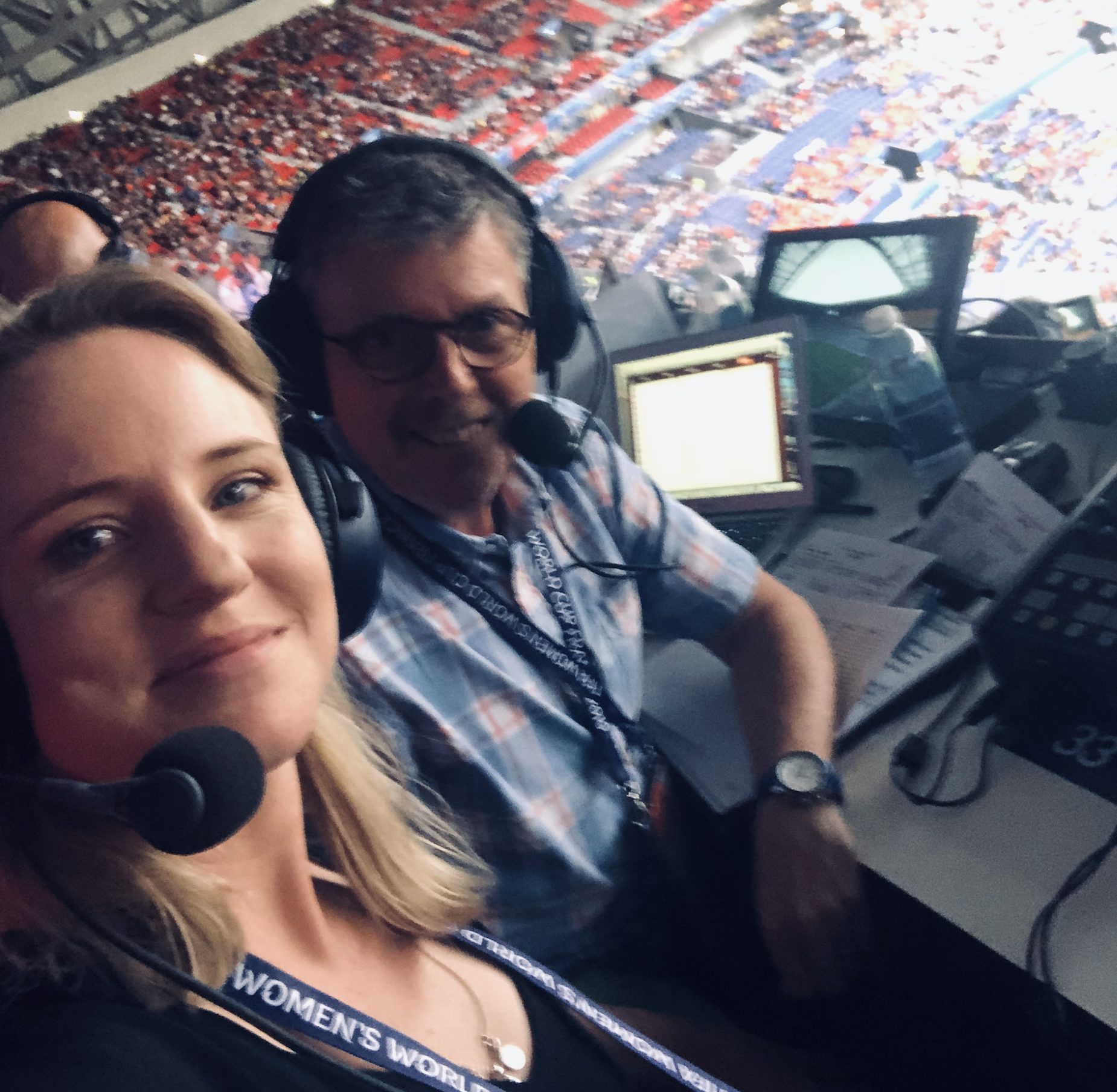 How did you get a start behind the microphone?
I never planned it but I'm very bad at making decisions.  When I was playing I was always interested in media and writing.  Extratime.ie were really the only ones that were covering the League and I was playing at the time for Castlebar Celtics.  They had match reports from all the games apart from ours so I emailed Gareth Penrose and offered to do our matches.
Was it difficult writing reports when you were playing?
No I was very factual and I kind of ignored myself.   There was no payment but it was worth it at the time for getting a byline and it was a nice way for me to help to grow the League and I really enjoyed it.
When I moved to Wexford, Gareth Maher at the FAI was looking for someone to write a players column for the FAI website.
Again it was a great way to help to grow the League and it was something I wanted to support him in and build up my own portfolio.
That then rolled into a column with the Irish Daily Mirror which was the first paid piece and we ran that for three years.
That was a great boost for coverage at an important time of growth.  It ended then though, why was that?
To be honest it was becoming really hard to keep finding the time for the weekly deadline.
I was working at the FAI at the time, for around eleven months alongside Rea Walshe in the Legal Department and with Gareth in Communications.
That was great and allowed me to do my first co-commentaries on games from the League that were being streamed.
Ronan McCarthy at Wexford FC was really encouraging.  He broadcasts all the games live with audio and I helped him out as well.
When eir Sport took and then RTÉ took on coverage of the World Cup qualifying campaign they were looking for anyone who had a bit of experience and understanding of the Women's game and they landed on me.
What do you remember of that first step into mainsteram commentary?
My first game was with Dave McIntyre for the away game in the Netherlands in November 2017.
To be honest I was dreadful.  I spoke way too much thinking I had to fill every dead minute with my voice.  Dave was great but when I listened back I was horrified.  The only good thing was that i learned from it and they were kind enough to ask me back.  I did the last Qualifying game with Ger Canning on RTÉ and that was what set me up when the decision to carry the World Cup came along.
I was also working on Soccer Republic last year.
It's not a full time role though so how were you doing in your 'day job' career?
I had studied Law at UL but was kind of half hearted about pursuing a career in it.  I went back to college to sudy Dietetics because I thought that would be something I'd like.  It was good up until the time we got into the clinical side of things in hospital and I just realised that it was not for me.
Back to the law and I applied for a trainee position at William Fry and knuckled down to do my exams.  They are a great company to work for and have been really supportive throughout the World Cup, allowing me manage the time I needed in the early rounds and then allowing me to take time off for the last week running up to the final.
They have a strong position in sport and want to really make that work for them.
When did you know that the World Cup was going to be a big part of your summer, including getting to work on the Final?
I didn't know until it was announced publicly.  For all the 52 games to be covered was brilliant.
On the day of the launch I got a call from producer Eugene O'Neill and he asked would I be free to do 13 games in total including the Semi Finals and the Final.  It took a while to sink in but what a brilliant opportunity.  I was pinching myself but just settled down to make sure I would give it my best shot.
Lisa Fallon was working on it and she is so strong in terms f her knowledge and the way she can explain things.  Áine O'Gorman was great to have on the team as well.
Working with Elaine Buckley who produced the final was special.  She's a good friend and we had worked together on Soccer Republic as well.
How much research do you do in advance?
Ahead of the tournament I did all the work you need to in terms of prep but in the main the stories and the narratives you'd be talking about are developing through the tournament.
I was working at William Fry throughout and watching as many games as I could.  I'd put in my day here then jump in a taxi to Montrose where we were doing the early rounds from.
I really wanted it to go well and it was pretty nerve wracking knowing that this could be such an important tournament for the whole of the Women's game.
I'd spend an hour before work and then at lunchtie just completely immersing myself to get ready.
It didn't feel like a job.  From the minute I sat down it was as close to playing as I'll ever get.  Your head is completely in the game and the high you are on afterwards is so similar to how you'd feel after playing.
Having that made t manageable and it was just the most enjoyable month of my life.
Did you listen to much co-commentary before to pick up on any tips or tricks?
I've been obsessed by sport from the age of eight.  My dream day is just watching sport, no matter what it is.  I'm a bit nerdy as well so I was always into the stats and the detaisl of the players.
When I was younger I'd get into trouble with my friends.  I was always late going out with friends because I had to watch Match of the day.  There was just no question of missing that so I couldn't begin to count the number of hours I have watched and listened.
Who do you like to listen to?
Everyone has their strengths but two that stand out would be Gary Breen who is so articulate and really comes up with some good insight.
And the best of the best is Brian Kerr.  I just love everything he does and says about the sport.  he can be hilarious but always with a sense that he knows the game inside out.
It's very personal so if someone says that they don't like me I'm perfectly sound with that.  If I could ever get to being half as good as Brian I would be delighted.
Did it make a difference to you knowing that the number of people watching the biggest games would be so high?
Not at all. I just completely block it out.  All I feel is that for the final it was just me and George talking about the game, side by side.  The only other 'audience' I'd have in my head might be my Mum who'd text me to wish me luck and would always be listening in.
I only met George at the launch but he was great to work with.  He let me be me and just gave a couple of really good nudges in the early games.  After that he was just a legend to work with.
What's your pre match ritual at the ground?
I like to be there.  I want to see all the build up and soak up the atmosphere.  If I'm watching a game on TV the analysis before hand is absolutely part of the game for me.
For the big games in France, I was there way before the start, just getting into the whole feeling of it.  George is a little different, rocking up at the last minute but always ready to go.
Any superstitions?
No none really though I like to have everything in place.  My notebook with all my clour coded notes has to be open in front of me and I have to have a pencil laid out beside it.
I might never use them but they have to be there.  And a cup of black coffee.
What's the screen saver on your phone?
My dog Miles.  He's gorgeous, a long haired Chihuaha.
And finally, where do you see your future?
I'm really enjoying working at William Fry but to have an opportunity to work full time in covering sport then that's been the dream since I was a young girl.
I'll be focused on qualifying as a solicitor over the next year and then maybe if the next World Cup or the next Euro's were to come up as another opportunity…
RTÉ will be covering all the games in the Republic of Ireland Qualifying Campaign for the next European Championship Finals to be held in England in 2021.