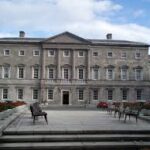 A group of those among the Sport for Business '30 Most Influential Women in Irish Sport' will meet at Leinster House next Tuesday, May 6th to explore ways in which our campaign for parity of esteem between men's and women's sport can be further developed.
The meeting will be hosted by Mary Mitchell O'Connor, TD and will include a number of leaders in the fields of business, sponsorship, sports administration and education.
Fiona Coghlan, captain of the Grand Slam winning Irish Women's Rugby team will be attending and we will report on some of the outcomes over the coming weeks.
When the campaign started in March, we gave ourselves 100 days to make progress in a number of areas.
We have almost completed the list of 30 Influential Women in Irish Sport and are investigating ways in which that can be developed further.
We have received replies from 1/3rd of Irish sporting bodies to date on how Women feature within their organisation and how they see the Women's side of their sport developing in the future.
We are monitoring media coverage of Women's sport as part of the overall mix and will publish a report on this over the summer.
We have convened an initial group of leaders to explore how parity of esteem can best be achieved.  This group will meet for the first time at Leinster House on Tuesday May 6th.
We have assisted in the conception, development and promotion of the Women on Wheels initiative on May 10th which we believe will grow into a major event for Dublin.
We are working on a number of specific initiatives aimed at increasing participation and involvement of girls and young women in sport so that the imbalance in activity currently evident can begin to be righted.
Sport for Business works with major companies from Aer Lingus and Accenture to Ulster Bank and UCD, and with organisations like the GAA, the Government and the Irish Sports Council to discover ways that sport and business can work closer together and gain a mutual benefit.  Find out today how we might be able to work with your organisation.
This video is from last year's Business of Women's Sport Conference, hosted at UCD by Sport for Business.