With records being set in the pool, the TikTok Women's Six Nations, and a full schedule across Gaelic Games, April was a busy month for the Sport for Business member organisations on social media.
Their 11,500 posts and 3.6 million engagements across Twitter, Facebook and Instagram are testament to the consistently excellent content being produced across all the social media platforms.
While the figures were down on the record-breaking month of March,  this is a repeat of what happened in 2022, and a marker of progress can be gleaned from the fact that in April of last year, the number of engagements was 700,000 less than it was in the same month in 2023.
This is the second month of including TikTok within the report, though the figures for this are separate still from the other three channels for comparison purposes.
Our analysis in this area shows that Rugby currently leads the way on Irish sporting TikTok, with Rugby content making up 80 percent of the activity by the Sport for Business members on the platform, generating close to 16 million views (89% percent of the total) and accounting for 79% percent of engagements on the platform (749,424 of 951,763) in April.
There were 'podium' finishes in the Average Engagement tables this month for Ireland Football (the new account of the FAI), Irish Rugby and the GAA as well as for Leinster Rugby, Gymnastics Ireland, the Gaelic Players Association and Cricket Ireland, and there were wins in the Engagement per 1,000 followers categories for Badminton Ireland and Leinster Rugby as well as the FAI this month.
Currently, 19 member accounts are being analysed on TikTok, compared to 36 in the other three channels.  We are building out this area by adding new accounts and if you are a sporting organisation with an active account that we have yet to include, or are preparing to launch one, let us know.
As the analysis evolves, and as more member organisations become active on the platform, we aim to bring more insights and showcase the very best of Irish sporting TikTok.
We will also shortly be kicking off a new Podcast series talking to the individuals responsible for the content and going deeper than ever about this crucial area of fan engagement and sports marketing.
In the infographics below, we have ranked each of the organisations across a range of metrics on each network, including the most active, the most engaged with, and the most engaging content as well as engagements per 1,000 followers where possible.
It is important to note that this analysis is based on publicly available data. It does not include any analysis or insight on paid or promoted content. When % figures are used (unless otherwise stated), they refer to the previous month's figures.
April 2023 Highlights on Twitter
Activity on Twitter remained consistent with March, however the 6,303 tweets resulted in 309,419 engagements, a 48 percent decrease compared to the previous month's record-breaking output.
The Dublin GAA account topped the activity charts, their 852 posts was a 56 percent increase on March as they claimed the Division 2 Championship.
All over here at Croke Park & Dublin are Division 2 Champions 🏆#UpTheDubs pic.twitter.com/gy0IRa2zWI

— Dublin GAA (@DubGAAOfficial) April 2, 2023
The GAA in second (765, +36 percent) showcased this sensational save from Armagh's Rian O'Neill against Cavan
Rian O'Neill pulls off an outstanding save to deny Cavan's Tiarnan Madden an almost certain goal. pic.twitter.com/Fw6ftFN3OO

— The GAA (@officialgaa) April 22, 2023
And completing the hat-trick for Gaelic Games, the Ladies Football account (453, -48 percent) saw Grace Clifford accepting the Lidl National League Division 3 Final trophy from LGFA President Mícheál Naughton.
Golf Ireland (177, +121 percent) were on hand to launch the new Marlay Park Putting Green facility, Hockey Ireland (165, +206 percent) announced a partnership extension with SoftCo until the end of 2024. Paralympics Ireland (86, +100 percent) commemorated an outstanding moment in the young career of Róisín Ní Riain who received her official certificates confirming her European and World records, along with a seminal moment for Paralympic Sport as Sinead Burke became one of five covers stars of the May issue of British Vogue magazine.
DYNAMIC, DARING & DISABLED

Sinead Burke has long been a champion for change making history in 2019 as the first little person to attend the Met Gala. She followed her Met Gala appearance by becoming the first little person to ever grace the cover of any Vogue magazine. pic.twitter.com/F22ncWTMRu

— Paralympics Ireland (@ParalympicsIRE) April 26, 2023
Ireland Football, with an average of 350 engagements per Tweet topped the engagement charts as Denise O'Sullivan won her 100th cap against the USA.
Captain 👊

Denise O'Sullivan will lead the team out against USA tomorrow on her 100th cap 🇮🇪 #COYGIG pic.twitter.com/5FiAeewdt2

— Ireland Football ⚽️🇮🇪 (@IrelandFootball) April 7, 2023
Leinster Rugby (145, +14 percent) can look forward to another world cup winner joining the ranks next season as it was confirmed that current South Africa Head Coach, Jacques Nienaber will join the Province after the Rugby World Cup later this year, and in third, the GPA (109, +160 percent) issued a strong statement in support of fellow player Lee Chin.
— GPA (@gaelicplayers) April 9, 2023
Team Ireland (67, +319 percent) celebrated as Tham Nguyen made history, becoming Ireland's first ever medallist at a senior weightlifting European Championships with bronze in the 'Clean & Jerk'
THAM NGUYEN | MAKES HISTORY 🏋️‍♂️

Winning Ireland's first ever medal at a senior weightlifting European Championships with bronze 🥉

Tham (49kg🇮🇪) with a 98kg Clean & Jerk 🏋️‍♂️#MakeADifference | #TeamIreland pic.twitter.com/iH2GkIczkg

— Team Ireland (@TeamIreland) April 16, 2023
Cricket Ireland (100, +85 percent) enjoyed a maiden Test Match century for Paul Sterling.
For the second month in a row the FAI took the top place in the 'average engagements per 1,000 followers' metric as the Ireland & UK UEFA Euro 2028 bid was submitted; and following an injury scare it was Katie McCabe's 'Thumbs Up' that was the most engaged with content for Twitter last month, the tweet generated close to 3,000 public engagements.
Never a worry 😮‍💨#COYGIG pic.twitter.com/NJuMYt6JQq

— Ireland Football ⚽️🇮🇪 (@IrelandFootball) April 3, 2023
April 2023 Highlights on Facebook
With 3,282 posts (a 15 percent decrease on March) Facebook generated 626,118 engagements in April (-48 percent on March's record-breaking total).
The GAA topped the activity charts with 520 posts (+23 percent), their top content featuring this late winning goal from Monaghan's Ryan O'Toole against Tyrone.
Leinster Rugby in second (290, +22 percent) progressed to the final of the 2023 Heineken Champions Cup against La Rochelle with victory over Toulouse at The Aviva, and in third Ladies Gaelic Football (285, -30 percent) saw Róisín Byrne of Kildare crowned as the Player of the Match from the Lidl National League Division 3 Final.
For the third month in a row the IRFU topped the Facebook engagement charts with an average of 799 engagements per post (even thigh a decrease of 85 percent on March) as they began the 150 day countdown to their first match at the Rugby World Cup.
Cricket Ireland (647, -34 percent) returned to Test cricket in Sri Lanka, and in third Gymnastics Ireland (554, +277 percent) celebrated yet more success for Rhys McClenaghan as he became the 2023 European Pommel Champion.
For the second month in a row Badminton Ireland finished top of the 'average engagements per 1,000 follower' metric – April's figure of 1,574 was a 55 percent increase on their previous month's metrics.
The organisation also claimed the top Facebook content for April as they looked back at some of Nhat Nguyen's previous exploits in the Orleans Masters – the content receiving over 13,000 public engagements to date.
April 2023 Highlights on Instagram
Following March's record-breaking month, Instagram activity fell 12 percent in April to 1,935 posts, resulting in 2.68 million engagements.
The League of Ireland account topped the activity charts for the second month in a row with 310 posts, a 20 percent increase on March, as they enjoyed a Presidential visit at Dalymount Park for the #BOHSHA fixture.
View this post on Instagram
In second, Leinster Rugby (217, +63 percent) gave a debut to Irish U20 star Sam Prendergast in South Africa, whilst in third the Ladies Gaelic Football Account (123, -3 percent) showcased their shortlist for the Lidl Magic Moment of March including this from Kildare's Neasa Dooley against Wexford.
View this post on Instagram

A post shared by Ladies Gaelic Football Assoc (@ladiesgaelicfootball)
Volleyball Ireland (47, +42 percent) saw the culmination of their PLAY4FUN tournament in Galway, and Canoeing Ireland (32, +45 percent) congratulated David Horkan and Eavan O'Keefe as they took home a silver medal in the legendary Devizes to Westminster 200K marathon race setting an Irish record of 16.45:55 in the process.
Irish Rugby topped the engagement charts for April with an average of 4,495 engagements per post (-74 percent when compared to March) as they announced new IRFU contracts for Josh van der Flier and James Ryan. In second, Ireland Football (3,829, -54 percent) discovered their opponents for the Men's U17 European Championship as they were drawn in Group A with Hungary, Wales and Poland, and in third the GAA (3,343, +3 percent) saw history being made as New York GAA won the county's first ever game in the Connacht Senior Football Championship beating Leitrim.
View this post on Instagram
Swim Ireland (503, +124 percent) saw Loughborough student Daniel Wiffen smash his own Irish Record by an incredible 15 seconds to win Gold at the Stockholm Swim Open, and Golf Ireland (187, +134 percent) held the All-Ireland Schools Finals at Milltown Golf Club with wins for St Angela's Ursuline Convent Waterford, Mercy Convent Roscommon, Lagan College Belfast and Calasanctius College Oranmore.
Leinster Rugby took top spot in the 'average engagements per 1,000 followers' (3,596, +68 percent) closely followed by the League of Ireland (3,595, -11 percent) and Basketball Ireland (3,491, +52 percent) as the Irish U16s won the Four Nations Tournament on home soil.
The IRFU provided the top Instagram content for April, with a tunnel cam Reel from the Grand Slam winning day generating close to 40,000 public engagements.
View this post on Instagram
April 2023 Highlights on TikTok
April was the second month to include TikTok analysis. 455 TikToks were posted by those member organisations on the platform, a 10 percent decrease on March. These posts generated 951,000 public engagements and 17.87 million views, a 51 percent and 37 percent decrease, respectively.
The URC continue to top the activity charts with 217 posts (-16 percent), and for the second month in a row footage from South Africa proved to be the most popular as the Springboks World Cup winning captain Siya Kolise lead the pre-match motivation for the Cell C Sharks.
In second, Sam Prendergast proved to be the big draw for Leinster Rugby (67, +29 percent) as they highlighted an exquisite first touch, and completing the Triple Crown for Rugby on TikTok, the IRFU (54, +32 percent) showed how content can work across platforms as Grand Slam 'Tunnel Cam' topped their content on TikTok as well as Instagram.
Horse Racing Ireland (35, -36 percent) showcased Paul Townend and I Am Maximus' Irish Grand National win.
The League of Ireland (8,+33 percent) highlighted how Evan Ferguson has been honing his finishing skills over a number of years and Dublin GAA (3, -25 percent) featured a goal from John Small.
When ranked by average engagement per post, the Ireland Football account (10,961) came top once again. The URC (2,562) finished in second with Ulster Rugby (1,777) in third as John Cooney announced his two-year contract extension.
Ireland Football claimed the top content for April, and once again Evan Ferguson content drove the engagement on the platform – with this content having been viewed over 310,000 times, and generating over 50,000 public engagements.

April 2023 Engagement Per 1,000 Followers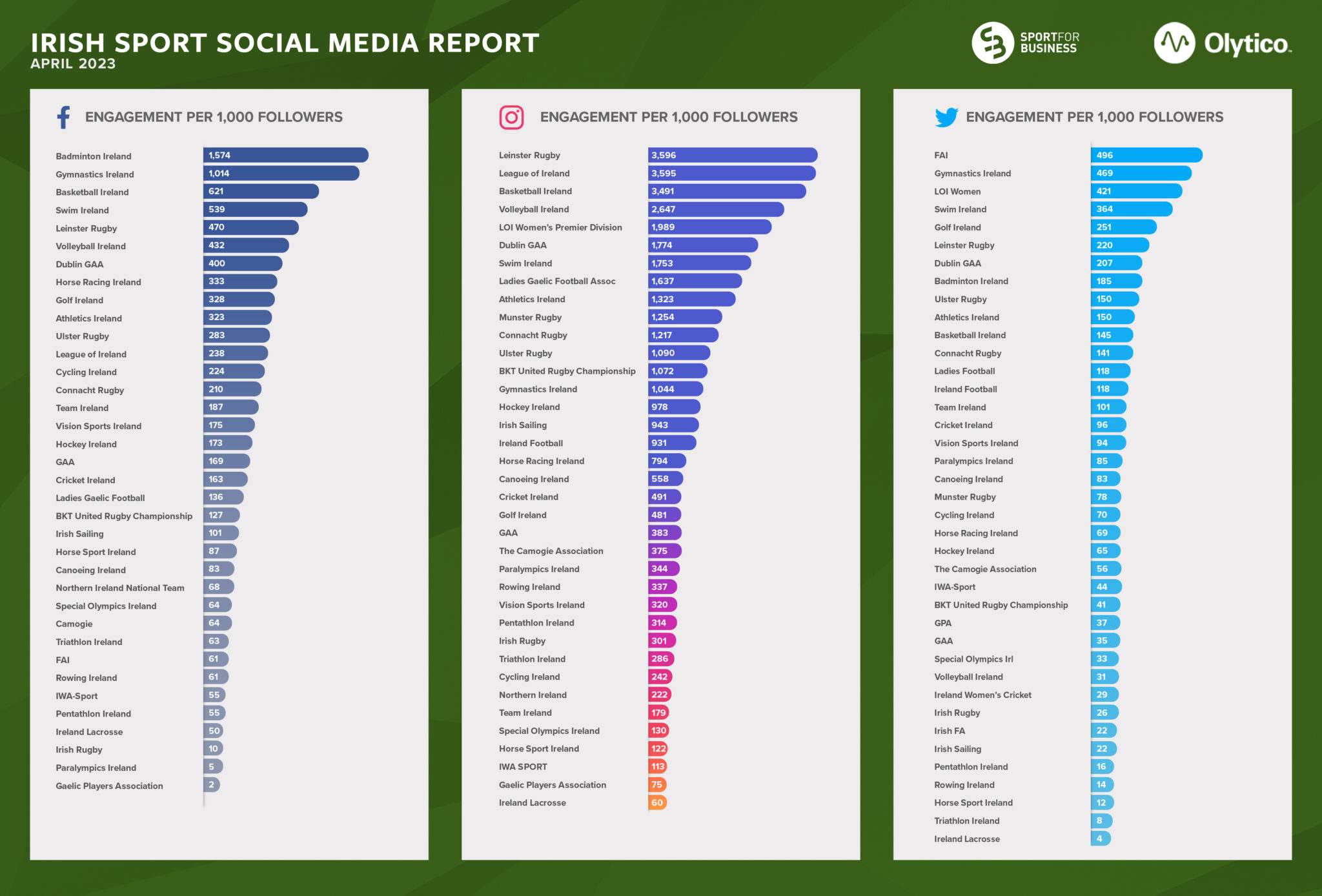 *******
If you would like to be part of the Sport for Business community and be added to the list, email us today and let's see what is possible. If you would like a more detailed analysis of your social media activity, contact ross@olytico.com