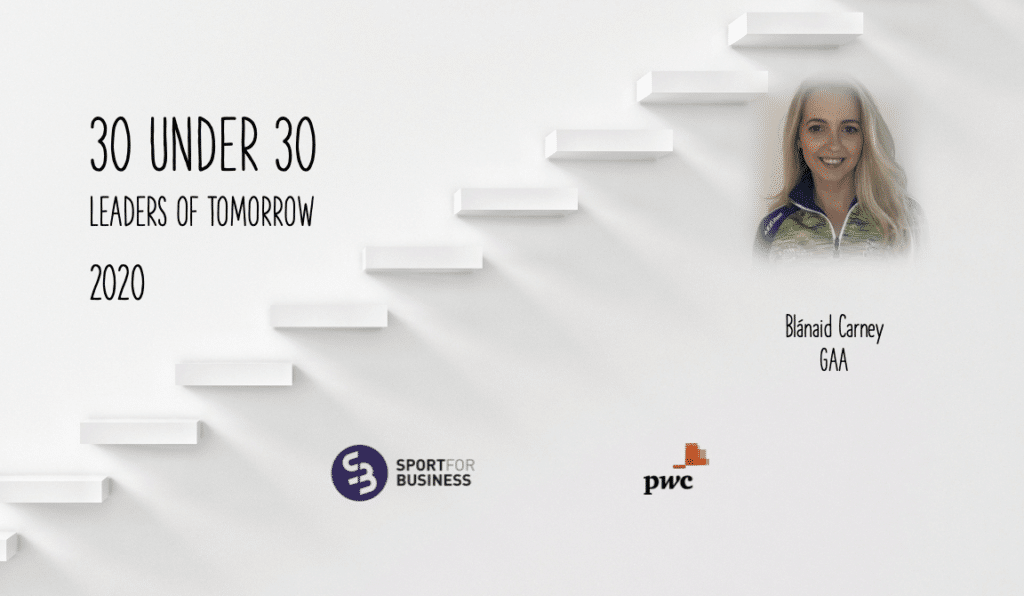 Blánaid Carney is the GAA's National Health and Wellbeing Coordinator, a member of the Community and Health Department in Croke Park.
She leads out on major National Health Promotion Campaigns within the Organisation playing a key role in managing one of the GAA's most successful health and physical activity community initiatives "Ireland Lights Up".
Carney joined the GAA in November 2019 having previously worked as The Sports Hub Coordinator with the Cavan Local Sports partnership and as a research assistant at Trinity College Dublin.
She also serves as the Healthy Ireland County Coordinator for her native Leitrim.
Carney graduated from Dublin City University with a BSc (hons) in Health and Society in 2015 before going on to complete a Master's Degree in Physical Activity and Public Health at the University of Ulster.
She has also represented her Club, County and Province on the World Stage as an Irish Dancer.
*******
Check out the building list of those who are in this year's 30 Under 30
Sport for Business 30 Under 30 – The Class of 2019
Sport for Business 30 Under 30 – The Class of 2018
Sport for Business Young Leaders – The Class of 2016
*******
Do you know someone that has risen quickly through a career in sports administration, sponsorship or other areas where sport and business crossover that you believe deserves recognition?
We want to hear from you.
The criteria for submission is that the person should be working within the sports industry, or in a sponsorship or agency capacity that is bringing sport to life, and that they should be born in or after 1990.
The list will build up over the coming weeks and we will gather as a group in May of this year to meet with alumni from previous years and to further the creation of a network of people making a real difference within our industry.
The nomination process is simple. Contact us today, quoting 30 under 30 in the subject line, with a name and a few lines on why you or they could be one of our 30 Under 30 for 2020.
Check out our Live Sessions and Events coming up on Sport for Business
"Fair play you are doing a brilliant job of keeping us all informed and motivated"