Each week we bring you a taste of what is happening around the commercial world of esports. We will focus on advances in the Irish sector when there are some, as well as on some of the commercial deals which are taking place and fuelling the rapid growth of this area within the world of sport.
Today we have the third part of our esports fundamentals series with Colm Roche of Core Sponsorship, a look ahead to the eLOI Finals being streamed live tonight and a collaboration between streaming and the mainstream that put Gaming ever closer to the Olympics.
********
eLOI FINALS NIGHT THIS EVENING
After four match weeks and 80 match legs featuring all 20 League of Ireland clubs, players representing Bohemians, Sligo Rovers, Shamrock Rovers, Finn Harps, Drogheda United, Cork City, Dundalk and UCD have qualified from the group stages for the last eight of the first eLOI gaming tournament.
They will now battle it out for the eLOI title this evening with the quarter-finals, semi-finals and final all to be streamed live on the FAI Twitch account at www.twitch.tv/faireland
The quarter-finals kick off at 5 pm when Bohemian FC Player Eric Finn takes on Sligo Rovers' Kevin Connolly and Shamrock Rovers' Tyrone Ryan competes against Sean Tuffy of Finn Harps. Dundalk's Conran Tobin AKA Rannerz then takes on UCD's Cormac Fitzpatrick while Cork City's Ciaran Walsh and Drogheda's Leigh Kierans battle it out.
Commentators Jamie Moore, Richie Sheridan and Cormac Dooley will be on hand to talk fans through all the action right the way through to the eLOI Final at 8pm. eLOI Ambassador and special guest David Meyler will also be on the broadcast to offer his thoughts and feedback on the final action.
"We're proud to have launched the inaugural eLOI this year and have seen some incredible action throughout April and May. We look forward to crowning our eLOI champion on Monday, May 10, and welcoming the winner to the newly formed Republic of Ireland eSports National Squad," said eLOI Project Lead at the FAI Rob Garrigan.
Extra.ie has been on board as content partners for this inaugural eLOI season and Finals Night.
********
AN INTRODUCTION TO esports
Over a four week period, we have joined forces with Colm Roche who heads up Core Sponsorship's Gaming division to go right back to basics and explain the what, how, who and why of esports.
In the first two episodes, we have built up a picture of what esports is, and is not, and given a sense of the Irish market and the opportunities that exist.
Today we get into some of the numbers as an indicator of the size of the market.
Part Three – The Gamers
Gamers are anyone who plays video games on any device for entertainment. This can be casual play on your mobile or console or hardcore gaming on a PC. When we dive a little deeper and look at the type of Gamers, again you will come across a number of varied categories depending on the report or who you speak to, but we have identified three segments which best describes the gamer.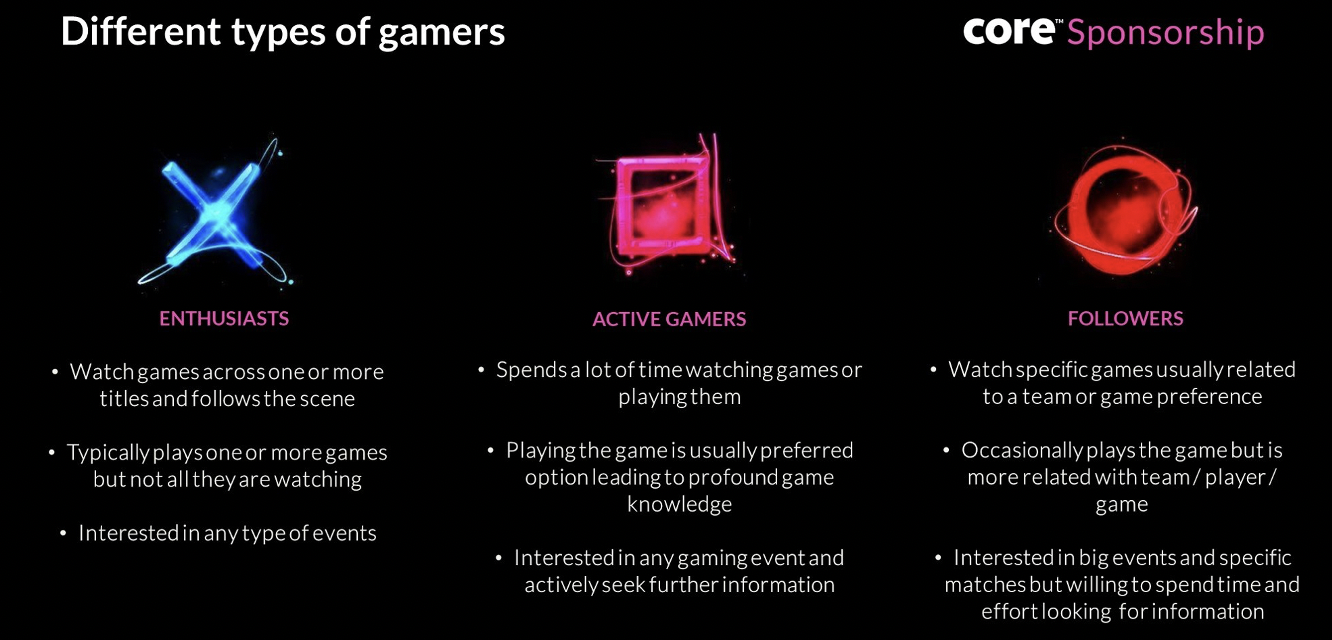 What is important to note is that gamer types are not black and white and that there is a crossover between all three categories. Brands, therefore, need to understand that it may not be as simple as targeting activity at one specific segment to reach their intended audience.
Ireland
According to a recent study from Ireland esports, there are 2.4 million gamers in Ireland, which amounts to around half of the population. Utilising data from Global Web Index (GWI), we see 16- 24yrs having the highest interest in gaming, followed closely by 25-34's & 35-44's. TGI (Target Group Index, Kantar) states the smartphone is the most popular means of playing, about 50% of these 'gamers' play on their phones followed by consoles & PC. Gamers are mostly either "very" engaged (40+ hrs a week gaming) or more casual (between 10-15 hrs) with 5 or less closely following. Unfortunately, we do lack the data to build specific audience segments outlined in many research studies on other markets but this is something we in Core are currently working to build.
Global
From a global perspective, this is an estimated 2.7 billion people playing video games (Newzoo, Global Esports Market report 2020). Focusing in on the age breakdown, we see 94% of all Gen Zs (16-23-year-olds) are playing games on any device, making them the most active gaming generation. (Global Web Index (GWI), Gen Z Report 2020) But this is not to discourage an older audience, in fact, research from a GWI survey (October 2020) showed that 38% of millennials (24-37-year-olds) in the UK/U.S. are playing more video games since the outbreak began, jumping to 42% among younger millennials.
Diverse & Inclusive
What is important to note is gaming is a diverse and inclusive activity. Data from GWI Gen Z Report 2020 report highlights that Gen Z females are keen gamers, with 92% saying they do so. When we look at a gender balance across gaming activity on GWI, we do see a slight male skew but this gap is closing. A lot of work is still needed by all stakeholders within gaming to ensure we strive for an inclusive & diverse gaming culture.
Join us next week for Part Four where we will look at the world of streaming and eSports fans.
********
NBC ADDING GAMING ELEMENT TO OLYMPICS COVERAGE
US Broadcast giant NBC is to include Twitch in its Olympic content and coverage plan for the Tokyo 2020 games to be held this summer.
Coverage will include highlight studio shows, game-ified pre-Olympic activations, Olympic athlete interviews and Olympic-themed gaming competitions, all tailored to the Twitch audience.
There will also be 'primetime sidecasting' – where Twitch viewers will be encouraged to comment on a companion broadcast of NBC's primetime Olympic coverage.
NBC Olympics presenters will be joined by Twitch stars for the productions, and there will also be live Q&As with Olympians.
"We are thrilled to collaborate with Twitch on innovative ways to tell the stories of Team USA's athletes in Tokyo and build Olympic excitement with their audience. The Olympic Games are perfectly aligned with Twitch consumers, who are passionate about great competition, personality and storytelling," said Gary Zenkel, president of NBC Sports' Olympics division.
********
Legion Esports, the FAI and Core Sponsorship are all among more than 250+ members of the Sport for Business network of sporting and business organisations working together across a number of key areas.
Sport for Business Partners