Today sees the completion of this year's Sport for Business PwC 30 Under 30 with the addition of Stephen Walsh of Sport Ireland.
This year's list is made up of 19 women and 11 men, a notable shift from when we started.  11 come from the world of sports administration, 10 from agencies, six from business, two from social entrepreneurship, and one from media.
We will shortly begin a new Podcast series talking to those who have gone before in the seven years leading up to this and on Friday, May 26th we will gather as a group at the offices of PwC in Dublin to meet up for the first time.
This year's list was as ever over subscribed and while it is a pleasure to recognise the 30 that made it, there is always regret at those we were unable to fit in this year.  Hopefully, they will continue to shine and come back before us when we go again for a ninth year in 2024.
For now though, here is our 2023 30 under 30…
Stephen Walsh, Sport Ireland
Stephen Walsh is a Marketing and Branding Executive at Sport Ireland but his role encompasses a rich variety of contributions.
He plays a crucial role in ensuring the Sport Ireland brand is visible and well represented at events and campaigns throughout the country.
He also manages the Social Media and online marketing of the organisation which is a significant role in itself.
His work on the 'Its My Time' campaign is important to highlight as it has been the most successful digital campaign run by Sport Ireland to date.
Walsh joined Sport Ireland in April 2022 after graduating in Business Administration and Management from Griffith College Dublin and in Digital Innovation from UCD.
********
Niamh and Orna Murray, Move2B
Niamh and Orna Murray are something of a force of nature and while half the world separates them at the moment they remain together as co-founders of the Social Enterprise Move2B.
Moved to action by a love of sport and shock at the number of young teenage girls dropping out they established Move2B as a project to "address the barriers to sport and physical activity for girls." This includes online sessions, groups, and training around issues specific to young girls such as the onset of menstruation, peer pressure, lack of encouragement, subconscious gender stereotyping, school work being perceived as being more important, and playing sports not being seen as feminine.
Covid threw a curveball but a move together to the Kerry coast enabled them to live their dream.
Niamh is a qualified teacher and is also a project manager on The Big Idea, while Orna is currently following the Ocean and is in New Zealand working on a number of physical and remote projects.
They have Masters's Degrees in Education and Health Psychology and energy the like of which is rare but infectious.
********
Mohammed Mahomed, Her Sport
Mohammed Mahomed is the co-founder of Her Sport. He is an advocate and a leader in the promotion of women's sport in Ireland.  Having qualified as an accountant and spending three years in audit with KPMG he switched careers to co-found Her Sport with fellow 30 Under 30 alumni Niamh Tallon.
He is involved throughout the day-to-day management of the Women's sport focused platform, including in business development, partnerships, strategic development, customer relations, editorial, finance and regulatory compliance.

After completing his undergraduate degree in Commerce at UCD he went on to do a Masters in Accounting and Finance at the UCD Smurfit Graduate Business School.
"He makes a societal and cultural impact for women and girls in Ireland daily," said his nomination for this list.
********
Sophie Harrison, Sport Ireland
Sophie Harrison is a Sports Partnership Executive at Sport Ireland.  She works closely with the network of Local Sports Partnerships and is considered an integral part of the Participation team.
Her role involves providing direct support to LSPs as well as engaging with key internal and external stakeholders. Even though, she began her role with Sport Ireland less than a year ago, Sophie has already expanded her remit to incorporate key national initiatives such as Active Cities, a project which creates opportunities for citizens of Ireland's five cities to have systems, environments and structures to enable activity.
Sophie has been a key driving force behind the hugely successful 'It's My Time' campaign activation where she is responsible for leading the development of the associated webinars and coordination of national working groups to provide participation opportunities at a local level.
Prior to joining Sport Ireland, she worked with Mercer and Gourmet Fuel after gaining a Degree in Sport Science and Health from Dublin City University and then a Master's in Public Health from UCD.
She also plays off a handicap of two in golf.
********
Cara Gaynor, FAI
Cara Gaynor is a Video Creator for Women's and Girls' Football with the FAI, working directly with the Ireland Women's National Team.
A 2021 graduate from Dún Laoghaire Institute of Art, Design and Technology, Cara joined the FAI's Marketing and Communications Department in January of this year to work with Communications Manager Gareth Maher and fellow '30 for 30′ leader Emma Clinton.
Having previously done a lot of freelance work, Cara is now excelling in promoting women's and girls' football courtesy of her eye for detail, natural creativity, and ability to tailor content for specific platforms.
A skilled film director and editor, Cara has been working on a number of projects that will highlight the FAI's ongoing work and she will also play a key part in Australia producing content for the FIFA Women's World Cup.
********
Eoin MacNamee, Ripple Marketing
Eoin MacNamee is an Account Manager at Ripple and a key member of the team activating the SSE Airtricity League of Ireland.
Highly regarded by his own team and those he works with on the brand side he is building a strong reputation in the delivery of a busy activation.
He joined Ripple in June of 2021 after graduating with a degree in Marketing, Innovation and Technology from Dublin City University.
********
Lucy O'Byrne, Verve
Lucy O'Byrne is a Senior Sponsorship Executive at Verve and a key member of the team delivering Diageo's s activations of St. Patrick's Day weekend and its sponsorship of the Six Nations and Irish Rugby.
This has included a main role in the launch of the Guinness Six Nations in London, ensuring standards and quality control across Diageo branding, managing the on-field Guinness Six Nations pre-match flag team, as well as managing a large team of Verve Brand Ambassadors who provide sampling and activation experiences at large and small scale events.
She will be leading the way in Cork as part of the Guinness team who are involved with the TikTok Women's Six Nations.
She has a Degree in Business and Finance from DCU and previously worked in Finance with online creative marketplace Etsy.
********
Tia Wade, Legacy Communications
Tia is a Senior Account Executive with Legacy Communications.  She joined the agency in September 2021 having previously worked as a Partner Manager in Sports and News at Meta and having served an internship at Wilson Hartnell.
At Legacy, she has worked across a number of sports and entertainment clients such as Energia, the Aer Lingus College Football Classic College, Asics, and Laya Healthcare.  She has been a member of the team on the award-winning Energia Get Ireland Growing campaign.
She is a Graduate of Dublin City University where she gained a degree in Media and English before going on to earn a Masters Degree in Public Relations from the Technological University of Dublin.
During her time as a student she worked as a researcher in TV3 and on the Irish hosting of the Women's Rugby World Cup in 2017.
********
Claudia McDonagh, Core Sponsorship
Claudia McDonagh is a Sponsorship Client Manager at Core Sponsorship.  She joined the agency in the summer of 2022 and has been working across a number of sports and sponsorship accounts.
A graduate of UCD's Sports and Exercise Management Degree Course she was a Students Union Class Representative and active in organising the UCD Gymnastics Club.
She served an internship with Wilson Hartnell PR and then  joined the Sport Ireland Aspire Graduate Programme where she worked at Triathlon Ireland, translating that into a full-time position as a Membership Executive prior to joining Core.
She has been a member of the team working on sponsorship opportunities for Triathlon Ireland, Cork City and Tallaght Stadium.
********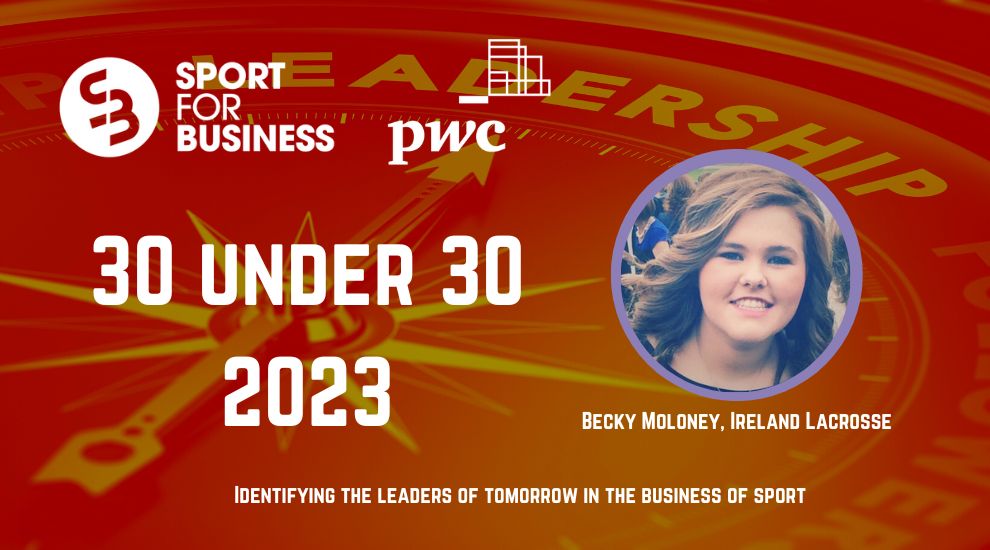 Becky Moloney, Ireland Lacrosse and Paddy Power Betfair
Becky Moloney is the Youth Development Director in Ireland lacrosse, a former National Team Player for Ireland and a U21 Irish Women's National Team Assistant Coach.
Since 2018 she has been responsible for the uptake and growth of youth Lacrosse in Ireland. Her development plan shines through when you see there are now more youth lacrosse players in Ireland than senior players and the sport wasn't even accessible to youth players until 2019.
She was a team member for Ireland's hosting of the World U20 Championships in Limerick in 2021 and is highly regarded within the sport.
The Lacrosse role is her passion but she also works as  a UX Researcher for Paddy Power Betfair.
According to her nomination, "she has proved invaluable at breaking down barriers to entry of the sport and making the sports a welcoming place for LGBTQ+ Youths. Her Development of a strategic plan for growth has been outstanding."
She graduated from UCD with a Primary Degree in History before returning to the UCD Michael Smurfit Business School where she completed a Masters in Marketing Development
********
Sean Poland, Vision Sports Ireland
Sean Poland is the Education, Training and Participation Coordinator at Vision Sports Ireland.
Having represented Offaly in underage hurling, he was diagnosed with Stargardt's Macular Degeneration, the same condition as Jason Smyth has.   After the diagnosis, Sean went on to represent Ireland in Vision Impaired Football.
He joined Vision Sports Ireland in May of 2022 and works as part of the team increasing knowledge and understanding of vision impairment and accessibility, through practical and adaptable training and guidelines to make sport more accessible.
He has worked as a CampAbilities leader and volunteer, sharing his story, advice, guidance and mentoring many teenagers who are blind or vision impaired.
Sean graduated with a first-class BSc Honours Degree in Health and Leisure with Adapted Physical Activity from the Institute of Technology Tralee.
********
Sinéad McKenna, StatSports
Sinead McKenna is the Digital Marketing Manager at STATSports, with specific responsibility for brand engagement on TikTok.
That social community grew by 210,000 in 2022, rising to 284,000 followers and now one of the largest  Irish direct-to-consumer brands on the platform.
STATSports have over 100 ads ranked in TikToks Top Ads for Advertisers putting it in the top percentile of advertisers globally on the platform.
McKenna manages global influencers as well as eight ambassadors in elite sport including Harry Kane and Marcus Rashford.
She graduated from the University of Liverpool with a degree in Business Management and Marketing in 2016 and then worked for a number of agencies in the Belfast area before joining the StatSports team in August 2021.
********
Emma Meyler, Teneo
Emma Meyler joined the Teneo Sport and Sponsorship Advisory team's Graduate Programme in June 2022 before being promoted to Associate Consultant at the beginning of this year.
Prior to joining Teneo, she graduated from DCU with a BA in Communication Studies where she was the recipient of a Leinster LGFA scholarship for media engagement and represented the University on the Higher Education GAA committee level.
Emma has always had a keen interest in the sport and sponsorship industry and her final year dissertation was titled "Sporting a Sponsor: The Mediatization of the Irish Sport Sponsorship Industry".
Meyler has also worked within the FAI's communications department, travelling and working both domestically and internationally with underage and senior teams in the organization.  She is currently with the Women's U19 team to Norway in an official capacity as they seek to qualify for the 2023 UEFA Women's Under-19 Championship.
Emma is working with brands in the insurance, beverage, food and financial service industries as well as several governing bodies.
********
Robert White, Navy Blue Sports
Robert White joined Navy Blue Sports as a Sponsorship Account Manager in March 2023 after three and a half years as an Account Executive with Wilson Hartnell.
His new role will enable him to build on the solid foundation he laid there working with clients including Guinness, KPMG, Electric Ireland and Rugby Players Ireland.
His time there coincided with the global pandemic shut down and he was part of the team that staged the first full Zoom media round table session with Jack Carty of Connacht Rugby.  We'll forgive him for that!
Prior to joining Wilson Hartnell, he spent a year with fellow Sport for Business member 2 Into 3 after graduating with a marketing degree from Technological University of Dublin.
********
Ellen McManus, PwC
Ellen McManus is a Sponsorship Associate with PwC Ireland.
She joined the Events and Sponsorships team in January 2023 and leads out with the firm's Community Fund Programme enabling partners to engage with their local communities and sporting organisations through grassroots sponsorship.
She supports the campaign activations of the firm's flagship sponsorship portfolio, namely the PwC All-Stars, PwC Camogie All-Stars, GPA Women's Player of the Month Awards, Image Media Partnership, and PwC Business Sustainable Business Awards, along with numerous industry-specific business conferences and awards.
She also worked on the Irish U20's Rugby team partnership that celebrated a back-to-back Grand Slam in the Six Nations in March.
McManus was previously a Commercial, Communications and Marketing Executive at The Camogie Association and will continue to work closely with her former colleagues to activate the PwC Camogie All-Stars.
She has a Masters in Global Business from Technological University Dublin and a Degree in Geography from Queen's University Belfast.
********
Conor Hume, Bird & Bird
Conor Hume is a solicitor in the Commercial Sports Team at Bird & Bird in London.
He grew up in Armagh and completed his law degree at Queens University Belfast He spent a period of time working for two US Federal Judges in Los Angeles, before moving to London.
The Sports Team at Bird & Bird is one of the leading firms operating in and around the business of sport.
In the past 18 months, Hume has worked on a number of market-leading transactions in both sponsorship and broadcasting including front-of-shirt sponsorship and kit manufacturer/supply agreements for a number of major Premier League Clubs.  He also assisted in delivering the sponsorship programme for the British and Irish Lions Tour to South Africa and works with a range of other clients within Rugby, Football, Tennis, Horse Racing, Gambling, and Motor Racing.
He worked on the latest Six nations Rugby broadcast deals and spent time on secondment at the English Football Association, assisting on commercial legal matters.
********
Hayley Kavanagh, Special Olympics Ireland
Hayley Kavanagh is the Health and Wellbeing Co-Ordinator for Special Olympics Ireland.
In addition to this, she is also undertaking her PhD with Dublin City University and Special Olympics Ireland focusing on fundamental movement skill proficiency levels in children with intellectual disabilities.
A graduate in Sports Science and Health at DCU she was a volunteer with her local Special Olympics club which led her towards working in disability sports. She is a tutor for the Coaching Children programme run by Special Olympics.
Prior to joining the organisation she worked as an Adapted Physical Activity Co-ordinator in Stewarts Care, a care organisation for people with intellectual disabilities.
She has also recently launched the new Special Olympics Ireland Health@Play programme in partnership with Safefood. The Health@Play health education programme is for younger athletes aged 4-15 years and will use fun, interactive games to help teach healthy, lifelong habits to younger athletes and their parents.
********
Sam Burke, West Ham United
Sam Burke is a Social media producer working with West Ham United in the English Premier League.
He joined the club's content team in September 2022 and has played a key role in expanding their quality and reach across multiple social channels.
Before heading to London he worked with Premier Sport in Dublin (now Viaplay) as part of the social team, and before that had filled a similar role working with John Kavanag's Wimp2Warrior brand.
He completed a BA in International Business and Languages (Italian) at Technological University Dublin, graduating in 2020.
********
Emma Clinton, FAI
Emma Clinton is the Social Media Coordinator for the Women's National Team and Girl's Football at the FAI.  With the World Cup Finals in Australia and New Zealand on the horizon, her role will provide a window on the world of a generational group of players that will inspire the nation.
Clinton came on board with the FAI in February 2022, initially to capture and produce content around the Women's U17 team.  She quickly added doing the same for the Women's National League, now the League of Ireland Women's Premier Division, and then the Women's National Team as their dreams of a World Cup qualification became a reality.
She started in Football working for the 2021 season on the media team at Bohemians while all the time studying for a Communications Studies degree at DCU.
She graduated in 2022 and is now undertaking a Masters Degree in Social media Communications in parallel to her work with the FAI.
********
Colm Kirrane, Clubforce
Colm is a Business Development Executive at Clubforce and a great example of someone who has switched lanes to forge a career in the business of sport.
He joined Clubforce in early 2022 as part of the Customer Success team.  He had previously begun a promising early career in the banking sector, but the exit of Ulster Bank from the Irish market gave him pause for thought.
"Colm immediately showed a fantastic understanding of what's needed to lead and run a grassroots sports club, helping clubs make the most of the Clubforce platform to maximise their lottery and membership revenues," read his nomination. "Colm showed great initiative in improving and developing new resources to help clubs."
A graduate of the University of Limerick with a Science degree, he is making a valuable contribution to the growth of Clubforce and its deep connection to grassroots sport across Ireland and beyond.
********
Kelly Oglesby, Edelman
Kelly Oglesby is an Account Executive at Edelman within the Sports and Sponsorship team.
After completing her Master's in PR and Strategic Communications at DCU, she joined the firm as an Account Executive in January 2022. As well as becoming a Gen Z expert, Oglesby has become an integral part of the sports and sponsorship team
She has been involved in many successful sports-related campaigns including the Littlewoods Ireland Camogie Leagues (now Very), the Brady Family's renewed sponsorship announcement of Kildare GAA, LGFA, and Camogie, and SSE Airtricity's A Different League campaign.
In February 2023 she took part in the Cannes Young Lion competition for the first time.  She is also undertaking the European Sponsorship Association Diploma in Sponsorship and Sports Marketing to add an extra layer of sports expertise to her skillset.
********
Katie Gorman, Future Ticketing
Katie Gorman is part of the team at Future Ticketing where she has been working with clients since June 2022.  Prior to this, she worked in horse racing with spells in the Licensing Department of the Irish Horseracing Regulatory Board, Leopardstown, and Downpatrick racecourses.
She graduated with her primary degree from UCD in Geography and Sociology but spent her placements in racing with the National Stud and the Irish Field so the sport was obviously in her blood.
At Future Ticketing, she works across the company's sports and entertainment client base in racing, football, and more.
She has also returned to UCD where she is currently working towards her Masters's in Sport Management.
"She knows everyone involved in the industry and has given the team insights into the horse racing world," we were told in her nomination for this year's list.
********
Frances McCann, Sport Ireland
Frances McCann is a Partnerships Executive in Sport Ireland with responsibility for supporting key funded bodies such as Cara Sport Inclusion Ireland, Ireland Active, and Age & Opportunity.
Her role focuses on stakeholder management, and an important element is not only support from Sport Ireland but the reverse of embedding the values and offerings of each of these organisations across Sport Ireland,  the network of Local Sports Partnerships and National Governing Bodies.
She Joined Sport Ireland in May of 2022 having previously worked as an administrator at the Camogie Association.
She retains her connection to that sport as a performance analyst for the Dublin Senior Camogie team, assisting the Head of Analysis with match-day analysis on both tactical and technical performance.
She has a Master's Degree in Sports Performance from the University of Limerick and a Primary Degree in  Sports Management and Coaching from TUD Blanchardstown.
********
Vito Moloney Bourke, InCrowd Sports
Vito Moloney Bourke is an Account Manager with InCrowd Sports in London working on projects in fan engagement across F1, UEFA and Sky Sports.
He joined them in January of this year after three years working with IMG Media and SportsPro following his leaving for London in 2020.
During that year he wrote a series of articles for Sport for Business looking at how sporting organisations around the world were reacting to and combatting the threat of Covid 19.
He completed a Degree in Business Studies at DCU followed by a Masters in Sports Management at UCD and the European Sponsorship Association Diploma.  While at UCD he completed an internship with Liverpool FC.
He has also been a Special Olympics Football Head Coach in Dublin and volunteered with Bray Wanderers before setting sail for London.
********
Karl Wolohan, Legacy Communications
Karl is an Account Manager with Legacy Communications.  At a young age, he has built an impressive portfolio of work in agencies and client side.
"A digital thinker who combines creative thinking with analytical analysis to help inform and shape sponsorship campaigns for clients including managing sponsorship event activations and campaigns for AIG, Glenisk, laya Healthcare, Breakthrough Cancer Research and more," said his nomination for this list.
His passion for sport has seen him working for Lifestyle Sports managing content and social media across the team sports vertical as well as spells with Goosebump and McSport.
Wolohan graduated with a degree in Social Sciences from UCD before gaining a Masters in Marketing from Technological University Dublin in 2018
********
Stephanie MacSweeney, Cara Sports Inclusion
Stephanie MacSweeney is the National Inclusion Coordinator for Cara Sport Inclusion Ireland.  She leads the strategic development and implementation of key objectives specific to increasing sustainable community sport and physical activity opportunities for people with disabilities.
One of her key priorities is to advise and support the national network of Local Sports Partnerships and National Governing Bodies of sport through collaboration with Sport Ireland's Participation Unit and the national network of Sports Inclusion Disability Officers.
Through her role, she has provided leadership, support, and advice on key aspects of inclusive sport and physical activity to these networks.
She has already managed to launch a national took kit for the sports sector and is working closely with a number of NGBs and local sports partnerships in ensuring their inclusion journey is of the highest standard.
********
Mary Doyle, Golf Ireland
Mary Doyle is a PGA Golf Professional and a coach at the Better Golf Academy at Carton House.
Women's Golf is surging in interest but it remains the case that only one in 25 golf professionals in the coaching sphere are female and Doyle is forging a path less travelled.
Returning home from a Golf Scholarship that just did not work out in the United States she attended Maynooth University and became a PGA Trainee at the Golf Ireland Academy.  She was awarded the Top PGA Trainee of the year, two years in a row.
She completed the Women in Golf Leadership Programme through the R&A in 2022, adding to her leadership credentials. Since then she has gone on to be part of the Women in Golf Leaders Network with Golf Ireland, continuing her personal development journey and also bringing her skillset to the team to brainstorm ideas for future golfers.
She is part of the Women's Coaching Network with Golf Ireland, and through this programme she continues to shape her craft by shadowing senior PGA professionals at Regional High Performance sessions. She has shadowed coaches in Spain, assisting in the coaching of Golf Ireland Panels.
"Mary's passion for the game goes above and beyond and Ireland is very lucky to have her as a Woman in Golf," said her nomination for this list.
********
Peter Gill, ClubSpot
Peter Gill has been the Customer Success manager with Clubspot throughout its journey to becoming a leading club management system for amateur clubs across Ireland.
He handles the onboarding, setup and support for customers in four Countries, across three different timezones and extending as far afield now as Australia.
He has helped to create the processes to ensure that expansion does not have a negative impact on retention and customer service and his nomination is glowing in terms of that being achieved.
Gill completed a Diploma in Journalism at the Fitzwilliam Institute and a Higher National Diploma in Sales at the Technological University of Dublin in 2021.
********
Roisín MacCarthy, Triathlon Ireland
Roisin MacCarthy is the Project Lead for Youth Events, International Age Group Manager and National-Anti-Doping Officer for Triathlon Ireland
Roisin joined Triathlon Ireland in early 2019 as part of the Sport Ireland ASPIRE Graduate Programme having graduated with a Masters's in Sport and Exercise Psychology from what is now the South East Technological University
She has established herself as a valuable member of the team, being involved in the delivery of numerous successful programmes including the establishment of the National Youth Series in 2021. The National Youth Series introduced a competitive race format for children aged 12 – 17 years across Ireland, the programme also attracted CostCutter as its main sponsor in 2021, 2022 and 2023. The programme continues to grow under her leadership and just recently; she was responsible for the delivery of the first Triathlon Ireland Youth Awards; which took place in February 2023.
Throughout 2020 and 2021, she was a key member of the events team that supported race organisers in preparation for their events ensuring education, training and adherence to Covid-19 protocols were in place.
In 2022, she was part of a team that successfully bid for the International Europe Junior Cup. The Europe Junior Cup will take place in August 2023 and will be the first time an international triathlon is held in Ireland in over 10 years.
In 2022, she successfully led on the Sport Ireland Research Project Grant and worked in partnership with SETU to investigate the psychological status of amateur athletes during and after the preparation of a triathlon event. She was appointed to an additional role as Triathlon Ireland's National Anti-Doping Officer and has recently taken on the International Age Group Manager role.
Aside from her development in her role, Roisin has also successfully graduated from the Law Society of Ireland with a Diploma in Sports Law. She acts as an ambassador for the Sport Ireland ASPIRE Programme and continues to promote the programme with new sport graduates.
****
So, who do you work with that has shone over the past twelve months or more and is deserving of recognition as they rise through their career? It could be someone in another company that has impressed you in their dealings with you or someone you have admired from a distance.
Over the coming weeks, we will be launching a new podcast series talking to some of those that have gone before and next September we will do likewise with a number of this year's 'intake'.
Criteria
The criteria for submission is that the person should be working within the sports industry, or in a sponsorship or agency capacity that is bringing sport to life, and that they should be born in or after 1993.
You are invited to submit names and a short precis of why an individual deserves to be recognised below.
Our ambition from the start has been to create a network of people making a real difference within our industry.
Who should we be looking to for the next wave of excellence?
This is an opportunity to put forward those you have come across that have struck you as having real potential, to be part of our next generation of leaders.
It's not about where they are now. It's all about where they could get to with the right breaks.
The list publication for this year starts on Wednesday, March 1st and will continue through March into April.