Welcome to the fourth article of The Sports Economy series.
The Irish Government's National Sport Policy (2018 to 2027) states the intention of bringing Ireland to the top of the table globally for both participation in sport and high performance.
It recognises that this will not occur without continued investment of public funds and aims for the 2018 level of Government investment directly in sport, which was €111 million, to at least double by 2027.
This article will use Eurostat data to examine Government financing of sport and recreation together, by looking at public expenditure in Ireland on a historical basis and comparatively versus our EU peers.
We will also look to the future prospect for Government financing of sport, once the substantial and abnormal Covid-19 related expenditure across the economy ends.
Irish Government Expenditure on Sport and Recreation
The figures mentioned in the opening paragraph refer to Irish Government expenditure directly into sport.
Eurostat, the statistical department of the European Commission, provides public expenditure data for EU member countries where sport and recreation are grouped together as a single theme.
We will use this data, as opposed to the headline budget announcement figures from the irish Government and Sport Ireland, to determine the historical trend of Irish sport and recreation funding, and examine it compared to our European peers.
Irish Government expenditure on sport and recreation peaked in 2008 at €581 million.
As we all know the Irish economy collapsed in 2008 and a period of austerity reigned thereafter.
By 2010 public expenditure on sport and recreation dropped to under €300 million and stayed below this threshold until 2015.
By 2018, the latest year for which the data is available from Eurostat, the figure had recovered slightly to €310 million but remained substantially below the 2007 pre-collapse level.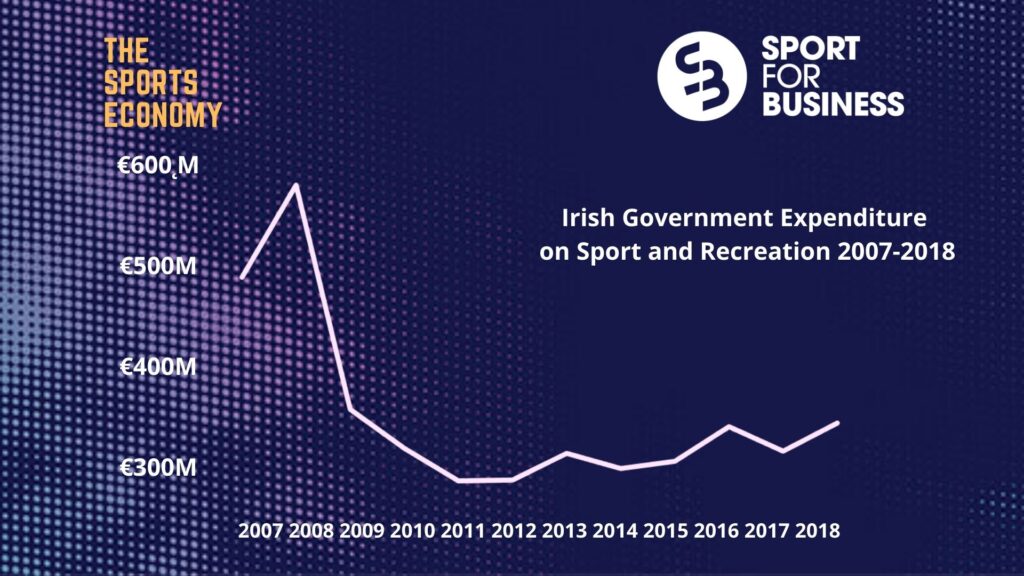 A more illustrative indicator of performance is the level of expenditure per person as even if absolute expenditure is increasing it may or may not keep up with growth in population.
In 2008 the Government spent €130 per person on sport and recreation. The 2018 spend per person was €64. Between 2010 and 2018 it ranged between €53 and €64.
Comparison to Europe
It is of particular interest to see how Irish Government expenditure on sport and recreation compares with our EU colleagues. I use two indicators, share of overall Government expenditure and expenditure per head of population. Unfortunately, the comparison shows that Ireland is well behind most EU member states.
Irish Government Expenditure on recreational and sporting services in 2018 was €310million. This equates to 0.4% of total Irish Government expenditure. The EU average was 0.8%.
In the league table of percentage shares we ranked 26 of 27 EU countries ahead of only Bulgaria.
Non-EU countries of UK, Iceland, Norway and Switzerland are also shown for further context. Ireland is on par with the UK but significantly below the expenditure levels of the other three.
Spend Per Head of Population
Irish Government expenditure on recreational and sporting services in 2018 worked out at €64 per head of population which equates to 57% of the EU average in 2018 of €113 per head of population.
Ireland ranks 18 of 27 EU countries in 2018, just ahead of Poland, Portugal and Latvia and just behind Cyprus, Slovenia and Greece. This is a better performance than on the share of total Government expenditure.
Within the EU, Luxembourg are highest (at €500), and within wider Europe, Iceland highest (at €963) but both have low populations of under 1 million are not necessarily comparable to Ireland with its 5 million people.
Denmark is an interesting comparable country to Ireland in that it has a relatively similar population and level of income per head (in terms of GDP per capita for Denmark and GNI modified for Ireland) but yet has a level of public expenditure on sport and recreation per inhabitant three times that of Ireland.
What is the scope for much increased Irish Government sport spending in the future?
Governments typically raise money by taxing their populations and naturally there are economic and political constraints on tax increases as the sole means of solving Irish public expenditure issues.
Governments of course have the scope to spend more than they raise by borrowing by way of issuing bonds.  Usually there are definite limits to the level of borrowing which an EU member can operates at.
There are for example rules on annual borrowing amounts and overall debt levels. Remember the Troika and austerity years?
Because of Covid these rules have been temporarily abandoned and the European Central Bank is facilitating large and cheap public borrowing.
Borrowing is an attractive option right now but may not be forever. Benchmark interest rates offered by the European Central Bank for example are at historically low levels and Irish creditworthiness is deemed very strong.
For example, S&P rate Ireland's ability to repay debt as AA-, the fifth strongest rating achievable. The net result of these two factors is that the yield, or rate, Irish Government bonds must pay, are incredibly low, in fact in some cases even negative.
A negative yield is a very strange phenomenon to explain.
Why would someone lend money to the Government and pay them for the privilege? But this is happening, for example on the 8th of October in an auction of Irish Government debt across different maturities, the yield on the €325 million 10 debt issue was minus 0.192%.
Furthermore the issue was oversubscribed by 2.74 times, so in other words investors were queuing up willing to actually pay to lend the Irish Government money, agreeing to ultimately receive less back than what they would initially give.
Post-Covid
In the post-Covid world, which hopefully will be soon, fiscal rules will be gradually re-imposed and Governments will resume linking their expenditure to their income. Furthermore ECB interest rates will not remain at the historically low levels they are at now.
As a result, the ability of Government to give large sums of borrowed money to individuals, enterprises and different activities including sport (such as the €85 million sport package announced on November 2nd) will not come as easily. This will put pressure on financing state services and supports.
Summary
After Covid we can expect higher ongoing expenditure on health, education, labour market and social welfare in addition to the pre-existing need for more social housing and adjustment to climate change.
Sport will have to fight more than ever for increased resources from the public purse.
It is clear from the article's historical analysis that there is a need for additional resources to narrow the funding gap with other countries. Clearly, there is a very strong case for increased levels of Government financial support for sport.
Conor Foley has a business degree from Trinity College Dublin, an MSc in finance from DCU and is a Chartered Financial Analyst. Over a 12-year professional career, Conor has experience of advising clients such as institutions, charities and bodies in the areas of global strategy, project management, asset allocation and financial structure. Conor will be working with Sport For Business to produce The Sport Economy, a regular piece, offering insights from the domestic and international sporting worlds of finance, economics and business, aims to bring Sport For Business members lessons and information from around the world to aid you in your strategy, financial affairs and business decisions. Conor has worked in leading financial institutions both at home and abroad and is committed to the growth and development of professional and amateur sport in Ireland.
Sport for Business Partners