In this week's packed Women in Sport Weekly, supported by our partnership with Lidl, we look at a fresh look back on 20×20, a Disney inspired campaign rolling out in Northern Ireland, a Colombian campaign in Football, Google getting on board with Women's sport and more…
******** 
GOOGLE ON BOARD WITH WNBA
Google has signed a multi-year deal to join the top tier of sponsors of the WNBA.
"We are proud to partner with the WNBA and ESPN over the coming years to continue the charge and deliver on our commitment to gender equity and the future of women," said Google Chief Marketing Officer Lorraine Twohill.
"It's important to us that our product experiences are equitable for all genders and we want to make sure our media spend is equitable too, bringing more women's content to television."
"With the WNBA and ESPN, we can help ensure women athletes get the recognition and media time they deserve so that the world can see their incredible talents."
*********
HALF FANS TO FULL IMPACT
one of our Daily Videos this week was the retelling of Aguila Beer's campaign to increase interest in Women's football in Colombia.
An imaginative approach whereby the fact that the men's and women's games were two halves of one club led to a 633% increase in attendance and 55,000 turning up for the biggest game of the season in a League where it looked twelve months earlier as though there was no future.
Take a look back at the campaign and the video here.
**********
SPORT FOR BUSINESS MEDIA MONITORING
Sport for Business is continuing to monitor the coverage of Women's sport across a selection of Irish mainstream media.
During April we captured data from each of the four Saturday's in the month, the marquee day for sports coverage.
The staging of the Women's Six Nations gave a good platform from which to shine and we were pleasantly surprised when we crunched the numbers.
We will be publishing the details of the survey of the coverage on Sport for Business on Monday and we have started our analysis of the May coverage already.
********
NIELSEN HIGHLIGHTING IMPACT OF 20X20
The campaign may be in the rearview mirror now but the impact of 20×20 keeps on giving.
It was good to get a refresh of some of the findings from research undertaken before and after by Nielsen in a post on Linked In from Lynsey Douglas during the week.
Lynsey came over to Dublin back in 2017 to speak to the Sport for Business Women in Sport Conference held at UCD, when the 20X20 Campaign was only coming into focus, and it is clear that she has continued to be taken by the work being done in Irish sport.
"Nielsen Sports, and myself personally, were proud to provide measurement to the 20×20 movement in Ireland to champion girls and women in sport. As a business, we believe in the power of Women's Sport to enhance lives, to empower females as well as it being one of the most exciting areas of growth for the sports industry," she writes in the introduction to the article which can be read in full, with plenty of detail and graphics here.
*********
THE TIME IS NOW FOR WOMEN'S SPORT
The results were published this week of the latest wave in the onside Sport Industry Monitor, in collaboration with Sport for Business and our membership.
Among the valuable insights was a significant lift in the likelihood of brands getting involved in partnerships that will bolster Women's Sport.
The change in the last six months is exponential with 69 per cent saying they were now more likely to get involved in partnerships with Women's sport, a 34 per cent lift since we last tested the water in September of last year.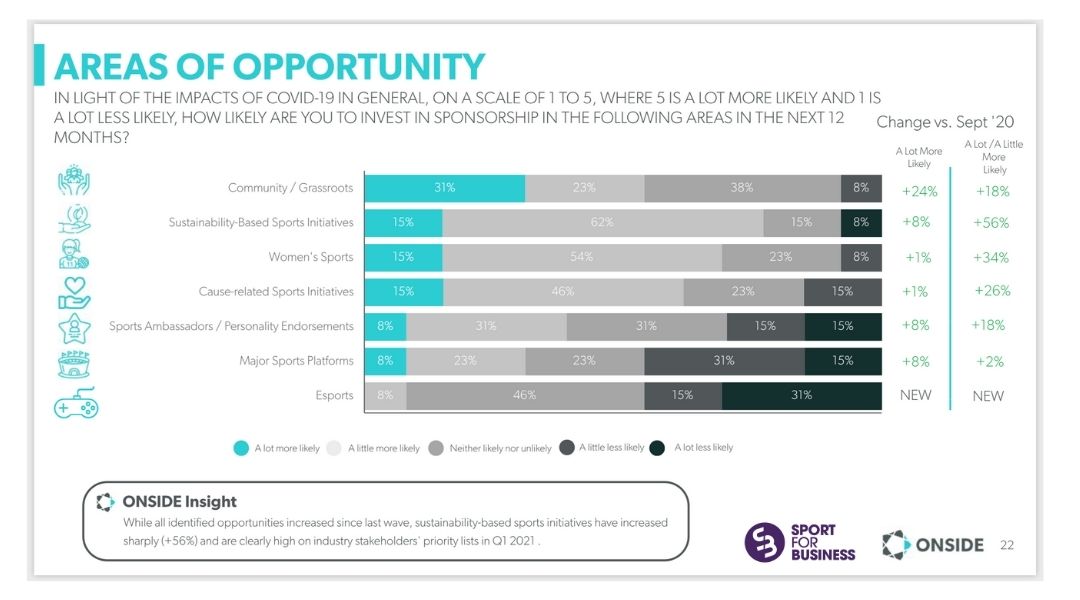 ********
PLAYMAKERS IN NORTHERN IRELAND
Northern Ireland's qualification for the European Championship finals in England next summer promises to be a real Game Changer for Women's sport north and south of the border.
We will be watching with interest how the team's exploits are promoted.
One early way is through the UEFA Playmakers programme which was being rolled out to schools this week.
Using Disney's world-renowned storytelling and inspired by academic research showing the positive role of storytelling in helping children take up sport, PlayMakers aims to increase the proportion of girls meeting the World Health Organization's minimum standards for physical activity – currently just 16%.
Targeting girls aged five to eight who are not currently playing football, the Irish FA is joining 22 other UEFA national associations in committing to roll out Playmakers through schools, clubs and local communities. More associations are expected to introduce the programme in the coming years.
It looks like an impressive programme.
**********
IRISH WOMEN SEE PATH TO WORLD CUP 2023
The Republic of Ireland Women's National Team will get their World Cup '23 Qualifying Campaign underway on September 17th with an away trip to Georgia in the opening fixture in Group A.
Their first home game will be against top seeds Sweden on October 21st, followed five days later by an away game against their other likely closest rivals for the top spot or the playoff place that will go to the runners up.
There will be home games against Slovakia and Georgia in November of this year before a crunch away game in Sweden on April 1st and the conclusion of the group stages after a summer break for the Euro Championship finals in England next summer.
The final two games will be on September 1st at home to Finland and September 6th away to Slovakia.
The finals tournament will take place in Australia and New Zealand in the summer of 2023.
*********
YOUNG WOMEN TO THE FORE IN 30 UNDER 30
We completed the publication of our 30 Under 30 Young Leaders in Irish Sport and the Business of Sport this week with an equal split of 15 women and 15 men.  It is always our intention to give equal representation to those who are doing a great job, based on merit but with the fact in mind that men have traditionally overrepresented in other similar lists.
You can look at the full line up of our 30 under 30 for 2021 here.
*********
Each week we carry a Women in Sport Weekly Column, highlighting stories here in Ireland and around the world that are relevant to the idea that we are only catching up to what is happening elsewhere and that while we may be strong in some areas, there are certainly others where we need to prod and poke to ensure fairness.
That's all, it's not a takeover, it's not at the expense of sport that is there already, it is just recognition that sport should be more conscious of its obligation to the 50.5 per cent of the population that has just as much right and talent to play sport as anyone.
If you think there is a story around Women in Sport that we should feature please get in touch and let us know.
Lidl are our Partners in the Women in Sport Weekly column and are among more than 250+ members of the Sport for Business network of sporting and business organisations working together across a number of key areas.
Sport for Business Partners