In partnership with our friends at Liberty Insurance, we are pleased to present our eighth annual list of 50 Women of Influence in Irish Sport.
We have more CEO's of sporting organisations in 2020 than ever before, more women in positions of influence at our major sporting sponsors than ever before, and more women taking a key role in media, administration and elsewhere.
The list we are publishing here is a snapshot of those women who are making a mark on all these areas, making the role of women in sport unexceptional by being exceptional in what they do.
The hardest challenge of the Sport for Business year is narrowing the list to only 50.  This year more than 100 more than that were nominated and there is no reason why any of those who have featured previously should do so again, only for recognising others that are making an equal contribution.
We set ourselves a target this year to refresh with at least 30 per cent of the names appearing on the list for the first time.  We accept that it is imperfect, and we recognise that influence is a hard concept to nail down in terms of any order.  As such, there is no reference to one having a greater right to a place here than any other.
But recognition is important, and here is our list for this year of 50 women who are making a significant impact on the world of sport in a wide variety of roles.
We look forward to working with many of these individuals over the course of the next year, and to starting the process all over again in 2021…
********
Gráinne McElwain
Grainne McElwain has been a regular presenter across Irish TV including for TG4 and RTÉ and this year stepped in as the main presenter for Sky Sports GAA Coverage.
Bringing the games to a wider audience across the UK is an important position and she has adapted from the Irish language coverage of record-breaking Ladies Football action here to her new audience.
She started her career in the media with Nemeton in County Waterford, having started out as a teacher, and went on to be the face of TG4 coverage of Ladies Football for 11 years.
As a freelance presenter, she has also worked with BBC, RTÉ and eirSport.
********
Mags Byrne
Mags Byrne has been a player in sport at the highest level for a number of years, most notably as CEO of Sunderland Football Club in the time of Roy Keane.  Her presence on the 2020 list though is a nod to the potential future importance of eSports and her role as the founder in 2018 of EStars, one of Ireland's first notable steps into this space.
Originally from County Armagh, she is also the founder of First for Players, an agency representing footballers in Britain and Ireland, including Jim Magilton who has just taken on the role of Sporting Director with Dundalk FC.
She is a qualified solicitor and worked in private practice as a lawyer until 2007 when she joined Sunderland AFC as Club Secretary and in-house Lawyer.
She was appointed to the Board of Directors in 2009 and in 2011 she was promoted to the position of Chief Executive Officer, the same year she was also voted onto the FA Council as a Premier League representative.  
********
Orla McElroy
Orla McElroy is the Sports editor of the Irish Daily Mail, the first and so far only woman to hold such a role within a national newspaper here in Ireland.
The paper's coverage of sport is of the highest order and whether through her personal standards or a more general sense of equality, it has also more often than not led the way in terms of representing Women's sport.
McElroy began her career in Journalism at The Irish Field before spending time at the Irish Independent and then moving to the Daily Mail and working here way through the ranks of management to get the top spot.
Horseracing, rugby and golf are her sporting passions and she is the daughter of long time and highly respected horse racing writer Damien McElroy.
********
Ellen Keane
Ellen Keane has been in the public spotlight since she first swam for Ireland at the Paralympic Games in Beijing as a 13-year-old in 2008.
In 2019 she won Bronze at the Para Swimming World Championships in London and while her 2020 plans for Tokyo have been pushed back a year, she has maintained a strong presence as an elite athlete but also as a role model for people with a disability.
The importance of her influence lies in making the case that people with a disability should never be judged or dismissed by that sense of being different
From being open and honest about the challenges she faced as a child, talking about coming to terms with her 'lucky fin' and maintaining her place at the top of her sport while studying culinary entrepreneurship at DIT and being an athlete ambassador for Sky Sports and Allianz she shows every day what is possible.
********
Kelli O'Keeffe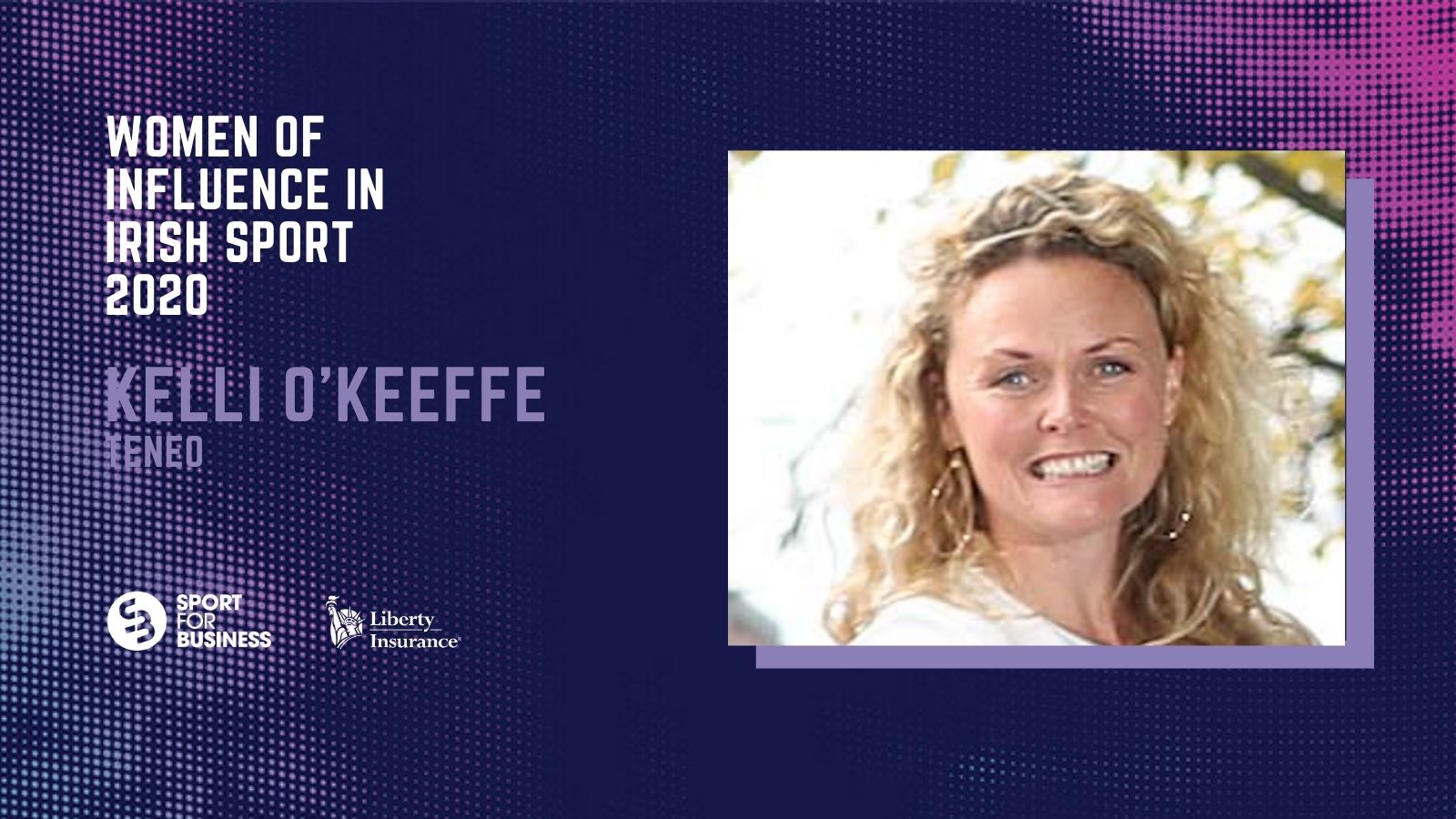 Kelli O'Keeffe is Managing Director of the  Sport and Sponsorship division at Teneo Ireland and one of the most senior advisers working across the business of sport in Ireland.
Teneo handles media and sponsorship affairs for a range of the biggest players in Irish sport and sponsorship.
A graduate of UCD's Sports Management Degree course she also has degrees in Marketing from DIT and in Performance Psychology from Edinburgh University.
O'Keeffe was on Maternity leave for part of 2020 and will be again for part of 2021 but that should never be seen as a blocker on influence.  It is a life and career choice that Women have to make but becoming a mother does not affect your talent or ability any more than becoming a Father.
She was part of the inaugural Women in Sport Committee at Sport Ireland and has always been a strong advocate of encouraging Women in Sport to step forward and tell their stories to encourage others.
********
Amy O'Shaughnessy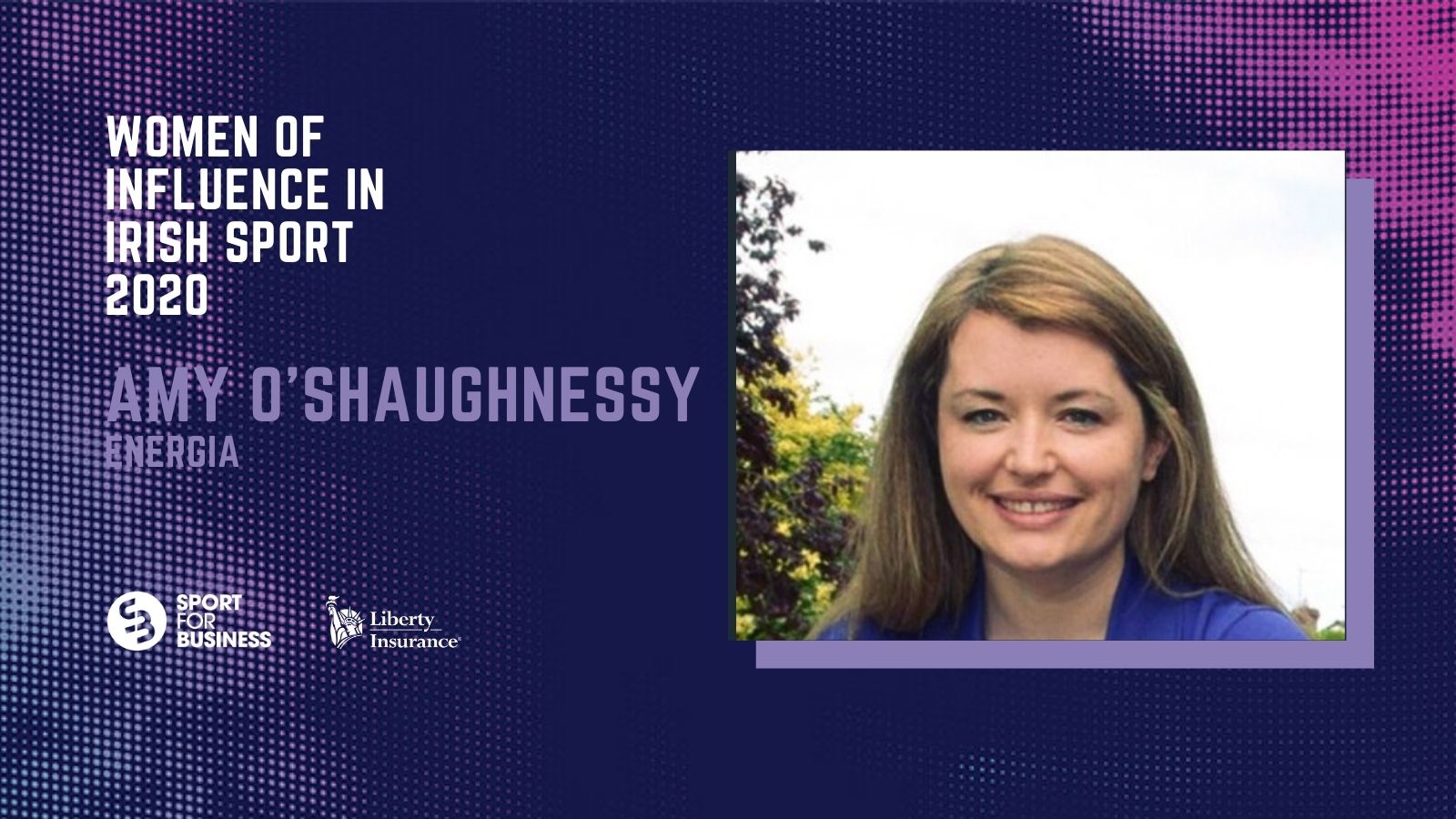 Amy O'Shaughnessy is the Marketing Acquisitions and Sponsorship Manager at Energia and another of our new entries to the list for 2020.
She led the expansion of Energia's relationship with Leinster Rugby into one that has seen it partner with the IRFU and take over national sponsorship of the Energia All Ireland League.
Bringing it to life in the Women's game on an equal promotional basis to the longer established Men's game was a key part of the partnership until Covid-19 stopped things in their tracks.
The Annual Awards Campaign was transformed into a successful digital platform during the first lockdown, one of the first to do so, and this has been rewarded with shortlisting at the 2021 European Sponsorship Awards.
She graduated from DCU with a Degree in Communications before working as a marketing manager in the launch of Saorview and then joining Energia in 2012.
********
Lisa Hayden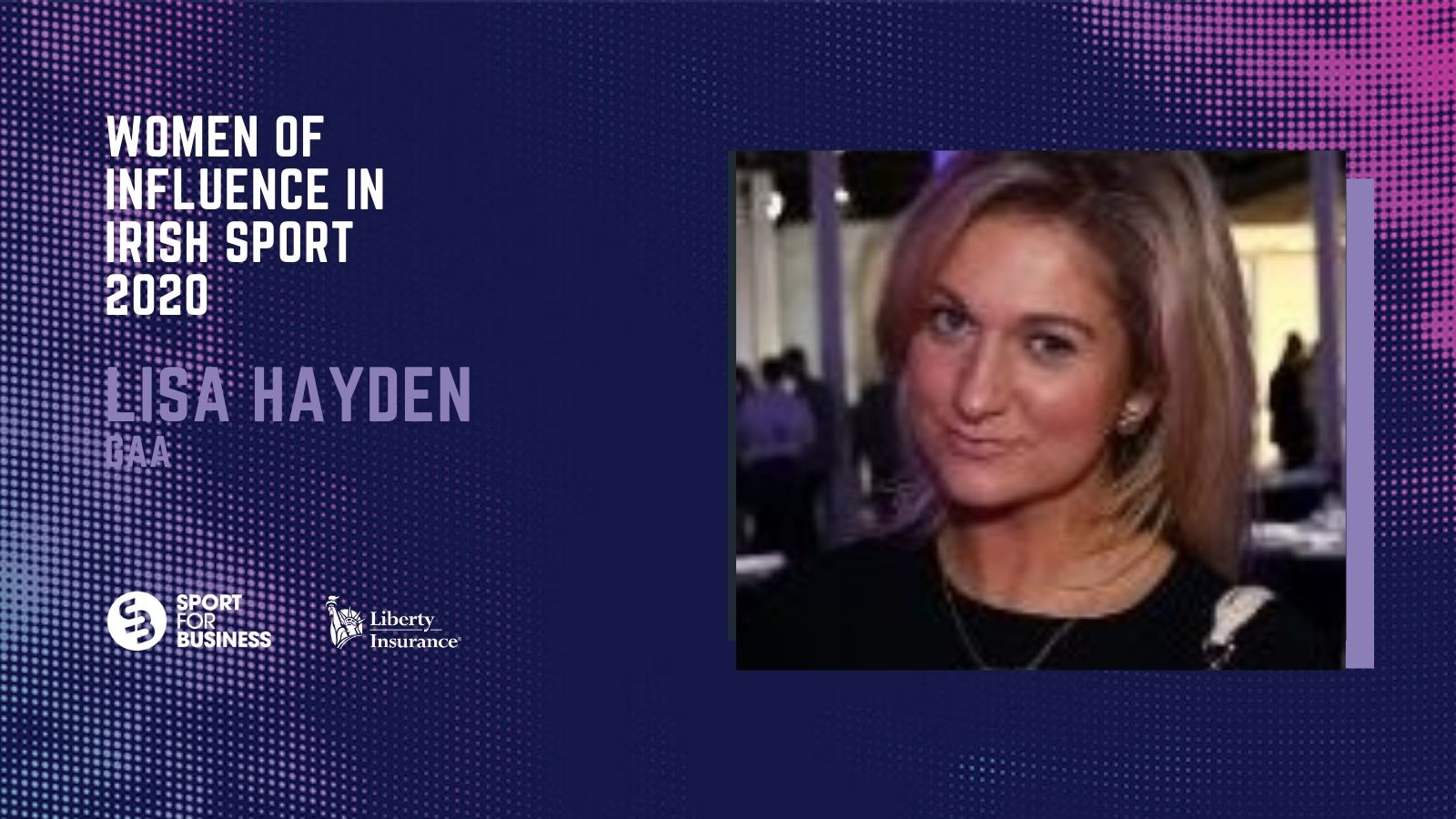 Lisa Hayden is the Digital Content Manager at the GAA and the driving force behind the development of GAA Now across social and online media.
She was one of the keynote speakers at last year's inaugural Sport for Business Irish Sport on Social Media conference at Twitter's EMEA HQ in Dublin.
The GAA's reach on social media continues to expand, and in this strangest of years, Hayden was one of the key team members behind the sympathetic and incredibly powerful GAA campaign to remember Bloody Sunday.
Hayden graduated in English, Sociology and Sports Management from UCD her first job in sport was as a development officer with Rowing Ireland before joining the International Governing Body for that sport, FISA, in Switzerland for two years.
She returned to Ireland in 2014 and joined the Communications team at the GAA, a perfectly timed move ahead of the transformation of the Association's digital content into the current portfolio of clip rights, streaming and social media content.
********
Lisa Browne and Edel McCarthy
Lisa Browne and Edel McCarthy are the strong team behind some of Ireland's most influential sponsorships.
Browne as Head of Marketing and McCarthy as Group Sponsorship and Activation Manager at Electric Ireland are responsible for deciding on which assets to pursue and how to make them most effective for the brand.
In February 2018 they won the European Sponsorship of the Year Award for the work they do with Darkness into Light. In February 2019 they doubled up with colleague Anne Smyth in Northern Ireland winning the same award for the Game Changer sponsorship of Women's Football in the North.
They oversee sponsorship of the Electric Ireland All Ireland Minor Championships and in 2019 they added to the company's GAA portfolio taking on Sponsorship of the iconic Sigerson and Fitzgibbon Cups in Colleges GAA.
In 2020 they were on the front line of how to adapt a sponsorship budget as the buffeting impact of Covid-19 swept through their programme.  With the Minor Championships saved, and Darkness Into Light transformed into Sunrise Moments and saved financially as well as emotionally, they end the year on top again.
********
Tracey Kennedy
Tracey Kennedy has served the past three years as the first woman to be Chair of the Cork GAA County Board.
In 2020 she was a key player in the creation of One Cork, bringing together the County Board, the Pairc Uí Chaoimh Board and Cáirde Chorcaí under one umbrella.
Creating the right structures off the field of play is instrumental in building a platform for excellence in the games and the last-minute victory of Cork over Kerry in the Munster semi-final will live long in the memory, even if the rest of the interrupted year has not, yet, delivered an All Ireland.
Aside from wrestling with the impact of Covid on the sporting world, Kennedy is also the Principal at Carrignafoy Community College so it has been some year.
When she completes her service with the Cork County Board there may yet be a higher office in the GAA considered in the future, though for now she probably deserves a rest.
*********
Dee Forbes
Dee Forbes is the Director-General of RTÉ.  She has been in the position since 2016 but could not have imagined a year like that gone by for the national broadcaster.
The Olympics and then the Euro 2020 Finals and a summer of Gaelic Games were ripped from the schedule by Covid at a time when news and public service information became more critical than they have ever been.
Managing through that in all its forms was a challenge that nobody would have found easy but Forbes has come through and RTÉ now has a closer place in the hearts and minds of the nation than has perhaps ever been the case.
As sport returned, she was a backer of putting the key events in primetime and pushing with promotional campaigns that saw it reconnect with the public after a longer absence than had ever been experienced.
She has always been a great supporter of sport and an unequivocal backer of RTÉ's commitment to Women's sport and the 20×20 campaign.
Forbes knows and understands the importance of sport.  She was a senior executive in Discovery when they signed a €1.3 Billion deal to bring Olympics coverage away from the European Broadcasting Union.  She is a passionate fan of Munster Rugby and has been involved on the commercial board for that organisation.  She has also been a great supporter and strong contributor to our Annual Women in Sport event hosted at the RTÉ Studios which will emerge itself in 2021.
********
Catherine Tiernan
Catherine Tiernan is the Commercial Director at the Olympic Federation of Ireland.  She has been a key player in terms of managing relationships with key partners as the Tokyo Games of 2020 slipped over into 2021.
New partnerships have been signed through the year and the portfolio of partnerships with FBD Insurance, Indeed, Circle K and McKeever Sports is stronger now than at any time in the Federations past.
Tiernan came on board in November of 2018 having previously been Head of Marketing with Chill Insurance during its period as a key sponsor of Cork GAA.
Prior to that, she had been Head of Sponsorship at O2.
********
Anne Mulcahy, Paula Murphy and Gemma Bell
Anne Mulcahy is Group Brand Director, Paula Murphy is Head of Strategic Sponsorship and Gemma Bell the Sponsorship Manager at Bank of Ireland.
Between them, the three make a formidable team at the head of one of the largest sponsorship brands in the country.
Even in a year when a sport was pushed to the sidelines, it still featured as a core component of Bank of Ireland's overall marketing with a new TV campaign putting the struggles of sport into a wider context and incorporating  Men's, Women's and Children's rugby across the four provinces where the Bank is a key partner.
Mulcahy joined the Bank in November 2018 after a stellar 20-year career in senior positions within Coca Cola, Diageo and Vodafone.
Murphy joined in March of 2019 and is also responsible for the bank's Corporate and Social Responsibility activity.  She had also been at Vodafone and before that served as Group Marketing Director with Independent News and Media.
Bell has run the Bank's sponsorship engagement with all four provinces in Irish Rugby since joining from Diageo in 2017.
********
Sene Naoupu
If you had to design a role model for resilience and positivity, you would emerge with a picture out that had Sene Naoupu's imprint through it.  She is a Leinster and Ireland Rugby International, has captained both with power and precision but it is off the pitch that she has shone as an ambassador for Mental and Physical wellbeing and so much more.
In demand as a brand ambassador, she is a fluent and passionate speaker on subjects from eating disorders and mental wellbeing among others.  The international rugby community recognised her skills when appointing her as one of Ireland's players to go forward onto World Rugby Committees in October of this year.
She has overcome the blow of a tumour diagnosed in February and operated on in July of this year but still found the time while waiting for her operation to join us on a special Women in Sport session we did over the summer.  She has recovered to the point of being ready to resume Ireland's quest for a place at the 2021 Rugby World Cup.
Naoupu is a brand ambassador for Guinness and Adidas and a graduate from the Masters in Sports Administration course at UCD.
*********
Jacqui Hurley
Jacqui Hurley is one of the waves of women sports presenters that dominate the airwaves on RTÉ, proving at every turn that sport is for women in every aspect.
Her regular slot is as the Presenter of Saturday Sport on RTÉ Radio 1 but in 2019 she was the lead studio host for the FIFA Women's World Cup in France.
In 2020 she has been a strong advocate for the 20×20 movement and became a published author with the launch of Girls Play Too, a collection of illustrated pen portraits of a selection of the sports stars that have led the way for Women in Sport in recent years.
Hurley played Basketball for Ireland and Camogie for Cork.  She graduated in Communications and English from the University of Limerick and was working in local radio when the chance arose to do a screen test for Children's TV in RTÉ, from where she quickly moved into sport.
********
Niamh Daffy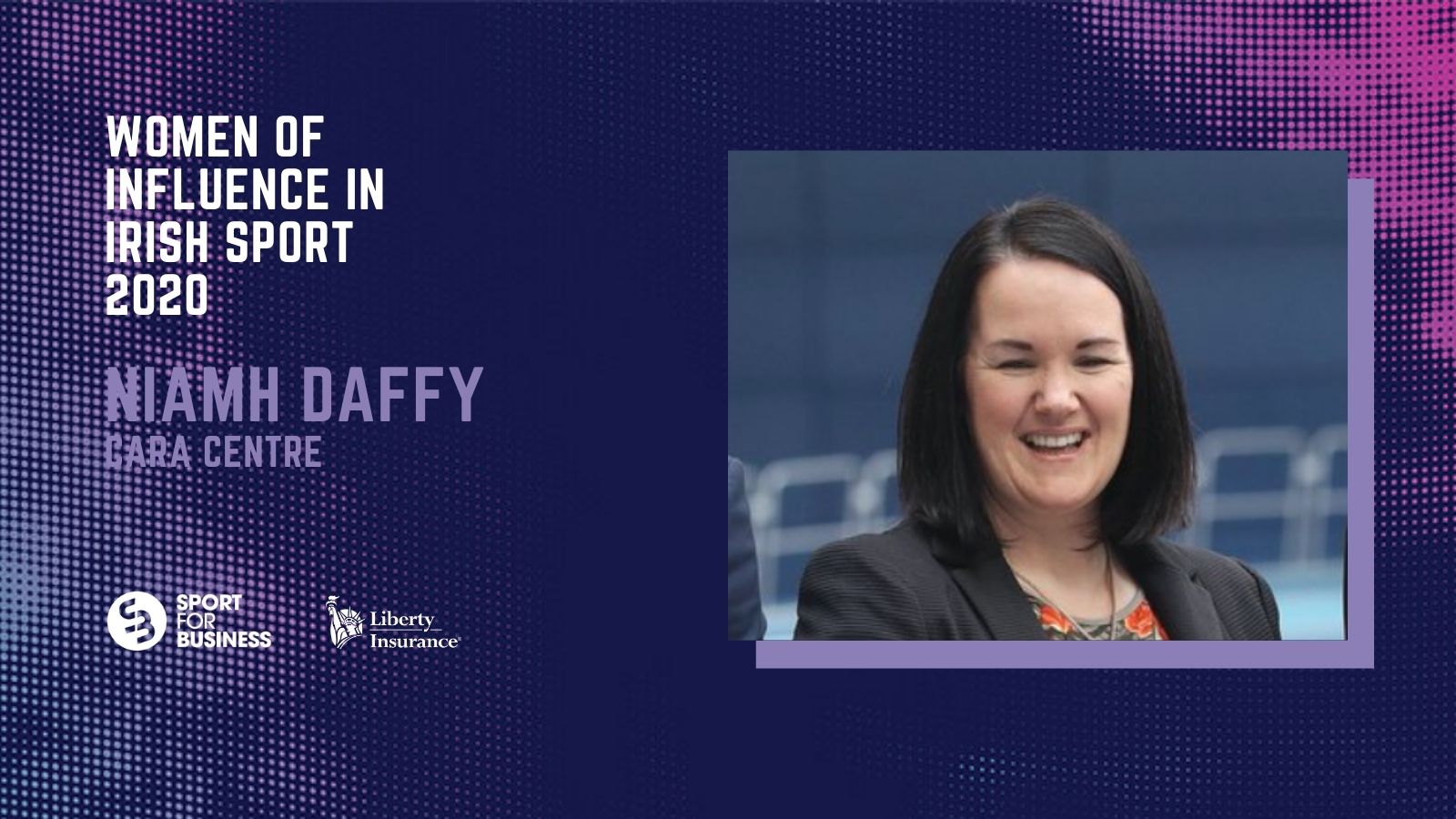 Niamh Daffy is CEO of Cara, the national organisation providing a collaborative and partnership platform to enhance sport and physical activity opportunities for people with disabilities.
She sits on the Sport leadership Group charged by Government with advising on the implementation of the National Sports policy and is a powerful advocate for people with disabilities and their right as much as anyone else to sport and physical activity.
The organisation was founded in 2007 and is based in Tralee. Its current three-year strategic plan outlines a clear commitment to working in collaboration with national and local partners to make active and healthy lifestyles possible for people with disabilities.
Daffy was instrumental in the creation of the Cara Sport Inclusion Disability Charter which has been a key element in driving change in the way we all think of this critical area of inclusion.
She is a graduate of The Institute of Technology, Tralee where Cara is based and remains a keen player and supporter of Camogie.
********
Su Carty
In 2018 Su Carty became the first Irish woman to sit on the Council of World Rugby that governs the sport on a global basis.
She remains one of three Irish representatives on that body and one of only two women on the IRFU Committee.
She was first Women's Development Manager with World Rugby, a role to which she was appointed in 2009 and in which she served for seven years through to 2016.
That followed on from her serving as President of the Irish Women's Rugby Football Union until 2008 and bringing that body into the IRFU.
She was a key figure in the review of Women's Rugby which took place after the hosting of the Women's Rugby World Cup here in 2017 and is a vital influential voice in how the sport is developing from grassroots to the elite level.
Away from Rugby, she has a consultancy business specialising in business team performance and wellbeing, and in 2020 has brought Ohana's Twenty2Zero Suicide Prevention campaign to Ireland.
********
Áine O'Gorman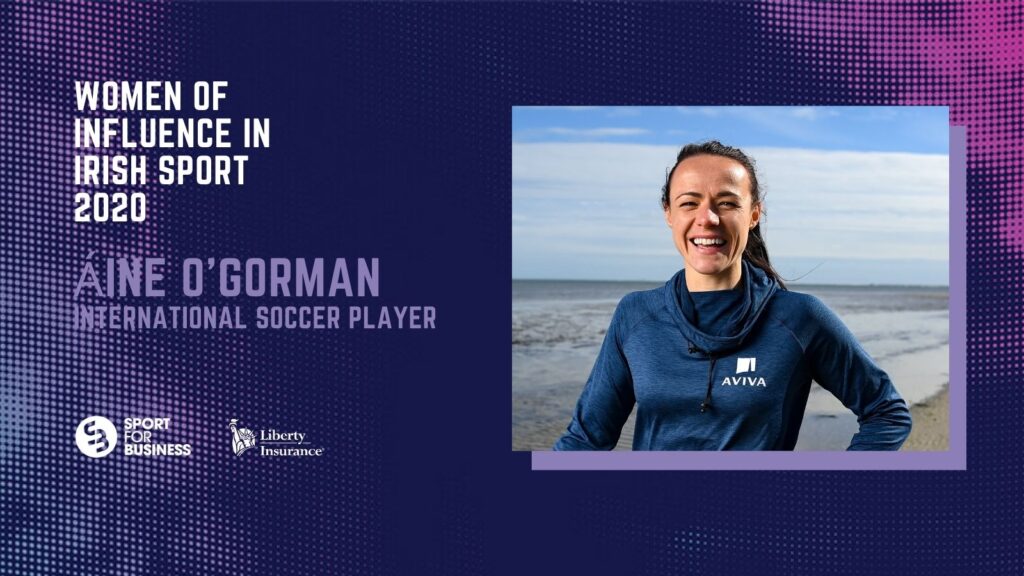 Áine O'Gorman is an Irish International Soccer player who makes the list for the first time due to her resilience and visibility.
The Irish international team has a host of players competing in the upper echelons of the elite game in England, Scotland, Europe and the US, but O'Gorman, with the exception of two years in the early part of the decade, has plied her trade in the domestic league.
She had retired from International football and was working as an analyst with RTÉ at the start of this campaign but answered a call to return and has now won 105 caps.
It was her own goal that led to defeat in Ukraine and ultimate failure to qualify for a first major tournament but she bounced back to give a great performance against Germany and will be one of the leading lights in Saturday's Women's FAI Cup Final to be shown live on RTÉ.
She has also worked to promote the game as an ambassador with Aviva and Dublin City Council and having her at home make her seem more accessible as a role model to other players playing away from Ireland.
********
Kellie Harrington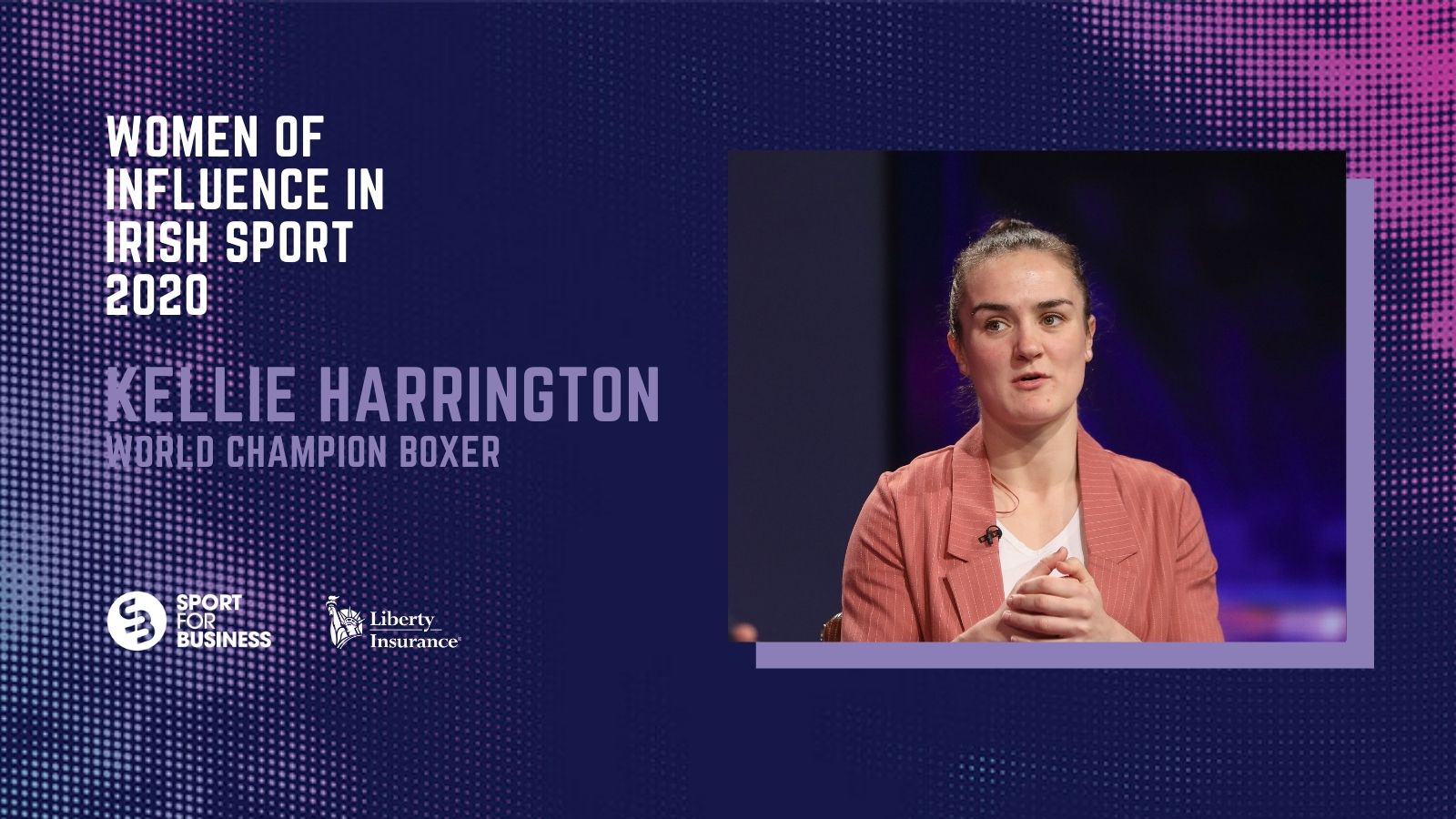 Kellie Harrington is a World and European Champion boxer and has the potential to be one of the Irish stars of the Tokyo Olympics to be staged in 2021.
She is a fighter from the North East Inner City of Dublin and her roots in the city are a key part of her charming and accessible character.  We have been involved with her in events around the Dublin SportsFest and she is the star that everyone is attracted towards.
She is an ambassador with FBD Insurance as part of their Olympic Team Ireland partnership. She is also active on social media and fully engaged with her audience.
She is important because she reaches out to groups of young girls, and boys, with the hope that they can grow up to be like her, if not in the boxing ring then in whatever they want to turn their hand to.
When the National Sports Policy was launched in the summer of 2018 it took place in the streets where Harrington grew up, less than a mile and yet a million miles away from the gleaming glass-fronted offices of the IFSC.
Kellie Harrington was the star act that day.  If we can bear her spirit and fortitude in mind as that policy develops over the next decade, we will, as a society, have done a good job.
********
Maria Kinsella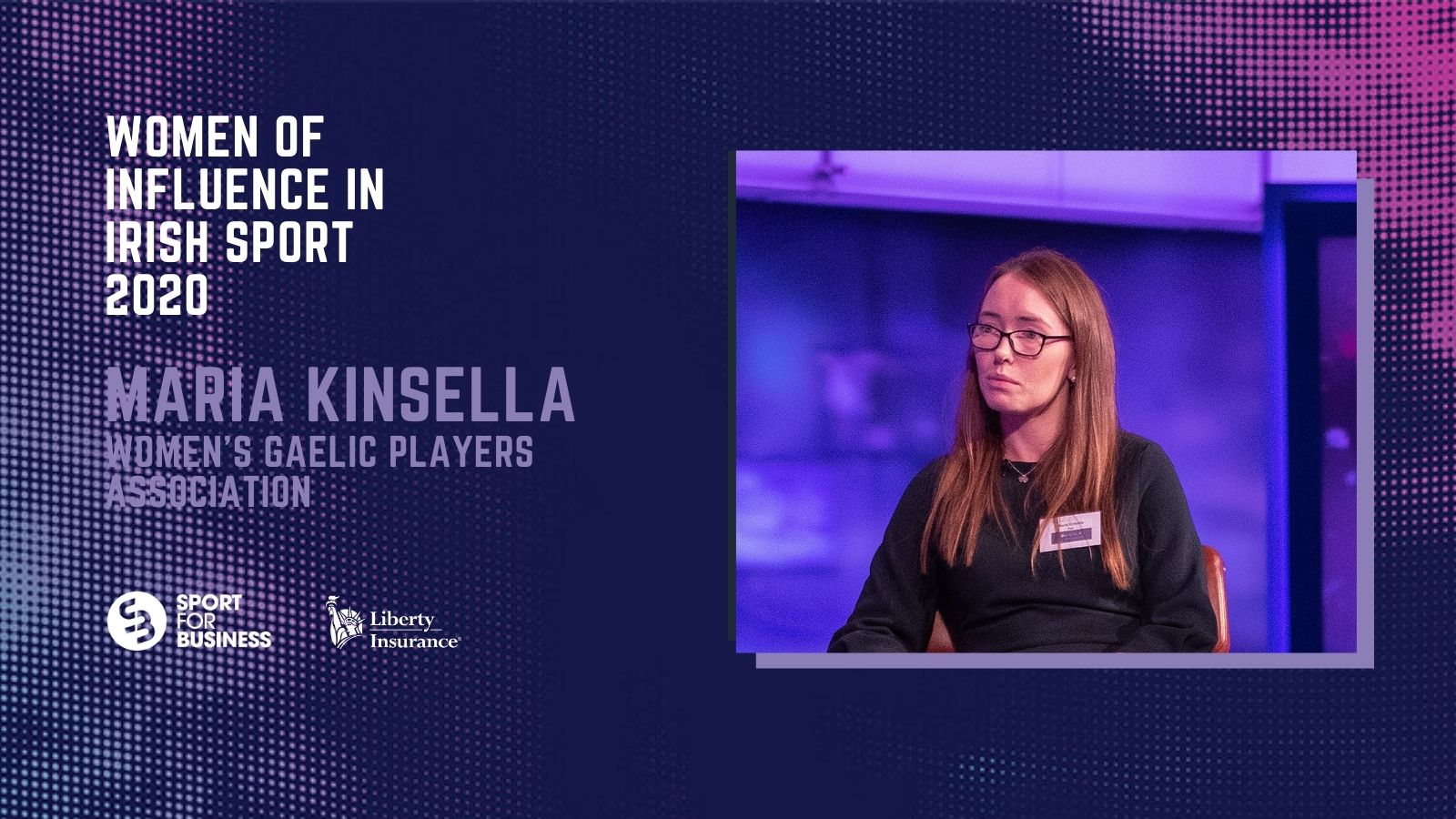 Maria Kinsella is the Chair of the Women's Gaelic Players Association.  She was elected to the position in January of 2019, succeeding Aoife Lane who had been the founding Chair of the organisation.
Kinsella has worked with her committee to forge closer links with the longer established Gaelic Players Association and to draw on their experience and resource.
Motions at forthcoming EGM's will see this closer cooperation gain extra impetus and Kinsella will be a powerful voice for players as the sporting bodies of Ladies Football, Camogie and the GAA draw closer themselves.
She has also maintained her own inter-county playing career as a Carlow footballer and a busy life as an Audit Manager with PwC in Dublin.
Kinsella has spoken at our Sport for Business Women in Sport Conference and is a strong and intelligent advocate for the players in Camogie and Ladies Football at a time when their position in the wider sporting context is growing ever more important.
********
Sinead Galvin
Sinead Galvin established Galvin Sports Management in 2016 and has become a real force in terms of representing athletes across the sporting spectrum.
It is traditionally a male-dominated world but Galvin has secured many top athletes and given then a strong platform to maximise both their popularity and their commercial appeal.
Rhys McClenaghan, Ellen Keane, Ciara Mageean, Oliver Dingley and Thomas Barr are among those she represents and who will be in the spotlight more than ever through 2021 in an Olympic and Paralympic year.
Galvin was previously an Account Director at Wilson Hartnell and prior to that, she worked for several years as the first Marketing and Communications Manager at Athletics Ireland.
She has maintained strong links to the sport and has even established a new club in Clongriffin where she doubles up as Coach and Chair.
********
Marie Crowe
Marie Crowe is a Sports Journalist who presents Game On 2FM each weekday evening.  Writing in the Sunday Independent for over a decade, she had spells with UTV and Sky Sports as a TV Sports news Presenter, before being appointed as UEFA TV's Irish correspondent in 2017.
In October of 2019, she was given the anchor chair on 2 FM's flagship weekday sports show where she has led the way on breaking stories and features alongside Ruby Walsh and Donncha O'Callaghan.
A native of County Clare she will also host this Saturday's live broadcast of the Women's FAI Cup Final from the Aviva Stadium.
As a player, she will have played against some of those when lining out for St Patrick's Athletic in the Women's National League.
Only last week she appeared alongside Barbara Slater of the BBC and Karen Carney of BT Sport on a discussion panel at the Web Summit looking at the next stage in the evolution of Women's Sport in the media.
********
Rea Walshe
Rea Walshe is the Chief Operating Officer at the FAI and has survived in the FAI through the most turbulent 18 months in its near 100-year history.
We highlighted Walshe's rise through the Association in this list in 2018 and in 2019 she briefly held the role of interim CEO
She was one of the two FAI representatives on the Committee established by Sport Ireland and the Department to consider the matters of Governance that were threatening to engulf the Association.  That continues to be one of the primary focuses of her energies at Abbotstown where she provides a degree of continuity as new CEO Jonathan Hill steps in to lead the sport through the coming years.
Walshe is a qualified solicitor, gaining her degree from University College Cork and was a participant on the inaugural UEFA Football Law Programme.
She has been at the FAI since 2014 when she joined from Liberty Insurance.
********
Gillian Fitzpatrick
Gillian Fitzpatrick is Chief Commercial Officer at SportsJoe.ie and one of the leading players in the world of Digital publishing and Podcasting.
The business went through a tough time in 2020 but emerged intact with new investment and Fitzpatrick in one of the key management roles determining its direction in the future.
The role of SportsJoe in delivering both sporting content and commercial partnerships based around that has grown enormously as the media landscape has shifted online in recent years and Fitzpatrick has been a key player in that.
It is a key medium in how we consume sports content and Fitzpatrick will have a key role in determining how much of that content is pointed towards Women in Sport as well as Men.
She has a Masters in Journalism from Technological University of Dublin, sat on the Steering Committee of 20X20, and has recently taken up a Non-Executive role as a Director of Softball Ireland.
********
Rachael Blackmore
Rachael Blackmore is a leading National Hunt Jockey competing at the highest level of her sport against both Women and Men.
She became the first woman to take out a professional licence in over 30 years when doing so in 2015 and at time of writing is lying second in the Irish Champion Jockey table with 52 wins and over €750,000 of prizemoney so far in the 2020/21 season.
She has ridden winners at the Cheltenham Festival in each of the last two seasons and has been a star of the Dublin, Fairyhouse and Punchestown Racing Festivals.
Hailing from the racing heartland of Tipperary, she nonetheless came from a family with no background in the sport and came into it after studying equine science at the University of Limerick.
She is in the vanguard of a new generation of women jockeys competing at the highest level in the sport against their male peers.
********
Sarah O'Connor
Sarah O'Connor is Head of Sport at Wilson Hartnell and one of the key advisers to some of Ireland's biggest sponsors and sporting organisations.
These include AIB, Guinness, Electric Ireland, the Olympic Federation of Ireland and the KBC Dublin Marathon.
Activation in the time of Covid has been challenging but she has played a key part in helping these brands create imaginative ways of connecting with their audiences through sport.
O'Connor was the original CEO of the Federation of Irish sport and moved over to Wilson Hartnell in 2015.  Her original background was as a solicitor with Arthur Cox.
She has built a strong team around her and remains one of the key players in the world of Irish sponsorship.
********
Sorcha Madigan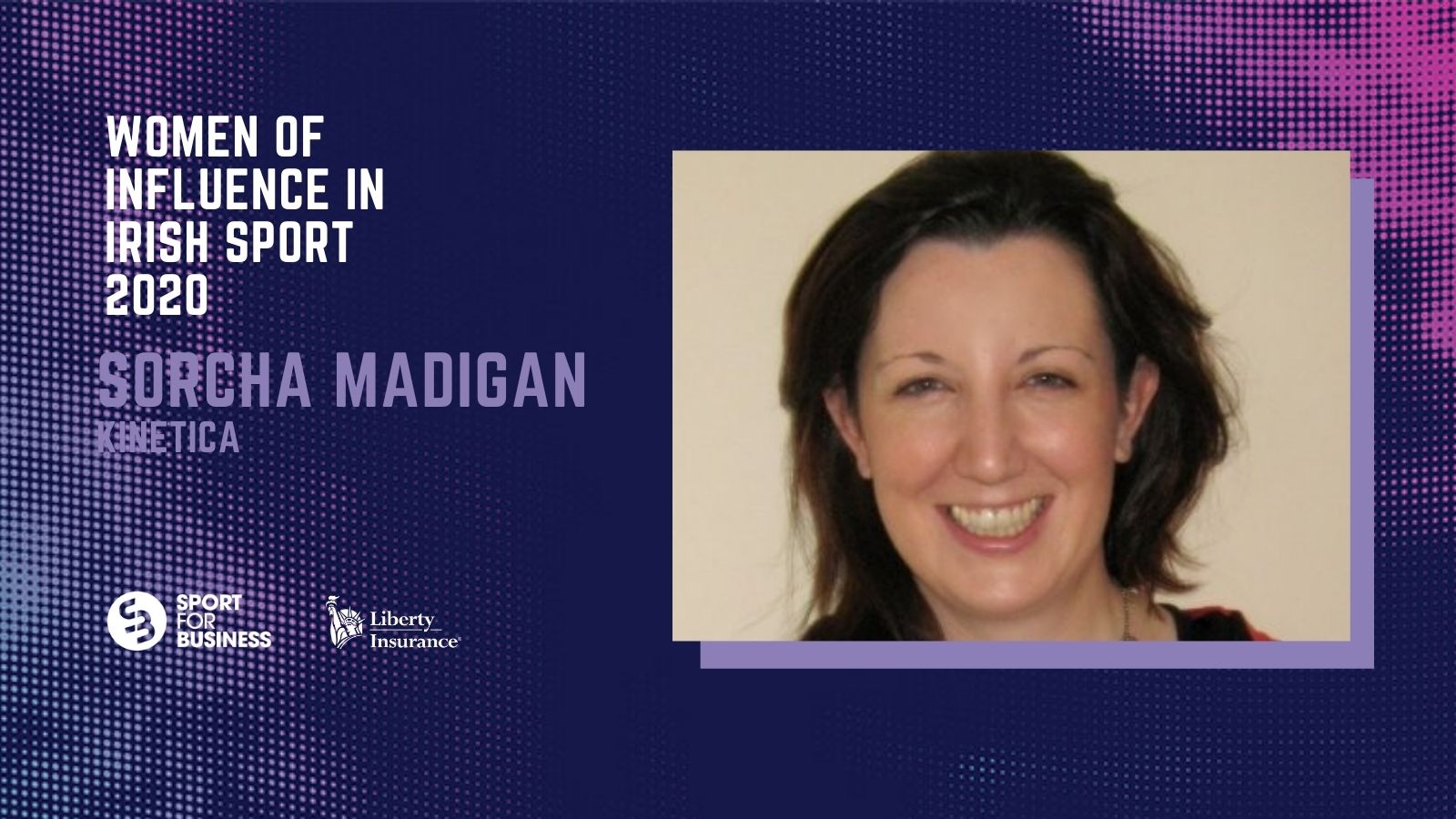 Sorcha Madigan is the Business President of Kinetica and Chief Strategy and Marketing Officer at the Boyne Valley Group.
Sport relies on sponsorship at every level and while it is the bigger sports and the bigger deals that grab the bigger headlines, Kinetica, under Madigan's leadership have been building a network of sporting partnerships across a number of our main challenger sports.
In October of this year, it added a partnership with Cycling Ireland to those it has in place with Swim Ireland, Rowing Ireland, Connacht Rugby and Dublin GAA.  It also features on the bag of Irish golfer, Leona Maguire.
Boyne Valley Group is also the Official Food Partner for the Sport Ireland Institute.
That's a strong and diverse portfolio built up by Madigan since she joined the group from Kerry Group in early 2019.  She previously held senior positions at Glanbia where she joined after completing a Masters in International Business at the Smurfit Graduate School of Business.
Sanita Puspure
Sanita Puspure describes herself as a mother, a wife, a rower, a two-time olympian, a two time World and since October of this year a two time European Champion.
Her success at the highest level over a sustained period merits her consideration as one of our greatest athletes of all time and she was honoured in 2019 as the Irish Times Sportswoman of the Year Award.
Puspure was born in Latvia and moved to Ireland in 2006.  She became an Irish citizen five years later.  In 2021 she will be one of Ireland's main hopes at the Tokyo Olympic Games.
She has been instrumental in the development of a new generation of rowers coming through in the same way as Katie Taylor changed the game for boxers.
********
Catherine Martin
Catherine Martin is the Minister for Media, Tourism, Arts, Culture, Sport and the Gaeltacht.  She is only the second woman at cabinet level to oversee sport after a short spell under Mary Hanafin in 2010.
Her influence has already paid off for sport with strong financial support coming through in the 2021 budget.  Her backing for the implementation of the National Sports Policy she inherited, with a stronger financial commitment than might have been expected in such challenging times, was a big win so early in her tenure.
As Deputy Leader of the Green Party, she carries that additional level of heft when it comes to ensuring that sport is well represented.
She served as a Councillor on Dun Laoghaire Rathdown County Council between 2014 and 2016 and was elected to Dáil Eireann in the constituency of her predecessor as Minister, Shane Ross.
As a teacher and a parent, she will be aware of the importance of grassroots sport, and again the financial backing of Sport Ireland contained substantial markers towards this being an important priority.
The brief is wide and varied but Sport always has a way of making the headlines and with Previous Ministers having the responsibility including Leo Varadkar and Paschal Donohoe, she will have understanding colleagues around the table.
********
Lisa Jacob
Lisa Jacob has recently been appointed as the National Team Manager to Ireland's Women's Hockey Team.  She will be a key influence on how the team prepares and performs at the Tokyo Olympic Games.  As the first team in any field sport to qualify for the games from Ireland they have a special place already in history and as the coming months unfold they will be important in pushing the narrative of Women's sport to new highs.
Jacob won 139 caps in a career stretching from 2006 to 2014 and more recently joined the Board of Hockey Ireland in 2019. She also played with the Irish Rugby 7's team in the run-up to the 2016 Rio Olympic Qualification series.
She runs Hidden Strength, a performance coaching company that delivers keynotes and workshops for sporting and business organisations.  In knowing how to tell a story of empowerment, and now having a platform of a successful international team competing at the Olympic Games, she deserves a first time place on our list.
********
Nora Stapleton
Nora Stapleton was appointed to the newly created position of Women in Sport Lead at Sport Ireland in April 2019.  She has executive responsibility on overseeing the additional €3 million funding which was allocated to different programmes across a multitude of sports by Sport Ireland announced in September of last year and which will expand in 2021.
The role has brought her into close contact with those who are implementing game-changing plans and programmes across the wide spectrum of sport and by providing a central point for making those plans real, she is playing a key 'on the ground' role in how they are coming to life.
Prior to this, she had spent six years working at the Irish Rugby Football Union as Women's Rugby Development Manager.  This overlapped with the period in which the Irish Women's team won the Six Nations Grand Slam and Ireland hosted the Women's Rugby World Cup.
Aside from managing the legacy of both those events she was also an integral member of the team, winning a total of 50 caps.
She only came to the sport at the age of 24 after playing in a Tag Rugby event with her employer at the time Bank of Ireland.  Prior to that, she played inter-county Ladies Gaelic Football for Donegal, winning the Intermediate All Ireland Championship in 2010.  She attended UCD on a soccer scholarship and was part of the UCD team that won three successive FAI Women's Cup Finals.
********
Cliona O'Leary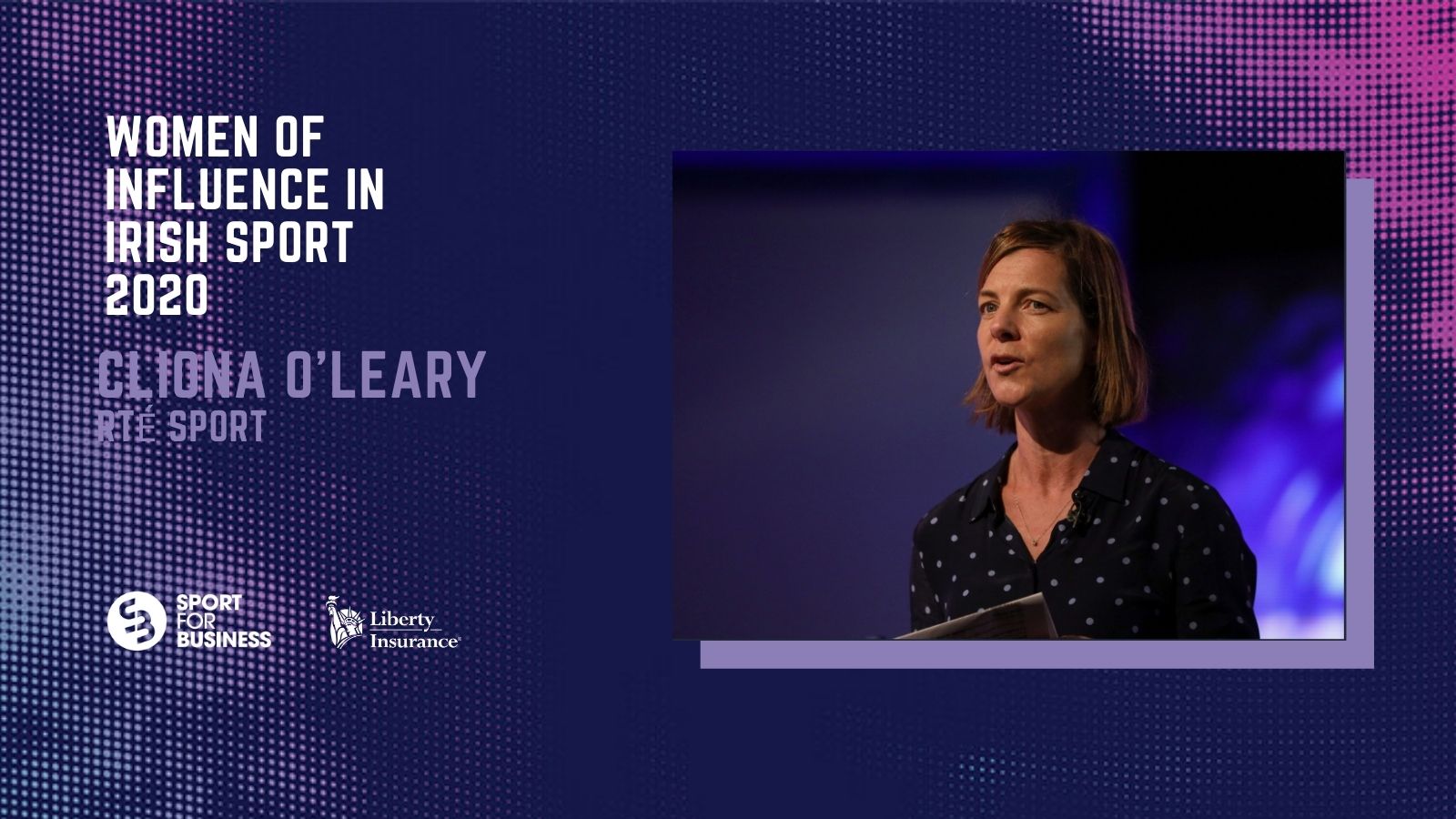 Cliona O'Leary is the Deputy Head of TV Sport at RTÉ.  The broadcaster is our most visible and important window on the world of sport and by any comparison to other countries in Europe, Ireland is very well served by our national public service broadcaster.
O'Leary joined RTÉ Sport in 1997.  She was Assistant Commissioning Editor within the Sports department from 2006 and stepped up to her current role in 2010.
She was RTÉ Sport's Away Team leader in Beijing for the 2008 Olympic Games and Rio for the 2016 Games and will be a key figure in 2021's logjam of major sporting events from the Euro's to the Tokyo Olympic and Paralympic Games.
In 2020 she became Chair of the Women's Sport Committee of the European Broadcasting Union where significant advances continue to be made in equality of coverage.
She is a strong advocate of giving Women's sport a high level of visibility both on and off the field of play, and has been a key driver in ensuring that broadcasters like Joanne Cantwell, Jacqui Hurley, Evanne Ní Chuillin and Claire McNamara, as well as analysts like Bríd Stack, Fiona Coghlan, Ursula Jacob and Lisa Fallon the chance to be involved at the highest levels of sports coverage regardless of whether it is men or women in action.
O'Leary is originally from Drimoleague in West Cork and graduated with an honours BA degree in and Media & Communication Studies from Mary Immaculate College in Limerick.
********
Michelle Carpenter
Michelle Carpenter is the CEO of Rowing Ireland.  Appointed to the role in May 2018 she has overseen a period of strong growth and performance on the water.
Membership at Rowing Ireland grew by 25 per cent in 2019 and the sport was one of the first to get back to action after the first lockdown of 2020.  The sport is ranked second in the world in Olympic classes and has seven athletes in four boats already qualified for Tokyo.  At grassroots level 32,000 took part in the Get Going Get Rowing programme.
Off the water, sponsorship income rose from €20,000 to more than €80,000.
Originally from Limerick, Carpenter was one of the first registered female rowing members of Shannon Rowing Club, rowing in their first winning women's championship crew of 1988.
She is actively engaged at international level within World Rowing and was the sports nominee to a 2017 IOC Women in Leadership Forum in Lausanne.
Before becoming involved in the world of sports administration Carpenter was part of the team that launched the Euro currency while working at the European Central bank in Frankfurt.
********
Jill Downey
Jill Downey is the Managing Director of Core Sponsorship, the sponsorship practice at Core, Ireland's leading multi-discipline agency.
Core Sponsorship was co-founded by Downey in 2015 as a sponsorship consultancy with a strong focus on measurement and return on investment for both sponsors and rights holders.
The decision making that will take place across sponsorship and sport in the post-Covid era will be critical and Downey is likely to be sitting at the table, even if just in virtual form for now, as many of those discussions take shape.
Within the wider Core business, she leads the company's Diversity and Inclusion Strategy and is dedicated to pushing a strong equality agenda for women including in the field of sport.
********
Helen O'Rourke
Helen O'Rourke is CEO of the Ladies Gaelic Football Association.  She has overseen a transformation in how the sport is seen by the general public and the growth in visibility and participation shows little sign of stopping.
Last year's attendance at the TG4 All Ireland Final Croke Park hit 56,411.  That's 10,000 more than what was a record two years before that.
2020 has been stopped in its tracks by Covid-19 but in terms of coverage, there may yet be a longer term win from the fact that every match in the this year's Championship, the 20th sponsored by TG4, will be broadcast in some shape or form.
The partnerships which the association have built with Lidl and nurtured since 2001 with TG4 have been a core element in how the sport is seen and the important part it plays in the overall movement increasing the importance of sport for women to the same traditional position it has always had for men.
Coaching and Leadership across the organisation are vital for sustainable growth behind the headline figures and O'Rourke has enabled massive improvement here as well.
********
Sarah Keane
Sarah Keane is President of the Olympic Federation of Ireland and CEO of Swim Ireland.  She has been the highest-profile woman in sports administration since taking over the former role in the wake of a scandal-ridden Rio Olympic Games in 2016.
The way in which she managed the rehabilitation of the Olympic movement, all in a voluntary capacity, has been recognised at the highest levels.
Keane was touted as a strong contender to take over as CEO of the FAI this year but while that did not materialise her star remains as bright as ever.
Readjusting to the management of a postponed Olympic Games at the same time as steering Swim Ireland through the perils of the pandemic and the lockdowns has been her biggest challenge to date and she has met the twin tasks task with calm authority.
If Katie Taylor is the name that springs to the fore in terms of female sporting excellence, then Keane has that role off the field of play.
Miriam Malone
Miriam Malone is the CEO of Paralympics Ireland and has faced into 2020 as a year when planning for the Paralympic Games in Tokyo took on a whole different perspective.
She joined the organisation from her previous position as Director of Business Partnerships at the FAI in 2017.
Malone was instrumental in delivering a successful 2018 Allianz European Para Swimming Championships at the Sport Ireland Campus in August 2018.  She doubled up as Chair of the Local Organising Committee for that event, one of the most prestigious international events to have been staged in Ireland.
Malone began her lifelong career in sport working in San Francisco before returning to Ireland to work with Special Olympics Ireland.  In 2004 She set up the first Kilkenny Sports Partnership and then in 2006 she joined the FAI in Dublin working across grassroots and then into business partnerships.
********
Lynne Cantwell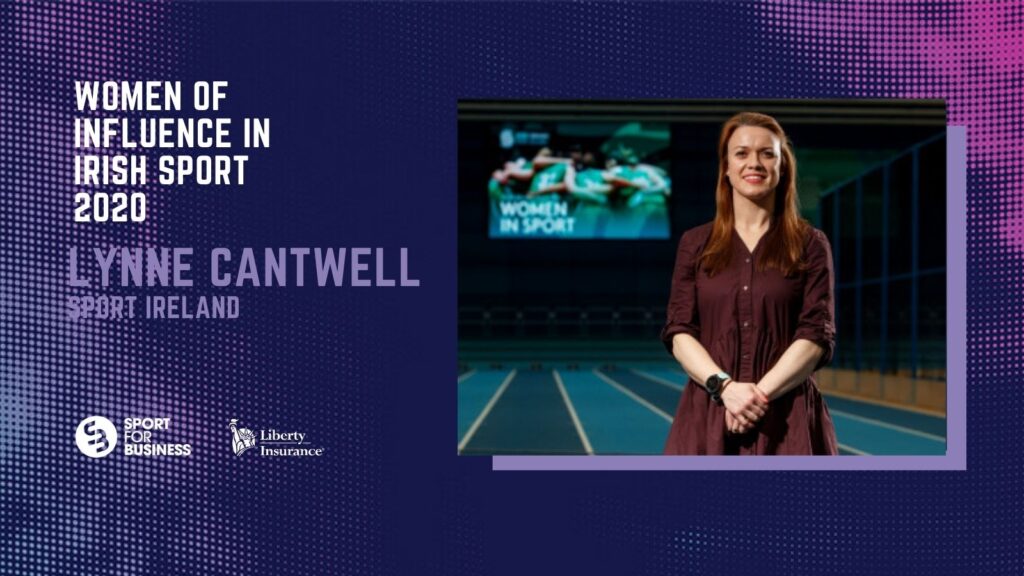 Lynne Cantwell is a director of Sport Ireland and Chair of the Women in Sport Committee brought together in 2019 to oversee Sport Ireland's engagement with and support for Women's Sport initiatives.
A former Ireland Rugby International, Cantwell was on the first Irish senior team to beat New Zealand at the Rugby World Cup in 2014.
She put herself forward for the Sport Ireland role in 2018 as a representative of players and was appointed by the Government.
She is Performance Lead Director for Six Physio, a group of physiotherapy clinics based in London which has grown to operate in eleven different locations and with 70 physios on the books.
An intelligent commentator on the importance of Women's sport and on Rugby, she has played a key role in ensuring the additional funding and support for Women in Sport programmes being enabled by Sport Ireland is put to the very best use, even in the midst of such a challenging year.
********
Michelle Tanner
Michelle Tanner is head of Sport at Trinity College Dublin, a position she has held since 2009.
Third level education has been placed into lockdown unlike any other with the vast majority of lectures and activity taking place online.  Wrestling with that and the impact it has on student sport is one of the major challenges presented to sport through this strangest of years.
Tanner is to the fore in meeting that challenge and was a key contributor to our session on that in October.
She is a past president of the European Network of Academic Sports Services and past Board Member of Student Sport Ireland
Having played international Volleyball for Ireland she has been keen to ensure a wide range of diversity in the impressive Trinity Sports Scholarship programme.
********
Sarah Colgan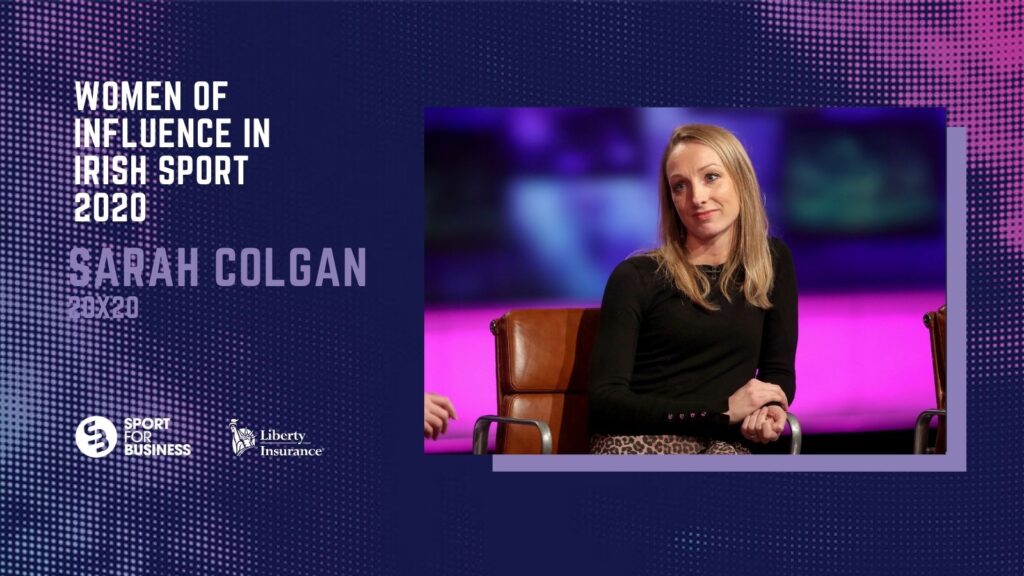 Sarah Colgan is Director of Along Came a Spider and alongside her partner in the business Heather Thornton, has been the creative driving force behind the 20X20 Campaign raising the profile of Women in Sport.
The campaign has run from October 2018 and comes to a conclusion with a farewell event in October 2020 where Martina Navratilova will be the star attraction.
It has been one of the most successful campaigns ever in terms of creating additional awareness of the many different roles that women have in sport, as players, spectators, managers and more.
Bringing together brands including Lidl, KPMG, AIG, Three and Investec to each take a 'chapter' within the campaign has worked well on many different levels and the question now is what next both for the advances made through the campaign but also for Colgan.
Colgan and Thornton launched  Along Came a Spider, a content agency in Dublin, in 2015 and that continues to provide excellent service to a growing number of brands.
For Colgan though, while taking a step back from the spotlight of the campaign may be welcome in the sort term, the many issues it has brought to the fore still need to be addressed.  The lure of getting back will be strong.
********
Lisa Fallon
Lisa Fallon stepped down this month as the Head Coach of London City Lionesses in the English Championship.  She was the first Irish woman to take on the head job in the rapidly developing English league structure and a role model for how she has developed her career initially through the Men's side of sport before transitioning to the Women's game.
The fact of not being able to juggle family and team commitments in the middle of the Covid-19 pandemic does not diminish her and actually makes her even more important as a Woman of Influence in Irish sport.  How she navigates the next chapter will provide valuable lessons for those who will follow her path.
She joined the Lionesses having been part of the top flight winning Chelsea coaching set up last season. Prior to joining Chelsea Fallon was a senior coach with the Cork City men's team and served as Game Analysis Coach with Northern Ireland when they made it through to the Finals of Euro 2016.
She has honed her craft in other sports as well, serving on Jim Gavin's Dublin GAA backroom team.
She will continue to play a leading role in the development of Women's soccer but if that does not move as fast as it might then she has all the credentials to jump back to the men's game and continue to forge a path for women in the highest levels of coaching.
********
Francesca McDonagh
Francesca McDonagh is CEO of Bank of Ireland and gains her place in this list for the first time as a result of her personal commitment to the Bank of Ireland's Rugby sponsorships and to the part she played in creating the financial rescue package for the FAI.
She joined the Bank in 2017 after a 20-year career with HSBC in her native London.  Her first public exposure to the power and impact of the Bank of Ireland Rugby connection was an unfortunate one with the Belfast court case involving Ulster Rugby players. The bank adopted a sure-footed approach through that and McDonagh was to the fore the following year when supporting the Union Cup for LGBTQ players from around the world in Dublin.
She spoke powerfully at an event we hosted in Bank of Ireland Headquarters and has been a strong supporter of her team of Anne Mulcahy, Paula Murphy and Gemma Bell making the most of their long term commitment to 'the four proud provinces.'  This commitment was evident in the launch of a second mass media campaign focused on Rugby as part of the bank's Begin themed marketing earlier in the summer.
The Bank was also a key element in the rescue package for the FAI agreed in January, alongside UEFA and the Irish Government.  That could not have happened without her support and there are few women who can lay claim to more of an influence on Irish sporting life as we live through the year of 2020.
McDonagh is a Graduate of Oxford University in Politics, Philosophy and Economics.
********
Mary O'Connor
Mary O'Connor is the CEO of the Federation of Irish Sport.  In her three years at the helm of the organisation, she has overseen the launch and strong support of the 20X20 initiative, and been a strong representative for the wider sporting community as part of the Sports Leadership Group charged with planning the implementation of the National Sports Policy.
2020 has added to her reputation with strong representation of the need for sport to be heard at Government level resulting in a €70 million fund to mitigate the worst impacts of Covid-19 and an additional €36 million secured in the 2021 Budget.
O'Connor represented her native Cork with great distinction both in Camogie and Ladies Football winning a total of 12 All Ireland medals over a 16-year dual inter-county career.
She was captain of the 2009 Cork Ladies Football team that completed five titles in a row. An All-Star in both codes she was Player of the Year in 2006.
She was awarded an Honorary Doctorate from University College Cork in recognition of her contribution to sport and in particular to Women's sport.
In 2018 she joined the Advisory Board of the Dublin City Council Sport and Wellbeing Partnership where we have worked alongside her and seen at close quarters what an intelligent and committed advocate she is for sport in all its forms.
********
Katie Taylor
There is hardly another Irish woman that has done more for Women in Sport on a global scale than Katie Taylor.
The Bray Boxer became one of the first women to box at an Olympic Games and to win Gold on a memorable day in London's Excel Arena in August 2012.
Defeat in Rio made her more vulnerable and even a move into the world of professional boxing did nothing to dim the affection which Ireland holds for her.
In December 2019 she still topped the Teneo Sports Sentiment Index as our most popular athlete, garnering 25 per cent of the popular vote.
She wears her faith like a cloak without ever making it feel affected and the dedication she has put into her career and her life will have inspired thousands of young girls to see a world for themselves in sport.
********
Dr Una May
Dr Una May is Director of Participation and Ethics at Sport Ireland.  Her dual responsibility is substantial and covers the maintenance of a clean approach to sport through heading the anti-doping function, and also to drive as many people as possible to participate in sport in all its forms.
Both of these are key elements of the Government National Policy on Sport published in 2018 and the implementation of which will dominate sports administration policy for the foreseeable future.
Sport is so often seen as being primarily about high performance but it is in the grassroots, the communities and the individuals pounding the streets that the greatest engagement takes place.  Managing that consistently and encouraging sporting bodies to prioritise getting people active is May's role and one in which she has excelled.
A graduate of TU Dublin and Liverpool's John Moores University she would be considered among the leading contenders to eventually succeed John Treacy as CEO of Sport Ireland.
********
Sinéad McNulty
Sinéad McNulty was appointed to become Ard Stiúrthóir or CEO of the Camogie Association in June of 2020.
She laid down a marker of reaching an attendance of 25,000 at last year's Liberty Insurance All Ireland Final and it was met.  Better still it was a stunning game which lifted the profile of the sport just at the right time as deep-rooted promotion took hold across the country.
It was a record stand-alone attendance and TV viewing figures were up 20 per cent on the previous year.
All set then top build on that in 2020.  And then Covid.
But McNulty is resilient and this year's Championship will be held to as high a standard as ever before.
McNulty is a Dublin native, and a graduate of the Leisure Management and MBA programmes at TU Dublin (DIT). She had been Head of Sport at the third level institution for ten years and oversaw the transition of sports facilities as a central focus of the new Grangegorman Campus.
She brings valuable experience from community sports development and leisure consultancy having worked in sport development roles in Dublin City Council and Dún Laoghaire Rathdown County Council, and as a leisure consultant with Holohan Leisure before joining TU Dublin (DIT) in 2008.
A friend of Sport for Business since our early days, McNulty has also been a highly valued colleague on the Board of the Dublin City Sport and Wellbeing Partnership.
She served as Chairperson of the Scheme Implementation Group of the Government Grant Scheme supporting intercounty Camogie and Ladies Gaelic Football players, Chairperson of Student Sport Ireland's Finance and Governance Committee, and a member of the GAA's Towards 2034 Committee.
********
Joanne O'Riordan
Joanne O'Riordan will be among the youngest of the entrants in this year's list and the first of our debutants.  The wisdom that comes with experience is sometimes less important than the energy that comes from determination and Joanne hits the mark in that.
She was born with no arms and no legs as a result of Tetra-Amelia Syndrome.  She has never let it get in the way of her dream to become a sports journalist and advocate, a role she undertakes with greater energy and enthusiasm that most of us could ever imagine, and with the help of her chair and her dedicated Dad and the rest of the family.
She travels the country reporting on GAA and has a weekly column in the Irish Times where she has free reign to poke at whatever sporting sacred cows catch her eye.
Those who saw her at last year's Sport for Business  Women in Sport event at RTÉ will never forget the impact she made.
********
Anne O'Leary
In a year when sponsors have been called on to stand by their sports, with uncertainty over what the sports might give them in return, Vodafone has been right out front.  As CEO Anne O'Leary is a fan of rugby and she has seen what it has done to differentiate the brand through exclusive content and 'heart'.
Last year she confirmed a four-year extension as the main commercial partner of Irish Rugby.  This year's ace was to sponsor the British and Irish Lions for their trip to South Africa in 2021.
O'Leary spoke powerfully when she joined us for the 2019 Sport for Business Women in Sport Conference at the studios of RTÉ.  Alongside Sarah Keane and Sinéad Heraty, she was inspiring and challenging in equal measure.  A real pleasure to interview.
She has also fostered a company culture where diversity is very much seen as a positive.  The company's strong sense of openness to the LGBT community was a major factor in their support of last year's Union Cup in Rugby.
Vodafone took over this year as the official sponsor of the Women's Interprovincial tournament.
Speaking to Sport for Business at the time of the announcement O'Leary said  "We have a shared ambition with the IRFU to grow the game on the island of Ireland. We are very proud that our support of Irish Rugby encompasses men's rugby, women's rugby and the game at all levels. When it comes to Irish Rugby, we all belong to the Team Of Us."
Joanne Cantwell
Joanne Cantwell stepped up as the Main Presenter of RTÉ's Live Gaelic Games Coverage in 2019 and while this has not been the easiest of 12 months she will play a key role in coverage of the delayed All Ireland Championships through the last three months of the year.
The Sunday Game Live coverage of the Drawn game between Dublin and Kerry in the All Ireland Football Championship attracted a peak audience last year just short of 1.1 million making it the most-watched TV programme of the year.
Cantwell has been one of a wave of strong female presenters given a chance and then developed in their career at RTÉ, long before it became an imperative.
She joined from TV3 in 2007 and her first job was as a reporter on The Sunday Game.  Since then she has gone on to host coverage from the Olympic and Paralympic Games as well as programming across a variety of sports.
Cantwell played Ladies Gaelic Football for Dublin, winning an All-Star in 1998 after helping Dublin to a first Leinster title.
********
Vera Pauw
Vera Pauw is the manager of the Republic of Ireland Women's Senior team in football.  She was appointed to the role in September 2019 and has had a successful start overseeing the team's qualification campaign for the Euro 2021 Finals which will take place in England, albeit in 2022.
Capped 89 times by the Netherlands, Pauw was the first Dutch woman to play professionally outside the country when she signed for Italian side Modena in 1988.
A renowned coach who is an instructor with FIFA and UEFA, Pauw began her management career with Scotland in 1998 before she led the Netherlands to the European Championship Semi-Finals in 2009.
Since then she has managed the national teams of Russia and South Africa and worked as an advisor to the Thailand FA. Pauw also coached the Houston Dash for a season in the United States.
Her deal with the FAI has already been extended to take the team as far as they can in this latest cycle.  Pauw has a passion for cycling away from football.  She is a thoughtful and inspiring speaker as we saw at close quarters when hosting a client event with her at William Fry in January of this year.
********
Moira Aston
Moira Aston was appointed as CEO of Canoeing Ireland in December of 2018 and has made a significant impact with membership numbers and revenues rising strongly in her first year at the helm.
Prior to this role, she held senior administrative positions at Athletics Ireland, including as Operations Director.  She completed a Masters in Business Administration at UCD Smurfit Business School in 2018.
Rising to the position of CEO gives her a profile in terms of showing that there should be no gender barrier to taking up the highest positions within sporting administration.  Producing the success within the sport that she has done within her first year marks her out as a real winner.
********
Sport for Business Partners