In partnership with our friends at Liberty Insurance, we have started publication of our eighth annual list of 50 Women of Influence in Irish Sport.
We have more CEO's of sporting organisations in 2020 than ever before, more women in positions of influence at our major sporting sponsors than ever before, and more women taking a key role in media, administration and elsewhere.
The list we are publishing here with a fresh name added each day from October 1st is a snapshot of those women who are making a mark on all these areas, making the role of women in sport unexceptional by being exceptional in what they do.
Here are the first ten names to appear on this year's list…
********
Sarah Colgan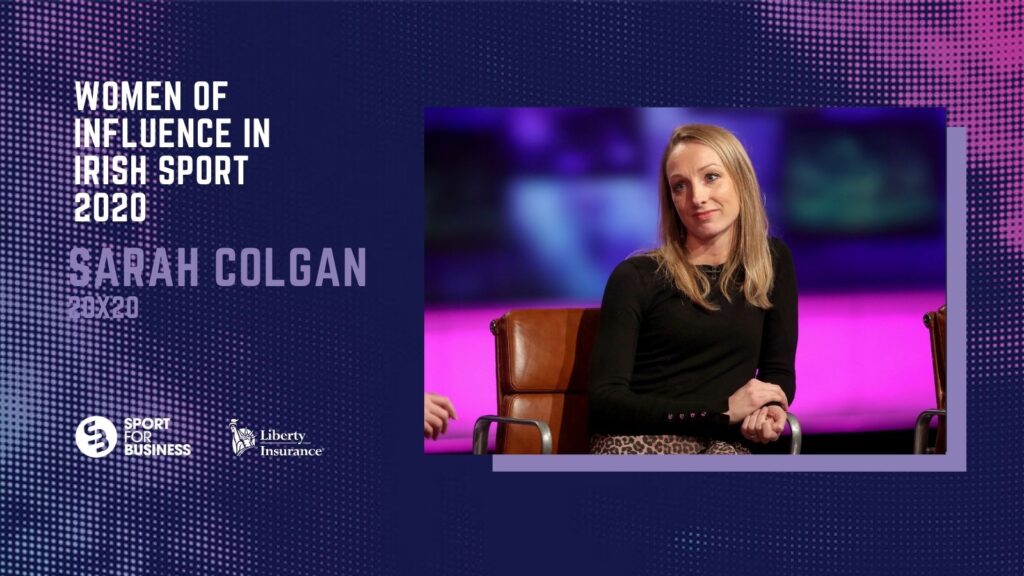 Sarah Colgan is Director of Along Came a Spider and alongside her partner in the business Heather Thornton, has been the creative driving force behind the 20X20 Campaign raising the profile of Women in Sport.
The campaign has run from October 2018 and comes to a conclusion with a farewell event in October 2020 where Martina Navratilova will be the star attraction.
It has been one of the most successful campaigns ever in terms of creating additional awareness of the many different roles that women have in sport, as players, spectators, managers and more.
Bringing together brands including Lidl, KPMG, AIG, Three and Investec to each take a 'chapter' within the campaign has worked well on many different levels and the question now is what next both for the advances made through the campaign but also for Colgan.
Colgan and Thornton launched  Along Came a Spider, a content agency in Dublin, in 2015 and that continues to provide excellent service to a growing number of brands.
For Colgan though, while taking a step back from the spotlight of the campaign may be welcome in the sort term, the many issues it has brought to the fore still need to be addressed.  The lure of getting back will be strong.
********
Lisa Fallon
Lisa Fallon stepped down this month as the Head Coach of London City Lionesses in the English Championship.  She was the first Irish woman to take on the head job in the rapidly developing English league structure and a role model for how she has developed her career initially through the Men's side of sport before transitioning to the Women's game.
The fact of not being able to juggle family and team commitments in the middle of the Covid-19 pandemic does not diminish her and actually makes her even more important as a Woman of Influence in Irish sport.  How she navigates the next chapter will provide valuable lessons for those who will follow her path.
She joined the Lionesses having been part of the top flight winning Chelsea coaching set up last season. Prior to joining Chelsea Fallon was a senior coach with the Cork City men's team and served as Game Analysis Coach with Northern Ireland when they made it through to the Finals of Euro 2016.
She has honed her craft in other sports as well, serving on Jim Gavin's Dublin GAA backroom team.
She will continue to play a leading role in the development of Women's soccer but if that does not move as fast as it might then she has all the credentials to jump back to the men's game and continue to forge a path for women in the highest levels of coaching.
********
Francesca McDonagh
Francesca McDonagh is CEO of Bank of Ireland and gains her place in this list for the first time as a result of her personal commitment to the Bank of Ireland's Rugby sponsorships and to the part she played in creating the financial rescue package for the FAI.
She joined the Bank in 2017 after a 20-year career with HSBC in her native London.  Her first public exposure to the power and impact of the Bank of Ireland Rugby connection was an unfortunate one with the Belfast court case involving Ulster Rugby players. The bank adopted a sure-footed approach through that and McDonagh was to the fore the following year when supporting the Union Cup for LGBTQ players from around the world in Dublin.
She spoke powerfully at an event we hosted in Bank of Ireland Headquarters and has been a strong supporter of her team of Anne Mulcahy, Paula Murphy and Gemma Bell making the most of their long term commitment to 'the four proud provinces.'  This commitment was evident in the launch of a second mass media campaign focused on Rugby as part of the bank's Begin themed marketing earlier in the summer.
The Bank was also a key element in the rescue package for the FAI agreed in January, alongside UEFA and the Irish Government.  That could not have happened without her support and there are few women who can lay claim to more of an influence on Irish sporting life as we live through the year of 2020.
McDonagh is a Graduate of Oxford University in Politics, Philosophy and Economics.
********
Mary O'Connor
Mary O'Connor is the CEO of the Federation of Irish Sport.  In her three years at the helm of the organisation, she has overseen the launch and strong support of the 20X20 initiative, and been a strong representative for the wider sporting community as part of the Sports Leadership Group charged with planning the implementation of the National Sports Policy.
2020 has added to her reputation with strong representation of the need for sport to be heard at Government level resulting in a €70 million fund to mitigate the worst impacts of Covid-19 and an additional €36 million secured in the 2021 Budget.
O'Connor represented her native Cork with great distinction both in Camogie and Ladies Football winning a total of 12 All Ireland medals over a 16-year dual inter-county career.
She was captain of the 2009 Cork Ladies Football team that completed five titles in a row. An All-Star in both codes she was Player of the Year in 2006.
She was awarded an Honorary Doctorate from University College Cork in recognition of her contribution to sport and in particular to Women's sport.
In 2018 she joined the Advisory Board of the Dublin City Council Sport and Wellbeing Partnership where we have worked alongside her and seen at close quarters what an intelligent and committed advocate she is for sport in all its forms.
********
Katie Taylor
There is hardly another Irish woman that has done more for Women in Sport on a global scale than Katie Taylor.
The Bray Boxer became one of the first women to box at an Olympic Games and to win Gold on a memorable day in London's Excel Arena in August 2012.
Defeat in Rio made her more vulnerable and even a move into the world of professional boxing did nothing to dim the affection which Ireland holds for her.
In December 2019 she still topped the Teneo Sports Sentiment Index as our most popular athlete, garnering 25 per cent of the popular vote.
She wears her faith like a cloak without ever making it feel affected and the dedication she has put into her career and her life will have inspired thousands of young girls to see a world for themselves in sport.
********
Dr Una May
Dr Una May is Director of Participation and Ethics at Sport Ireland.  Her dual responsibility is substantial and covers the maintenance of a clean approach to sport through heading the anti-doping function, and also to drive as many people as possible to participate in sport in all its forms.
Both of these are key elements of the Government National Policy on Sport published in 2018 and the implementation of which will dominate sports administration policy for the foreseeable future.
Sport is so often seen as being primarily about high performance but it is in the grassroots, the communities and the individuals pounding the streets that the greatest engagement takes place.  Managing that consistently and encouraging sporting bodies to prioritise getting people active is May's role and one in which she has excelled.
A graduate of TU Dublin and Liverpool's John Moores University she would be considered among the leading contenders to eventually succeed John Treacy as CEO of Sport Ireland.
********
Sinéad McNulty
Sinéad McNulty was appointed to become Ard Stiúrthóir or CEO of the Camogie Association in June of 2020.
She laid down a marker of reaching an attendance of 25,000 at last year's Liberty Insurance All Ireland Final and it was met.  Better still it was a stunning game which lifted the profile of the sport just at the right time as deep-rooted promotion took hold across the country.
It was a record stand-alone attendance and TV viewing figures were up 20 per cent on the previous year.
All set then top build on that in 2020.  And then Covid.
But McNulty is resilient and this year's Championship will be held to as high a standard as ever before.
McNulty is a Dublin native, and a graduate of the Leisure Management and MBA programmes at TU Dublin (DIT). She had been Head of Sport at the third level institution for ten years and oversaw the transition of sports facilities as a central focus of the new Grangegorman Campus.
She brings valuable experience from community sports development and leisure consultancy having worked in sport development roles in Dublin City Council and Dún Laoghaire Rathdown County Council, and as a leisure consultant with Holohan Leisure before joining TU Dublin (DIT) in 2008.
A friend of Sport for Business since our early days, McNulty has also been a highly valued colleague on the Board of the Dublin City Sport and Wellbeing Partnership.
She served as Chairperson of the Scheme Implementation Group of the Government Grant Scheme supporting intercounty Camogie and Ladies Gaelic Football players, Chairperson of Student Sport Ireland's Finance and Governance Committee, and a member of the GAA's Towards 2034 Committee.
********
Joanne O'Riordan
Joanne O'Riordan will be among the youngest of the entrants in this year's list and the first of our debutants.  The wisdom that comes with experience is sometimes less important than the energy that comes from determination and Joanne hits the mark in that.
She was born with no arms and no legs as a result of Tetra-Amelia Syndrome.  She has never let it get in the way of her dream to become a sports journalist and advocate, a role she undertakes with greater energy and enthusiasm that most of us could ever imagine, and with the help of her chair and her dedicated Dad and the rest of the family.
She travels the country reporting on GAA and has a weekly column in the Irish Times where she has free reign to poke at whatever sporting sacred cows catch her eye.
Those who saw her at last year's Sport for Business  Women in Sport event at RTÉ will never forget the impact she made.
********
Anne O'Leary
In a year when sponsors have been called on to stand by their sports, with uncertainty over what the sports might give them in return, Vodafone has been right out front.  As CEO Anne O'Leary is a fan of rugby and she has seen what it has done to differentiate the brand through exclusive content and 'heart'.
Last year she confirmed a four-year extension as the main commercial partner of Irish Rugby.  This year's ace was to sponsor the British and Irish Lions for their trip to South Africa in 2021.
O'Leary spoke powerfully when she joined us for the 2019 Sport for Business Women in Sport Conference at the studios of RTÉ.  Alongside Sarah Keane and Sinéad Heraty, she was inspiring and challenging in equal measure.  A real pleasure to interview.
She has also fostered a company culture where diversity is very much seen as a positive.  The company's strong sense of openness to the LGBT community was a major factor in their support of last year's Union Cup in Rugby.
Vodafone took over this year as the official sponsor of the Women's Interprovincial tournament.
Speaking to Sport for Business at the time of the announcement O'Leary said  "We have a shared ambition with the IRFU to grow the game on the island of Ireland. We are very proud that our support of Irish Rugby encompasses men's rugby, women's rugby and the game at all levels. When it comes to Irish Rugby, we all belong to the Team Of Us."
Joanne Cantwell
Joanne Cantwell stepped up as the Main Presenter of RTÉ's Live Gaelic Games Coverage in 2019 and while this has not been the easiest of 12 months she will play a key role in coverage of the delayed All Ireland Championships through the last three months of the year.
The Sunday Game Live coverage of the Drawn game between Dublin and Kerry in the All Ireland Football Championship attracted a peak audience last year just short of 1.1 million making it the most-watched TV programme of the year.
Cantwell has been one of a wave of strong female presenters given a chance and then developed in their career at RTÉ, long before it became an imperative.
She joined from TV3 in 2007 and her first job was as a reporter on The Sunday Game.  Since then she has gone on to host coverage from the Olympic and Paralympic Games as well as programming across a variety of sports.
Cantwell played Ladies Gaelic Football for Dublin, winning an All-Star in 1998 after helping Dublin to a first Leinster title.
********
Vera Pauw
Vera Pauw is the manager of the Republic of Ireland Women's Senior team in football.  She was appointed to the role in September 2019 and has had a successful start overseeing the team's qualification campaign for the Euro 2021 Finals which will take place in England, albeit in 2022.
Capped 89 times by the Netherlands, Pauw was the first Dutch woman to play professionally outside the country when she signed for Italian side Modena in 1988.
A renowned coach who is an instructor with FIFA and UEFA, Pauw began her management career with Scotland in 1998 before she led the Netherlands to the European Championship Semi-Finals in 2009.
Since then she has managed the national teams of Russia and South Africa and worked as an advisor to the Thailand FA. Pauw also coached the Houston Dash for a season in the United States.
Her deal with the FAI has already been extended to take the team as far as they can in this latest cycle.  Pauw has a passion for cycling away from football.  She is a thoughtful and inspiring speaker as we saw at close quarters when hosting a client event with her at William Fry in January of this year.
********
Moira Aston
Moira Aston was appointed as CEO of Canoeing Ireland in December of 2018 and has made a significant impact with membership numbers and revenues rising strongly in her first year at the helm.
Prior to this role, she held senior administrative positions at Athletics Ireland, including as Operations Director.  She completed a Masters in Business Administration at UCD Smurfit Business School in 2018.
Rising to the position of CEO gives her a profile in terms of showing that there should be no gender barrier to taking up the highest positions within sporting administration.  Producing the success within the sport that she has done within her first year marks her out as a real winner.
********
As ever, those above and so many of the names that will appear do so because they have been nominated by their peers.  We, therefore, call on you to let us know who you think should be on the list, together if possible with any thoughts you have on why their particular achievement merits recognition.
Tell us who you think should be on our 2020 list.