The fact that you are reading this suggests that sport is something of a priority in your life. Think of how much you get from it as a participant, spectator, fan, coach, whatever you are.
Now imagine that was taken away and you were excluded from being able to do what you do.
Today is the International Day for People with Disabilities and an opportunity to pause and consider what we as individuals and organisations do in our sporting lives to share the enjoyment with those who may face different challenges in taking part as we do.
Imagine yourself in a wheelchair, without sight, without an arm, with a neurological condition like MS, or with Down Syndrome.
It is not easy to place yourself in a position you have not experienced. That can be the case with someone who grew up without the opportunity to join their friends in a kick about or the PE Class; who has to sit in their chair at the side of the stand because there is no way of getting up the steps; or who can't join in because the coaches running the session are afraid through lack of knowledge.
None of these things should happen today and thankfully there has been a much greater awareness of the need to be fully inclusive as well as just talk about it.
Jamie Wall, pictured above, was an inter County player with Cork before an abscess on his spine caused him to lose the use of his legs. That has not stopped him from going on to be a successful coach and commentator.
The inspirational performances of athletes from Mark Rohan and Jason Smyth, through Michael McKillop and Ellen Keane, to Nicole Turner and Jordan Lee have opened up our awareness to look at ability rather than disability.
Clubs around the country are running All-Star sessions with people that have never had the opportunity to play before, from children to young adults. Bringing everyone together and encouraging coaching from young club members opens everyone's eyes.
At the Dublin City Sports Partnership, we put our Board members through a training session on Disability Awareness with our Sports inclusion Officers. It was a simple look at language, needs, and everyday inclusion. It was so powerful in terms of its impact that many board members then asked for the team to deliver it in their own organisations.
The Government and Sport Ireland are firmly focused on enabling sport for every citizen and programme by programme we are getting there but it cannot stop and you can have a part to play
Sport for Business was an early signatory to the Cara Charter.
It is a simple statement of what we can all do to be aware and to be inclusive.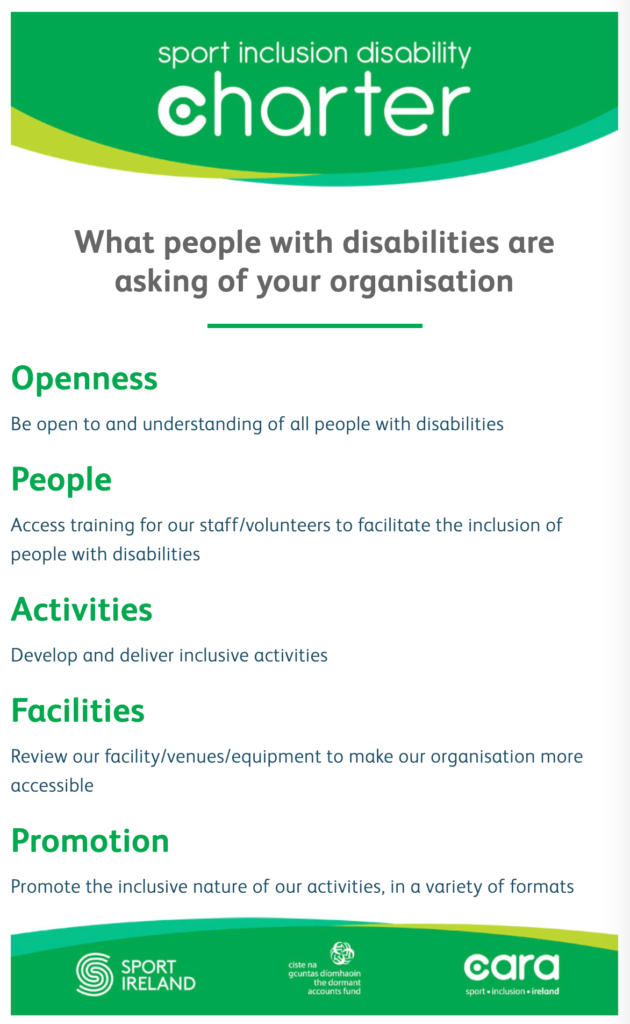 Do something today to increase your awareness, open up your mind and think of one thing you can do to be more inclusive. It could open up your world to someone that was previously unable to experience the joy that sport brings us.
"A powerful and influential network of information and collaboration"
Download our latest membership brochure here.
Sport for Business Partners