Welcome to the seventh article in our Sports Economy series.
How Gender Diverse is the Irish Sports Sector?
That was the question posed by Sport for Business last month in light of figures looking at the gender balance on the leadership groups of National Governing Bodies.
This edition of the Sports Economy develops the gender discussion by examining the historical and relative gender diversity of Irish Sport employment.
In an overall context, Ireland is currently ranked 7th in the EU by the 2020 Gender Equality Index. This index, provided by the European Institute for Gender Equality, measures countries on a scale from 1 (full inequality) to 100 (full equality) and from 2005 to 2020 Ireland increased from 61.9 to 72.2.
Although the speed of progress is faster than the EU average, if it were to continue at the same rate (increasing on average 0.68 per year) it would take forty years for Ireland to achieve full gender equality. We will hopefully achieve a much more rapid rate of improvement.
Gender in Sport
According to the 2019 Irish Sport Monitor (ISM) 48% of men and 45% of women participate regularly in sport.
The gap of 3.4% has narrowed from 15.7% since 2007. However, the ISM mentions that the gender gap in social participation and employment is still significantly high and not necessarily narrowing.
The gap is evident at board level – Sport Ireland recently published the gender balance of sports administration for 2020 and revealed average female board representation as 29% with as many as seven national governing bodies with single-gender boards.
The Gender Equality Index is calculated from the differences between women and men on six performance measures – work, money, knowledge, time, health and power.
'Power' is analogous to leadership and indicates the degree of gender equality in decision making positions across seven indicators – three of which are classified as 'political', two are 'economic' and three 'social'.
The three social aspects are 'research-funding organisations', 'media' and 'sports'. 'Sports' is measured by the percentage of the members of highest decision-making body of the ten most popular National Olympic Sports Organisations.
The 2020 Gender Equality Index is based on 2018 data. Various developments have of course occurred since, for example in September 2019 member federations of the Olympic Federation of Ireland approved a minimum of 40% gender representation on its Executive Board. Analysis of the index offers insight into the relative performance of Ireland versus EU peers as of 2018 and provides a basis on which we can judge future performance.
Members of highest decision-making body of National Olympic Sports Organisations
(female %, 2018 data)
Source: European Institute for Gender Equality
Ireland rank 8th of twenty-eight countries (the twenty-seven current EU members plus the U.K.) for gender equality of decision-makers in this definition of "sport."
Separately, Ireland's gender equality ranking was poor for all three indicators of political 'power' (22nd, 18th & 20th), varied for economic 'power' measures (17th & 5th) but was strong (3rd, 4th) for the other two social measures in addition to 'sport'.
However, the EU average share of female representation in decision making in 'sport' was only 15.4% and significantly lower than the average for the other six 'Power' indicators which are between 22.1% and 37.6%.
This means that although Ireland performed relatively well compared to peers for a female share of decision-makers in 'sport' (i.e. 8th of 28), 'sport' is on average the least gender diverse of the seven indicators of 'Power' across Europe. To put it another way, we were 8th best of a bad bunch.
In a 1994 paper written by Catherine Cassell and Sue Walsh 'organisational fit' was described as the level of comfort or discomfort experienced by women in their organizations. The equal spread of gender across all levels of an organisation, not just senior management/board level, is an important feature of organisational fit.
A 2017 European Journal of Business and Management paper titled 'The Position of Women Employees in Organisations' found that when many women are represented at junior, middle and senior levels these organisations have more hospitable cultures and women experience a greater sense of organizational fit compared to those organizations in which the gender imbalance permeates every level of management.
The 2019 Irish Sports Monitor found that the gender gap in Irish sport pervades all levels and is apparent in coaching, mentoring and throughout the wider administration of sport.
Female Sport Comparisons with EU
Eurostat, the statistical agency of the European Commission, provides gender employment statistics for European countries and allows us to identify the gender gap across total Irish employment in the sports sector employment (as opposed to female share of sub-categories eg. skilled, unskilled, professional, administration, chief executives etc) and compare this to our EU neighbours.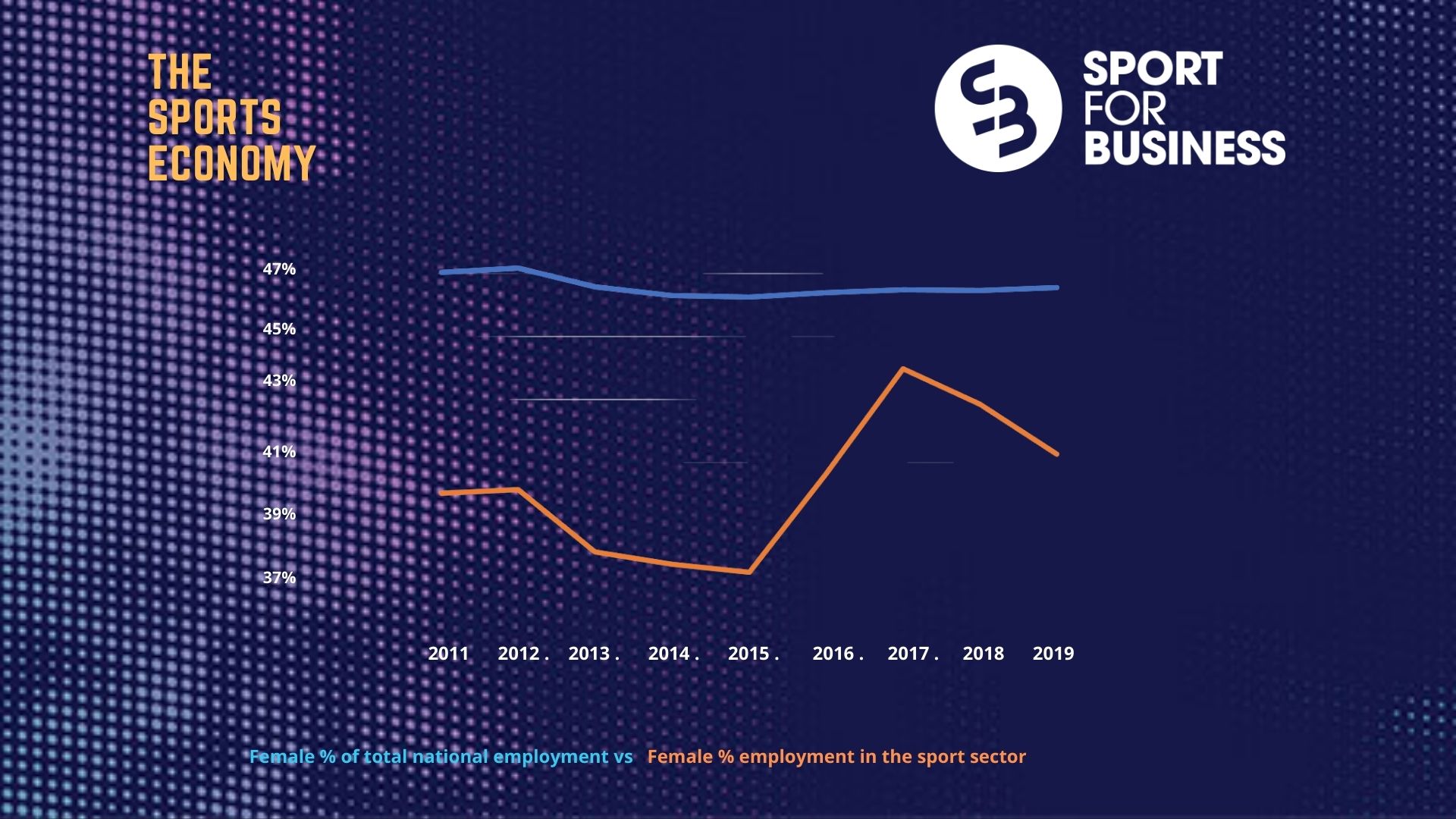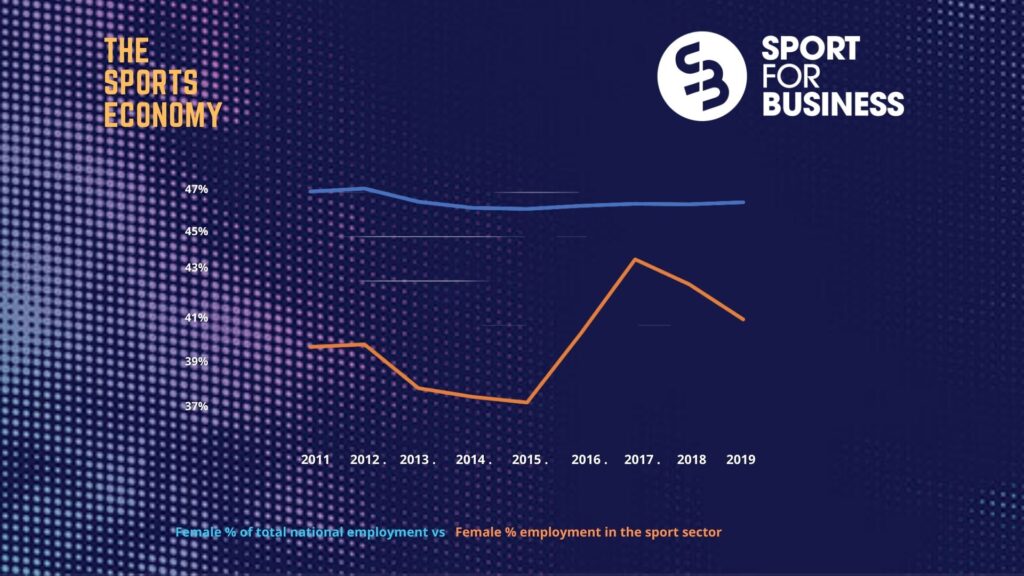 Source: Eurostat
Total sports employment in Ireland was 24,000 in 2019 according to the Eurostat definition. 14,100 or 59% of these were male and 9,900 or 41% were female. The percentage of females dropped from 40% in 2011 to 37.5% by 2015 before increasing in 2016 to 44% and then decreasing again in 2018 (to 43%) and 2019 (to 41%).
The 2019 rate is effectively the same as the 2011 rate (41% vs. 40%).
n 2019 total employment in Ireland was 2.24 million with 53.4% male and 46.6% female. From 2011 to 2019 the female share of total national employment stayed relatively constant between 46% & 47%.
In all years from 2011 to 2019, the percentage of female employment in sport is significantly lower than the female share of employment at national level with the gap only slightly narrowing over the period.
Female Share of Sports Employment Vs EU Peers based on 2019 Data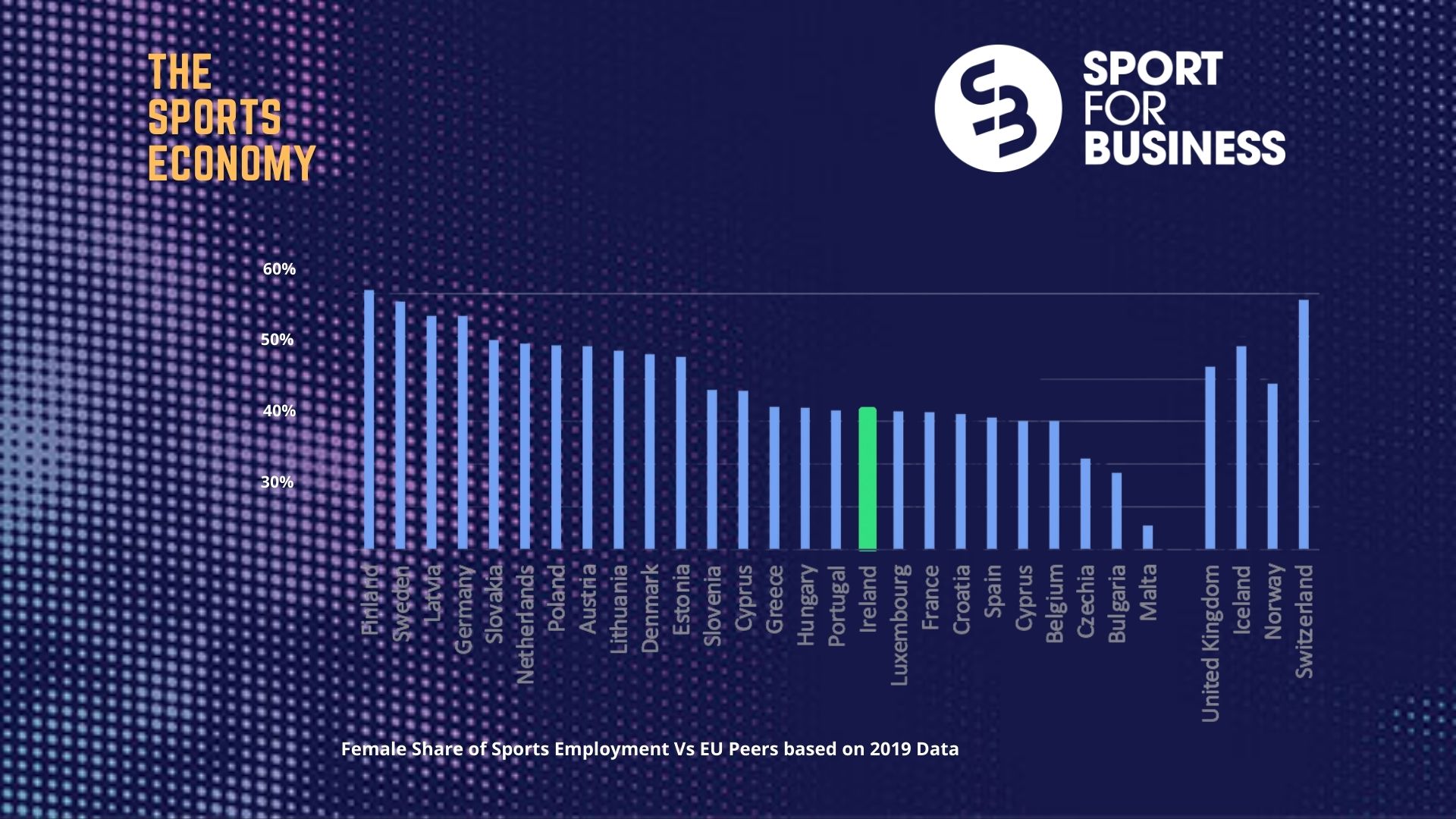 Source: Eurostat
As we saw previously the 2019 percentage of females within total sports employment in Ireland was 41%. This equated to 17th of 27 within the EU. The EU average was 45.6%.
In four countries, Finland, Sweden, Latvia and Germany females constitute the majority of sports employment. The proportions for Sweden, Germany and Latvia have been relatively constant since 2011 but the percentage for Finland has steadily increased from 43% in 2011 to 55% in 2019.
Four European non-EU members are shown for further context. Each of the U.K., Iceland, Norway and Switzerland have higher proportions of females within total sports employment vs Ireland in 2019.
Sport Ireland has spent €22m on women in sport programs since 2005 and is continually seeking to determine the real and perceived factors that influence the gender gap and thereby initiate appropriate policies to bring about change.
In 2018 Sport Ireland initiated its Women in Sport Policy recognizing the need for women to be represented at all levels of Irish sport for gender equality to come about.
The policy was launched with four pillars, 1) reduce the gender participation gap, 2) increase the visibility of female sport role models, 3) broaden the gender of all levels of the coaching & officiating base and 4) facilitate more women to become engaged in high-level decision making of sport.
Where are We?
This article showed that Ireland scored relatively well vs EU peers in 2019 for gender equality in 'sport' leadership but the absolute percentage was low.
This was recently confirmed by Sport Ireland which showed average female board representation in Irish Sport for 2020 as only 29%. When we looked further into the data and considered total sports employment, we found that very little progress has been made from 2011 to 2019 and we also rank poorly vs EU peers.
The goal of this series of articles is to broaden the understanding of the Irish Sport Economy. What emerges from the international comparison is that in countries where gender equality in sport is most evident, such as for example Sweden, relatively high degrees of equality exists across all social, political and economic landscapes.
Progress within one of these spheres alone is likely to be slower without parallel progress in the others. Bringing about gender equality in Irish sport will thus not exclusively be a function of sport-specific policy and action but will also benefit from society-wide efforts across all sectors of business, politics and society. Of course, this does not stop the sports sector from being a leader in the process.
We will expand on this topic further in a later article by looking at Sweden and its sports sector, where gender equality is among the strongest in Europe.
Dive Deeper into our Sports Economy Series
Conor Foley has a business degree from Trinity College Dublin, an MSc in finance from DCU and is a Chartered Financial Analyst. Over a 12-year professional career, Conor has experience of advising clients such as institutions, charities and bodies in the areas of global strategy, project management, asset allocation and financial structure. Conor will be working with Sport For Business to produce The Sport Economy, a regular piece, offering insights from the domestic and international sporting worlds of finance, economics and business, aims to bring Sport For Business members lessons and information from around the world to aid you in your strategy, financial affairs and business decisions. Conor has worked in leading financial institutions both at home and abroad and is committed to the growth and development of professional and amateur sport in Ireland.
Sport for Business Partners